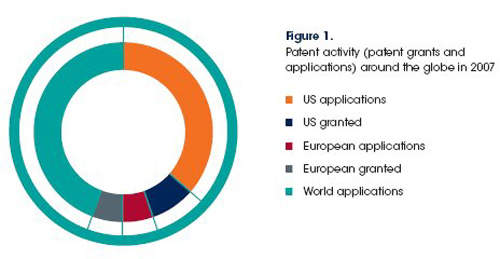 The dressings that help the body's outer surface repair itself are deploying ever more exotic materials to meet the needs of a growing $7.2bn global market. This growth is being driven by the needs of an ageing, less ambulatory population that is more prone to chronic wounds, as well as the increasing incidence of diabetes and the skin lesions associated with the condition.
Advanced wound care products represent the largest and fastest-growing segment of the global healthcare market. The segment was worth $4.1bn in 2006 and is expected to grow by 10% per year.
This category of products offers healthcare providers more patient care options than ever before. It includes moist dressings and bandages, antimicrobial dressings incorporating active agents, such as silver, and biologically based products incorporating natural growth factors, engineered tissues and skin substitutes.
Collectively, these innovative products account for nearly 60% of the overall wound care market. Other products and solutions that comprise the broader wound care market include traditional, low-tech bandages and dressings, typically made of gauze or non-woven substrates, and non-adherent bandages, all available over the counter.
Devices for wound therapy continue to make great strides. Non-invasive systems, such as negative pressure systems, hyperbaric oxygen therapies, electrical stimulation, low-level laser therapy and therapeutic ultrasound, have all penetrated the market successfully as viable therapy options. Even exotic therapies such as larvae (maggots) or virus therapy have re-emerged as viable wound therapies.
Technologically speaking, advanced wound care product development is centred on three areas:
Moist substrates, such as a hydrogel, hydrocolloid, alginate or foam, which cover and protect wounds, while remaining 'breathable'
Antimicrobials, such as silver, to prevent infection and accelerate healing
Natural epithelial growth factors that trigger tissue layer re-growth
With the continuing emergence of antibiotic-resistant bacteria, containing a wound is critical to preventing infection that could become systemic and significantly reduce overall healing time. Reducing wound healing time significantly decreases the ongoing cost of wound care, and this is seen as the pre-eminent driver for advanced wound care technologies.
From a broader healthcare perspective, insurance reimbursement decisions are often based primarily on product cost and not necessarily on improvements in wound healing time and subsequent quality of life. Home-based wound care products and solutions can cut costs by reducing doctors' visits, although with any home-based therapy, proper use and patient compliance are critical in determining outcomes.
REGULATORY FRAMEWORK
In the regulatory arena, many of the advanced wound care products are designated as combination products: they incorporate a device with a therapeutic agent (pharmaceutical or biological) to deliver a single therapeutic action. Anti-microbial silver dressings are an example of this technology.
The US Food and Drug Administration (FDA) has led the way in establishing guidelines for reviewing combination products in terms of their definition, designation of primary mode of action, designation of jurisdiction for review and approval of submissions, and post-market surveillance.
"Advanced wound care products represent the largest and fastest-growing segment of the global healthcare market. The segment was worth $4.1bn in 2006."
The FDA established its Office of Combination Products in 2002 to handle the increasingly complex products being submitted for market approval. The office determines the primary mode of action, or which component (device, drug, biological) is most responsible for delivering the therapeutic agent or application.
The jurisdiction for primary review and approval will be designated either to the Center for Devices and Radiological Health, the Center for Drug Evaluation and Research or the Center for Biologics Evaluation and Research.
This ensures that timely and effective reviews can be conducted through the appropriate agency, while other offices can be integrated for review as necessary.
While the US has led the way in terms of regulatory guidelines for combination products such as advanced wound care, the UK and Europe have lagged behind in instituting definitive approval pathways.
Regulatory agencies in the UK and Europe must identify and implement a reasonable and effective approach for reviewing products incorporating different technologies. The UK Healthcare Industry Task Force Review (HITF) has already recognised this challenge. However, in the EU the regulatory path for reviewing market submissions for novel combination products is unclear because the European Medicines Agency is not responsible for the regulation of medical devices.
As more advanced wound care products are approved for market in the US and Europe, regulatory agencies will gain more knowledge and expertise in handling these submissions, which will improve time to market. This will enhance the willingness of companies to develop advanced wound care products.
MOIST WOUND DRESSINGS
Moist wound dressings use materials such as hydrogels, alginates or hydrocolloids to accelerate healing. The moist environment created by these dressings reduces tissue adhesion to the dressing and lessens trauma on removal. While these products dominate the advanced wound care market, their market share appears to be levelling off, due to the maturity of the market. Patent applications and granted patents have declined over the past few years.
Several types of substrate are used for moist dressings:
Hydrogels. Hydrogels are natural or synthetic cross-linked polymers used in a variety of medical and biomedical applications. They are used in the construction of contact lenses and drug-delivery vehicles, and as physiological electrodes or sensors. Hydrogels exhibit excellent skin adhesion and high moisture vapour transmission properties.
A hydrogel is a three-dimensional polymer network that contains water, giving it a high degree of hydrophilicity, while remaining insoluble. The main component is based on water-soluble monomers. Hydrophilicity can be modified by copolymerisation with monomers of varying degrees of hydrophobicity and hydrophilicity. In addition to the water and polymer content, they may contain a plasticiser that facilitates the matrix formulation for good adhesion.
Hydrocolloids. Hydrocolloid dressings contain gel-forming agents, such as sodium carboxymethylcellulose and gelatin. These are often combined with elastomeric materials into a polyurethane foam or film matrix. Like all moist dressings, they can be left in place for two to five days, maintaining a moist environment while minimising tissue adhesion to the dressing. They absorb wound exudates well.
Alginates. Alginates are formulated from natural chitosan, a proteinaceous component of seaweed. Their excellent absorption properties are achieved via strong hydrophilic gel formations that limit wound exudates and minimise bacterial contamination. Alginate fibres are biodegradable and elicit little or no allergic reaction compared with synthetic dressings.
Antimicrobials. Silver has long been known to have effective antimicrobial properties, and has been widely used in dental and other antibiotic applications. Smith & Nephew's Acticoat® and SILCRYST™, Johnson & Johnson's Actisorb®, Derma Sciences' Algicell™, and the Contreet® foam product from Coloplast all employ silver as an active antimicrobial agent. These products also manage fluid exudates effectively.
"There will be increasing demand for advanced wound care products, especially home-based solutions, in future."
Silver appears to promote skin re-growth, and it may even possess anti-inflammatory qualities. It is effective against antibiotic-resistant strains of microbe, such as methicillin-resistant Staphylococcus aureus (MRSA) and vancomycin-resistant enterococcus (VRE). This is a critical property, given the rise in antibiotic-resistant bacterial infections, particularly MRSA.
According to estimates from the US Centers for Disease Control and Prevention, more than 94,500 cases of invasive MRSA were reported in 2005.
Approximately 85% of these are hospital- or healthcare-associated infections, with a majority of these occurring in elderly populations. Considering the fact that this population also comprises the largest segment of the wound care market, it is critical that wound care solutions provide not only rapid and effective healing of the wound site, but also help prevent infection, particularly from aggressive and resistant pathogens
ACTIVE WOUND PRODUCTS
Active products incorporate engineered tissue, such as collagen and epidermal growth factors. Ethicon's Promogran dressing, for example, is constructed from collagen and regenerated cellulose. It inhibits matrix metalloproteases, enzymes that may have a negative effect on wound healing.
Products such as these open opportunities for pharmaceutical and biotechnology companies to collaborate with the medical device industry, which could lead to even more treatment options. For example, LifeCell Corporation is developing active wound care technologies in conjunction with Boston Scientific, Wright Medical, Stryker Corporation and BioHorizons.
NON-INVASIVE TECHNOLOGIES
Non-tissue assisted closure systems offer a non-invasive approach to wound healing. According to a recent report by Research and Markets, KCI is now the market leader in advanced wound care solutions with its successful system. Devices for wound therapy, such as hyperbaric technologies, Kinetic Concepts' negative pressure, vacuum-oxygen, electrical stimulation, low-level laser therapy and therapeutic ultrasound have also successfully penetrated the wound care market. These systems are non-invasive, rapid and effective, and can be employed on an out-patient basis, making them attractive for the provider, insurer and patient.
MARKET LEADERS
Four companies dominate the overall wound care market. Smith & Nephew still leads in moist dressings, while Johnson & Johnson, 3M and Beiersdorf AG have large shares of the advanced wound care market. These top players dominate by most measurements: total revenues, intellectual property holdings and diversity of marketed products. Numerous smaller innovative companies, such as Hollister, Carrington Labs, O'Classen Pharmaceuticals, Molnlycke, Kendall and CR Bard, have either
successfully penetrated this market with their own product lines or are licensing or partnering with the larger players.
ADVANCED WOUND CARE TAKE-UP
The acceptance of advanced wound care solutions has been slower in the UK and Europe that it has in the US, due to differences in the way cost-benefit analyses is done. In the US, health insurers may consider not only the cost of the device but also the longer-term cost savings to the patient and to the healthcare system. In the UK and Europe, cost considerations might focus only on the cost of the device itself, disregarding the larger picture.
Another factor influencing the acceptance of advanced wound care products in the UK and Europe is the fact that wound management there is often carried out by nurses, as opposed to the more specialised physicians used in the US. As many of the advanced wound care products include biological tissues or growth factors, it is imperative that personnel are trained to handle these products.
"Regulatory agencies in the UK and Europe must identify and implement a reasonable and effective approach for reviewing products."
Wound care in the US is estimated to cost $20bn a year, while more than $4bn is spent on wound care products. The wound management market is driven and characterised by certain medical conditions and indications. Skin or pressure ulcers are prevalent in elderly people and they are also a common consequence of diabetes.
The incidence of diabetes is forecast to increase by 165%, affecting up to 29 million people in the US alone by 2050. Meanwhile, the percentage of Americans over 65 is expected to grow faster than the total population in the US up to 2030. These indications will need to be treated with advanced wound care products.
The average hospital stay decreased from 6.4 days in 1990 to 4.6 days in 2003, while the number of surgeries performed in ambulatory surgical centres increased by 191% between 1990 and 2000, indicating a growing need for advanced wound care products that accelerate wound healing. These trends suggest that there will be increasing demand for advanced wound care products, especially home-based solutions, in future.
HOME-BASED SOLUTIONS
Home-based and outpatient care is driven by the ageing of the population in most developed countries, and the skin ulcers associated with diabetes and immobility. Pressure ulcers, skin ulcers and diabetic foot ulcers are the most prevalent conditions in this population.
Moist dressings appear to be the most effective treatment for these conditions, because they heal wounds rapidly and effectively, and help prevent infection. In the US these dressings are funded by the major healthcare providers and government associations, such as Medicare/Medicaid. Home-based ostomy-site care is also a common need among older people, requiring particular attention to infection prevention at the site.
With the shift towards home care, the nursing profession has had to adapt by offering care and support in the home. Fortunately, this task has been made a little easier by the availability of web-based technologies that allow the remote monitoring and evaluation of wound healing. However, the continuing emphasis on developing and implementing best practices in home-based wound care remains a great challenge for nurses.