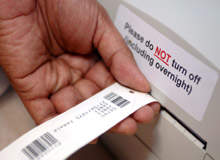 In today's healthcare sector, patient safety has become a significant driver of good practise and efficiency. Changes in the UK law, such as the recent Corporate Manslaughter and Corporate Homicide Act that came into force only in April 2008, have made hospitals in the UK further accountable for incidents of human error or negligence during procedures.
Alongside the financial implications such cases cause there can also be damage to a hospital's reputation, which is why so many are examining the prospect of radio-frequency identification (RFID) technology or wireless technology solutions.
The use of RFID in the health sector has boundless potential. From patient identification to asset traceability, the technology can enhance security while adding greater visibility across all levels of a hospital's operations.
"From patient identification to asset traceability, RFID can enhance security while adding greater visibility across all levels of a hospital's operations."
Yet such functionality remains a vision of the future. The technology, still in its relative infancy, is but a mere thought for some hospitals or a pilot programme for others.
HOW RFID WORKS IN HEALTHCARE
Available for more than 50 years, RFID technology uses a small chip to store data which can be read from a wireless antenna. To date, RFID can carry 2,000 bytes of data and can be used to track goods – or in the case of hospitals, people – offering a real-time view of their whereabouts, given they are within radius of the wireless antenna's reading range, and store information, such as medical conditions, key dates and more.
How well do you really know your competitors?
Access the most comprehensive Company Profiles on the market, powered by GlobalData. Save hours of research. Gain competitive edge.
Company Profile – free sample
Thank you!
Your download email will arrive shortly
Not ready to buy yet? Download a free sample
We are confident about the unique quality of our Company Profiles. However, we want you to make the most beneficial decision for your business, so we offer a free sample that you can download by submitting the below form
By GlobalData
Peter Kruger, analyst at Wireless Healthcare – a market analysis provider offering reports on future opportunities for the sector – is quick to convey the scale of current RFID healthcare implementations in the UK.
"To put RFID solutions into context, the NHS – the UK's main health provider – has only just got up to speed with barcoding and passed the point where names are written on patients in biro," he explains. "Having said that, there are a number of pilot programmes in place at hospitals where they are trailing the tagging of both patient and equipment."
"The industry first began talking about RFID tags in earnest around 2004 when patient safety organisations within the NHS were still voicing concerns about its adoption. At the time it was feared it would infringe on patient privacy but this is a stance that has since been retracted."
A BUSINESS PERSPECTIVE
There are a number of reasons behind such a retraction. With hospitals starting to think of themselves more like businesses, a need to improve efficiencies has seen many look towards other sectors – namely retail and logistics where it is used to store used-by dates as well as offer a real-time view on the location of goods. Here RFID has proven its benefits, from stock taking to improving efficiencies by making goods more easily locatable.
"There are two approaches in terms of RFID tags: passive and active."
A growing availability of sophisticated clinical IT systems has also helped to spur the progress and implementation of wireless healthcare solutions forward. As large amounts of patient data make the transition from paper-based to electronic, the ability to link information together through auto-identification technology increases.
"There are two approaches in terms of RFID tags: passive and active," says Kruger. "Passive tags act almost like a barcode in the sense that nothing will be activated until it is scanned. Active tags, meanwhile, have their own power supply and will broadcast a signal when nothing is actually scanning it."
"It means if you walk past a doorway with an active tag on, it will actually trigger the system, but if you had a passive tag it would pass straight through unless someone specifically scans it."
NOT ALL BLACK AND WHITE
A lack of awareness from hospitals about the different forms of RFID available on the market is an issue that has confronted printing solutions provider Zebra. The company has worked closely with other RFID solution providers on a number of hospital pilot programmes, where it has supplied its line of barcode and RFID printers.
Aileen McHugh, healthcare manager at Zebra, advises hospitals on the attributes, cost and possible complications associated with passive and active tagging.
"You can track the patient's movement through every point of their treatment."
"At the moment, the reality is there are two main areas where active RFID solutions are being implemented in hospitals," she says. "The first is for asset tracking – namely high-cost mobile assets such as kidney dialysis machines which often get misplaced or kept aside by a member of staff, resulting in a lack of efficiency and rise in equipment costs. Second, it is often used for security and access control, typically on maternity wards or wards with vulnerable patients, such as ones suffering from dementia."
"Where we are seeing a big interest for passive RFID wristbands is niche areas such as surgical wards. This is where the importance of patient identification comes into play as you are able to print a patient's details on the wristband alongside having the capability to scan the tag for electronic information. You can also track the patient's movement through every point of their treatment."
McHugh also identifies a strong link between barcoding and passive RFID. In her view, the similarities between the scanning processes makes barcoding a natural training ground for the transition into RFID. With many hospitals only just evolving from written tags to printed ones, McHugh feels that a sudden progression to RFID could be step too far. "We are encouraging some hospitals to start with barcodes and accustom staff to the scanning processes involved before adding RFID functionality in a few years time," she says.
One of the projects Zebra has been involved in is at Birmingham Heartlands Hospital, which has since evolved into one of the UK's finest working examples of RFID. The solution was provided by Safe Surgery Systems, a company that derives straight from the heart of the hospital itself.
A PRIME EXAMPLE
Starting life as a research project under founding director and consultant ENT surgeon David Morgan, Safe Surgery Systems became an independent company in 2005 after failing to find the funds to develop its RFID software following a successful trial in one ward and one theatre at Birmingham Heartlands Hospital in November 2004.
"Birmingham Heartlands Hospital has evolved into one of the UK's finest working examples of RFID."
After eventually winning the supplier's contract in 2006, the system began its first phase of implementation in March 2007 and is now in use at five wards and four theatres alongside their associated anaesthetic and recovery rooms.
Promoted as an example of best practice in the National Patient Safety Agency's (NPSA) report 'Right patient – Right care', head of sales and marketing Jeremy Turbervill believes RFID at Birmingham Heartlands Hospital has more than proved its worth.
"It was clear after the first trial that the system enhanced patient safety by guaranteeing that the correct patient was presented to theatre at the appropriate time," he says. "It ensured that all pre-operative tests had been passed by the patient and addressed the issue of wrong sight and wrong sized surgery, which is a prominent worldwide issue. In fact the system was born out of an error that occurred nine years ago at Birmingham Heartlands, when a child received the wrong operation and sparked initial discussions.
"It also increased the efficiency of operations by providing staff with visibility, which ultimately increases patient throughput."
Birmingham Heartlands currently operates with embedded passive 13.56 RFID tags which are read by handheld Bluetooth Wireless readers. As a patient moves from the ward to pre-op, theatre and recovery then back to the ward, they are scanned by members of staff. A photo and details of the patient appears on the screen allowing staff to double check identity, while at the same time the readers log event times allowing the performance department to analyse throughput data.
The system took about three months to implement and between 130 and 160 members of staff underwent training for it. Such sessions last up to two hours as the system is designed to be intrinsically user-friendly, providing staff with 'traffic light' symbols that signify the preparation stages of a patient through different locations within the hospital.
IRONING OUT THE BUGS – RIGHT PATIENT, WRONG INFORMATION?
"At Birmingham Heartlands Hospital, RFID tags are estimated to have saved four possible adverse incidents within the first six months of use."
A number of initial teething problems were overcome in order to achieve the system's current flow. "There were organic changes made to the software during the trial period and when staffs were using it," explains Turbervill. "For example, we added indicators to alert medical staff if a patient was suspected of being at risk from conditions such as venous thrombosis (VTE) which could put them at risk during surgery.
"Additionally, some staff often experienced interruptions in coverage with the Personal Digital Assistants (PDA) – the handheld terminals used to read RFID tags – so we applied its same functions to a PC as backup option for when wireless went down."
The very first pilot at Birmingham Heartlands Hospital began with active tags – a system which presented numerous problems. Active tags are non-disposable and so Turbervill was quick to highlight the concerns over infection control with tags being past from one patient to the next. This presented a large gap for human error as wrong electronic information could conceivably be left on the tags, which have no capability to have details printed on them as passive tags do.
Furthermore, active tags can locate patients but not necessarily enough to pinpoint them to a small room, such as the anaesthetic room. "We therefore struggled to be certain a patient was ready and waiting for surgery," adds Turbervill.
Finally settling on the passive option, the system has since attracted interest from Freeman Hospital in Newcastle and overseas in Australia. At Birmingham Heartlands Hospital, RFID tags are estimated to have saved four possible adverse incidents within the first six months of use, and furthermore have increased patient throughput for doctors and consultants by about 12% with the top five consultants witnessing an improvement of 24%.
"The cost of the system is minor compared to the risk of error."
Turbervill also notes that the cost of the system is minor compared to the risk of error. Dependent on scale, the total cost of Safe Surgery Systems amounts to roughly five to seven pounds per patient admission, which dwindles to two pounds if implemented solely for patient identification and tracking purposes.
"The important thing to learn is that the current costs surrounding patient safety – however minor or major an incident may be – affect the reputation of the hospital and the general public's trust in healthcare. We can rarely, therefore, underestimate the importance of positive patient identification."