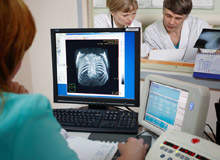 Electronic records and imaging communications systems, telehealth, digital backup, archiving and retrieval, and associated products and services are likely to prove to be the major technologies breaking the budgets of hospitals globally this year, according to global analysis firm Datamonitor.
Christine Chang, a US-based associate analyst of global healthcare and vertical markets technology at Datamonitor, says these technologies are moving to pole position as the population of developed countries in particular ages faster.
The digitising of hospital information systems can potentially slash waiting lists and human error while cutting costs and increasing overall efficiency, she notes.
"These investments are being driven by the need to improve quality of care, decrease overall healthcare costs and improve access to care," Chang said.
The projected North American hospital spend alone in 2008 is $23,492m. "We don't have numbers for hospitals specifically in Europe, but overall healthcare tech spending [for Europe] in 2008 is $13,817m."
EHRs
Chang says Datamonitor's primary annual survey of 150 hospital IT directors in North America and Europe this year suggests that the top technology priority for hospitals worldwide right now is therefore investment in a key technology – electronic health records (EHRs).
EHRs are represented by applications from a wide range of vendors, including e-Medsys, Harmony, TheraManager and H2000.
Electronic archiving has been promoted for years as a solution to the vast caches of mouldering, often handwritten, Manila files typically widely dispersed across different hospitals and offices – meaning difficulty and delay for any clinician wanting urgent access to specific medical information.
The benefits of a uniform, digital system for efficient archiving and rapid retrieval of patient records are obvious – but cost and technological interoperability issues can delay migration.
However, IT software for hospitals that complies with the Health Link 7 (HL7) global standard for communications of clinical, financial and administrative healthcare information over computer systems is one way around some of the issues involved.
Currently, HL7 UK is working towards version three of the protocol.
The NHS reiterated in 2003 a commitment to moving to EHRs, and has spent £2.3bn on its integrated care record service (ICRS) development programme.
"Electronic archiving has been promoted for years as a solution to the vast caches of mouldering files."
ICRS will start with a 'spine record' of essential medical information for each patient, accessible by patients and clinicians, but eventually more services such as automatic safety checks on prescribing will be added, according to the NHS.
Meanwhile, advances in sensors and wireless technologies – that can be used in devices such as smartphones, for instance, means more types of patient-related health data will eventually be able to be stored via EHRs.
Over time, EHRs are expected to connect with opportunities for electronic disease surveillance – remotely by distributed sensor, in the so-called Snow Agent system, according to a 2006 report by the University of Tromsø's Professor Gunnar Hartvigsen on new trends in EHRs.
PACS
"European hospitals are also looking to invest in picture archiving and communication systems (PACS)," Chang said. PACS is also facilitated by EHRs.
PACS technology enables electronic storage and screen viewing of medical images such as X-rays and scans. The big advantage is that health professionals can use PACS to easily access such information and compare the information on one image with other images.
According to the NHS, PACS will let hospitals keep patient journeys to a maximum of 18 weeks – shortening the time between diagnosis and intervention.
"For the past 100 years, film has been almost the exclusive medium for capturing, storing, and displaying radiographic images. Film is a fixed medium with usually only one set of images available," the NHS wrote.
PACS technology frees up storage space, slashes health and safety issues associated with chemical processing, frees administrative staff from image retrieval and filing duties, and enables cost savings and quicker processing.
The NHS's Connecting for Health programme plans to offer PACS-enabled centralised image storage alongside full interoperability and compatibility with other NHS IT services throughout England. Also, images will be shared outside individual trusts.
"Over time, EHRs are expected to connect with opportunities for electronic disease surveillance."
An A&E department may eventually access specialist opinion from anywhere in its cluster, any acute trust in England and some primary care and community clinics. The plan is to also integrate PACS with EHRs – providing a single source for clinical information.
On 28 May, Connecting for Health received another holdup as the Department of Health announced it had terminated its £220m deal with a key PACS supplier to the £12.7bn programme, IT solutions and services provider Fujitsu.
Fujitsu was working with medical imaging specialist GE Medical Systems on the project and was to provide support until 2013.
Negotiations had broken down due to what Fujitsu claimed were too-strict conditions on payment and deliverables, according to media reports that day. The Connecting for Health programme – which started in 2002 and was scheduled for completion 2010 – is already four years late, they said.
TELEHEALTH
"North American hospitals are looking to increase their investment in telehealth," Chang added. Telehealth is the use of telecommunications technologies – such as telephone or broadband internet – to deliver healthcare.
In the UK, the NHS Direct service is at the forefront of this trend, which includes everything from 'store and forward' telehealth that enables transmission of medical images or data to different clinicians for diagnosis to video-conferencing with patients and online information provision about health.
NHS Direct currently offers 24-hour telephone and e-health information services. It also has a health information website and a digital TV service.
"NHS Direct has 2.5 million people using its services every month. It costs less than £2.80 a head of population a year," NHS Direct said on its website. "Of the eight million calls to NHS Direct each year, 80% are symptomatic (from people who are ill and have symptoms)."
Clearly, the cost and service delivery benefits accruing from telehealth investment highlight its value as an area for expansion.
OTHER SOLUTIONS
Chang adds that hospitals are also keen to invest in regulatory reporting and patient scheduling systems for their administrative departments. Private hospitals may be expected generally to quickly realise the benefits of cost-efficiency – but public campuses won't be far behind when it obviously benefits patient care.
New administrative solutions include applications like US-based Perot Systems' Xcelys health plan software, which is certified on the enterprise level Oracle 10g platform. Such software harnesses a widely available, commercial and interoperable technology to help modern hospitals facilitate overall improvements in care – in this case, by more efficiently and swiftly processing insurance claims regarding patients.
"European hospitals are also looking to invest in picture archiving and communication systems (PACS)."
Increasingly, the answer isn't just a rip-and-replace of IT but a complex solution that looks at a hospital's overall needs and designs a multi-faceted, multi-technology approach – often including an outsourced services component such as in the troubled NHS-Fujitsu deal.
Another example is Perot's solution for Catholic Healthcare West (CHW), which was faced with the challenge of growing from ten to 40 hospitals – with diverse and incompatible IT – spread across three US states in five years.
Perot deployed an IT governance process and performance evaluation report card system at CHW as part of a services and IT package that has migrated, consolidated, streamlined and centralised administrative operations. The new system supports all IT initiatives across CHW, including data centre operations, network management, applications management and end-user support.
"[CHW] is currently implementing Cerner clinical systems and the Lawson consolidated financial system across the entire organisation," Perot said in a release. "This IT integration and consolidation approach is allowing CHW to realise economies of scale and improve levels of service across the health system."