Breathing New Life into Palliative Care
Recent funding boosts and strategy developments for palliative care in the UK signal a positive turning point. But this is just the beginning of a long road of reforms needed for end-of-life care for both adults and children. Jodie McLeod reports.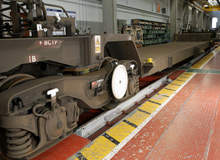 Palliative care is becoming more of a necessity in the 21st century as people live longer and are more likely to die from chronic diseases. In the UK, 500,000 people die every year, of whom almost two thirds are over the age of 75. The majority of these people die from diseases that inflict a period of chronic illness, such as heart disease, cancer or stroke.
While the need for palliative care has increased, the UK healthcare system – as with other healthcare systems around the world – has struggled to keep up with the evolving needs of patients and their families.
A charity project run by the UK National Lottery called Big Lottery Fund launched a Palliative Care Initiative in 2002, through which £84m was donated to improving community palliative care systems. An assessment of the initiative, for which funding ceased in 2006, found that decentralised local care systems, lack of coordinated care pathway plans, limited choice for place of death and poor awareness and communication about death in the community were among the main points in need of improvement.
"In 2008 the UK government committed a total of £286m to palliative care for both children and adults."
It was also found that those patients suffering terminal diseases other than cancer weren't accessing palliative care support as readily as cancer sufferers, and children's palliative care was found to be rife with management holes.
In acknowledgement of these flaws, in 2008 the UK government committed a total of £286m to palliative care for both children and adults: £88m for 2009/10 and £198m for 2011/12. As part of this, funding for children's palliative care (which totalled £27m for 2006/7) would be extended by £10m a year until 2011.
In addition, the first-ever children's palliative care strategy for England – Better Care: Better Lives – was launched in February 2008. Soon after, in July, a new End of Life Care Strategy (EOLCS) for adults was issued by the UK Department of Health.
Both strategies outline key improvement areas for palliative care and will function as guides for Primary Care Trusts (PCTs) in cooperation with local health services for targeting their funds to provide a better palliative care service to patients and families.
In response to the funding and strategy launch, Professor Mayur Lakhani, chair of the National Council for Palliative Care (NCPC) believes that if directed and implemented well, the boost will bring unprecedented improvements to palliative care. "This means many more people will benefit from improved and coordinated local services in their homes, care homes, hospices and hospitals," he says.
Providing choice
One of the most notable failings in palliative care at present is the lack of choice given to people about their place of death. According to research conducted by Marie Curie Cancer Care – a charity-funded palliative care service in the UK – 64% of people want to die at home but only 25% can achieve that. Most deaths (58%) occur in NHS hospitals, with around 18% occurring at home.
"According to research conducted by Marie Curie Cancer Care, 64% of people want to die at home but only 25% can achieve that."
The Big Lottery Palliative Care Initiative was focused on changing this lack of choice for patients. Its £84m donation went to 55 multi-professional healthcare teams to help them care for people in their homes across the UK. Marie Curie Cancer Care's Delivering Choice Programme, developed in 2004, has similar aims.
For this programme, the charity is working with local organisations, patients and carers in the UK to enable patients suffering any terminal illness to make free and informed choices about the treatment they receive and where they will die. One review study of the programme has shown that at the Lincolnshire site – one of six Delivering Choice projects – the amount of home deaths rose from 19% in the area to 23% during the programme.
Increasing choice for patients is also a key aim of the Gold Standards Framework (GSF), a programme developed by the NHS that has been effective since 2005. The success of both the GSF and Delivering Choice programmes have been acknowledged in the EOLCS, in which PCTs are advised to use each as a model for local systems.
Palliative care for children
According to the Association for Children's Palliative Care (ACT), there are at least 15,000 children in the UK in need of palliative care. Children's palliative care (CPC) services in the UK are based on collaborations between the NHS, voluntary sector, local social services and educational services. But maintaining cooperative partnerships between these services is notoriously difficult. Funding negotiations, for instance, must take place on a regional level, and often the priorities of community services and PCTs are at odds – leading to misdirected or simply not enough funding.
The government's £20m funding boost for CPC earlier this year, for example, was directed solely at children's hospices in England. While this was an important move, ACT CEO Liz Chambers says that the funding is neglectful of other areas of CPC, as well as other regions of the UK.
"Children's palliative care [community] services have been devastated by recent cuts in funding."
"Children's palliative care [community] services have been devastated by recent cuts in funding and are not due to receive any of [the £20m]," she says. "This has been bitterly disappointing to the rest of the CPC sector." She also believes that money would be better directed to community services to enable the provision of 24/7 services outside hospital.
Despite funding issues, there are many positive developments in the management of CPC. The Liverpool Care Pathway for the Dying Patient (LCP) – a framework developed in the late 1990s that enables specialist and generalist care-givers to give quality end-of-life care in a range of settings – is now being adapted for children in a community services setting. ACT has also been behind a number of recent initiatives; including a push for more CPC awareness and funding in Scotland, as well as a new National Networks Project to help rollout the government's end-of-life care strategy for children.
Further developments
In the research and development arena, the government-funded Cicely Saunders Institute for Palliative Care. The world's first purpose-built institute for research into end-of-life care, costing £1m and due for completion in 2009, it will spearhead the development of quality palliative care solutions. Also relating to R&D, the NCPC will use its Section 64 Grant by the Department of Health to undertake a benchmarking exercise that will determine the population areas most in need of palliative care in the UK.
Marie Curie is helping patients with diseases other than cancer to access more timely and available services by teaming with other charities, such as the British Heart Foundation.
"The NCPC is leading a government-funded coalition to raise public awareness of death and dying."
The issue of raising awareness about death has been swept under the carpet since the historic shift in healthcare in the 1900s, which saw most deaths move from occurring in the home to the hospital. However, the NCPC is leading a government-funded coalition to raise public awareness of death and dying.
Margaret Dobb, assistant R&D director at Marie Curie Cancer Care says that improvement is dependent on PCTs working closely with health providers, social care and the voluntary sector to direct funding in the most effective way.
"We know that to allow more people to be cared for and die in the place of their choice [PCTs] must look at the 'whole system' that delivers care to those at the end of their lives," she explains.
Improvements to palliative care are spread out thinly over the range of problem areas, making large-scale progress difficult to measure. But the culminant impact of these individual initiatives is laying the groundwork for a more holistic and effective system.