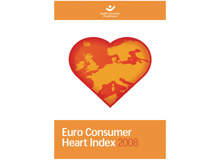 There are vast differences in both the level of cardiac healthcare and heart disease preventative measures across the different countries within Europe. Instead of learning from each other, the level of cross-border cooperation is low and held back by bureaucrats desperate to keep control of health budgets.
The results recently published in this year's Euro Consumer Heart Index are not in themselves wholly unexpected but there are a few surprises which will rock commonly held opinions. For example, Poland stands out like a beaming light among the otherwise poorly catered-for Eastern European countries.
The Heart Index has been published by the Health Consumer Powerhouse annually since 2005. Its aim is to measure the performance of countries on differing aspects in the delivery of cardiovascular care. The information is presented as a series of rankings designed to help consumers obtain the best outcomes from their cardiac treatment.
Changing the odds
One of the biggest changes in this year's report has been in the number of patients receiving reperfusion treatment instead of having bypass surgery. This treatment, not widely available until recently, dissolves a blood clot by using a balloon to widen a blood vessel before using drugs to dissolve it.
"Some years ago, very few patients got this treatment," says Arne Björnberg, one of the report's authors. "Today, this is one of the hot things. Much bypass surgery can be substituted by inserting a balloon through a vein in the groin. This technique has evolved rapidly and is gradually taking over from open-heart surgery."
The notable differences in healthcare across Europe are clearly linked to the wealth of those countries and the amount of money spent in this sector, although there were some exceptions.
"It is very obvious in cardiac care that it helps to be affluent," says Björnberg. "The countries that stand out – Luxembourg, Norway and Switzerland – spend far more per capita than anyone else in Europe."
"Prevention measures such as screening for cardiac disease are cheap and anyone can do it."
Yet France, with a lower spend, hits the number two spot overall. This is mainly due to a high level of preventative care. In addition, Poland has a low death rate given the relatively small amount of money it spends on healthcare.
"Poland can't afford to hospitalise people as much as other countries," says Björnberg. "However, it does have a high level of hospitalisation for heart disease. It prioritises care resources to cardiac care. Its healthcare system isn't very consumer friendly, but it does score well on outcome.
"Central and Eastern Europe have an appalling mortality rate but Poland is the exception. If you have encountered Polish food, you know it can't be because of that."
Poland is also taking a leading role in helping people to stop smoking, a major factor in heart disease, and it is doing this through the unlikely medium of a television soap opera. "They have got the actors to promote stopping smoking as part of the programme," says John Martin, the European Society of Cardiology's spokesperson for political and European affairs. "This is beginning to work and other member states are looking at adapting the programme."
Preventative measures
In Martin's opinion the proof that reducing smoking could cut heart disease can be seen from Ireland and Scotland following the smoking ban in pubs and other public places. "The Scotland figures show a drop of 22% in heart attacks the year after the smoking ban," he says. "The year after the smoking ban in Ireland, the figure was a 16% drop in heart attacks."
However, for alcohol, Martin says that France outscoring everybody on prevention shows that drinking a small amount could help prevent heart disease.
"It is not just the red wine, though that is part of it," says Björnberg. "The French have the lowest rate of heart disease in Europe but they also have the lowest obesity rate in Europe. Yet prevention measures such as screening for cardiac disease are cheap and anyone can do it. The UK is starting incentives for primary care doctors to do the relatively simple things to screen for heart disease. Any country could afford to do this."
"Malta's aim is to become a centre of excellence for healthcare and a role model for its European counterparts."
Martin agrees. "Treatment is expensive, but there is less spent on preventative care, and we know we can prevent it. We have to get the resources and organisation to tackle that problem. This is partly a political problem. If there was the political will to put more resources into prevention, we could change the face of heart disease across Europe."
Preventative measures include basic screenings, such as measuring blood pressure and taking a blood sample to test for lipids and cholesterol. Because this is being done more in the UK, British citizens have the lowest cholesterol levels across Europe.
"We looked at the use of statins across Europe, and the UK and Ireland are the European champions at using these, which is why the cholesterol levels are lower," says Björnberg. "That medication is known to work."
Yet statins have a very low use in Italy where doctors are worried about potential side-effects, but Björnberg has little time for this opinion. "It is rubbish what the Italian doctors believe," he says.
He has even less time for what he describes as "control freaks" in health departments that are stifling the development of cross-border care. "There are few countries that score well on cross-border care," he says. "I am totally unable to understand why there are any regulations at all to limit cross-border care. It will never be more than a few percent of any healthcare budget, so controlling it makes no sense. It is administrators who are afraid of losing the illusion that they can control healthcare costs, which they can't anyway."
Shining examples
A country where there have been major improvements recently is Malta. Before November 2007, it sent a high proportion of its heart patients abroad, usually to the UK. But then it opened a new state-of-the-art hospital with more than 700 beds, enabling it to treat most domestic patients.
Malta's aim is to become a centre of excellence for healthcare and a role model for its European counterparts. But the country has a high obesity rate and a high incidence of diabetes.
"We want to see the best practices of each country spread to others."
Another important factor in scoring well is a good ambulance service with paramedics able to start treatment as soon as the patient is met. This is particularly important in countries where there are large distances between hospitals. Countries that scored well on ambulance speed included Denmark, Germany, Luxembourg, Netherlands, Norway, Slovenia and Sweden.
While it is not surprising to see small countries where distances are shorter included, it does show that even large countries such as Germany can do well with the right attitude. Bulgaria, Greece and Spain all performed badly in this area.
The final conclusion of the report was that no country had a perfect score and significantly that no country had systematically tackled prevention of heart disease. That said, some countries are doing much better than others and it is time that their European neighbours learned from them.
"We want to see the best practices of each country spread to others," says Martin.
Björnberg agrees: "Things are being done differently in different countries. Some need to raise their heads and look across borders. It is cheaper and quicker to copy what someone else is doing than developing something yourself."