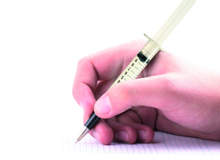 According to a US study published in 2007, the average needlestick injury rate among the participating student surgeons was 95% – with a reporting rate of less than 50%. However, Martin Makary, director of the Johns Hopkins Center for Surgical Outcomes Research, and Paul Grime, chair of the BMA Occupational Medicine Committee, believe that post-training surgical staff reporting rates for such injuries could be as low as 25%, leaving many to ask what needs to be done to change existing hospital cultures.
Makary authored the controversial study which followed the academic careers of 699 student surgeons. The results showed that out of their participants, 582 had sustained a needlestick injury during the course of their five-year training and, of these, 53% were considered high-risk exposures to possible HIV, hepatitis B or hepatitis C. The most startling finding was that 51% of these injuries were never reported.
The results, which were published in the New England Journal of Medicine during the summer of 2007, sent shockwaves through the US healthcare system and proved to be a wake-up call for many hospitals, though arguably short-lived.
Nearly one year later, Makary believes lasting impact has been negligible and when asked for a primary reason, he says it all comes down to cost.
"Reporting can be perceived as a sign of having made a technical mistake within a culture where technical excellence is highly valued."
Change needed
"Little has been done to improve occupational safety because it costs money to make meaningful change," he explains. "The greatest area for improvement according to our study is to provide simple, quick and efficient reporting systems.
However, the most cost-effective solution for hospitals is to have an "open door" at an employee health office and put in place the infrastructure required to facilitate timely reporting."
Though some US hospitals have implemented hotlines and rapid response teams who will go to the injured healthcare worker, perform testing on the spot and dispense prophylactic medication when indicated, these procedural adaptations are the exception within a healthcare system under constant pressure to cut costs.
According to the study, the top reasons why participants did not report their injuries were:
it takes too much time
it won't make any difference to the outcome if they have been exposed
the social stigma associated with making a technical error.
"All three of those reasons can be overcome," says Makary. "We can now successfully treat early HIV to the point where we can prevent the contraction of HIV disease from a needlestick in essentially 100% of all cases, when treatment is initiated quickly and properly.
"We can also prevent 90% of hepatitis C transmissions from conversion to chronicity with early treatment. Newer medicines will be even more promising, all the more magnifying the issue of reporting and highlighting its importance."
Shared experience
But the cultural attitudes amongst surgical trainees and even experienced operating theatre staff need to change. "Our youngest, least experienced trainees and students are at the greatest risk of injury because they lack matured technical skills," explains Makary. "And they, of course, are concerned about their reputations.
"The culture has traditionally allowed trainees, who are quite frankly intimidated in this surgical hierarchy, to be hesitant to report in the same way that they are hesitant to wear a dunce cap in a classroom. Reporting can be perceived as a sign of having made a technical mistake within a culture where technical excellence is highly valued.
"The culture needs to change. One effective strategy that we've seen at Johns Hopkins has been the use of 'physician champions' – surgeons respected by their peers within their fields – that speak openly about their own experiences with needlestick injuries. These private testimonials have made human the experience and allowed trainees to relate to it by recognising that even the best surgeons get stuck and follow these protocols.
"We have physician champion testimonials in our training classes, orientation and resident meetings. The programme has also been generalised so that other institutions and hospitals can adopt the educational package for their surgeons and operating room workers."
As an active member of Lotus Global Health Foundation, an organisation which provides medical care to impoverished areas around the world, Makary is keenly aware that changing hospital cultures will directly translate into saving lives.
"Under-reporting of needlestick injuries is most concerning in sub-Saharan Africa, where HIV is endemic in some populations and healthcare workers overseas place themselves at an incredibly high risk of injury to provide surgical care to local populations," he says.
UK's stance on reporting
Paul Grime, chair of the BMA Occupational Medicine Committee, was not surprised by the 2007 study findings and believes similar results would be found within the UK healthcare system.
"We have an estimate in the UK that only 40% of all needlestick injuries get reported and then in theatres, in surgical environments, it might only be 20–25%."
"Surgeons are a high-risk group," he says. "I think the reason why there is a year-on-year increase is because it is cumulative. In the study, year one students had an average of 1.5 needlestick injuries whereas in year five that increased to 7.7.
"I think that does reflect our experience here in the UK. But reporting is always a difficult thing to study. It's like the hidden part of the iceberg that you are trying to observe. We have an estimate in the UK that only 40% of all needlestick injuries get reported and then in theatres, in surgical environments, it might only be 20–25%. I'm surprised it was as high as 50% in the survey, but there may be some responder bias."
Grime believes lack of time is a universal problem with operating theatre staff. It is not possible to stop in the middle of a procedure to report a needlestick injury and many are forgotten by the end of a procedure due to a general acceptance that these injuries are part of the work.
"Because it happens so frequently, people don't realise the importance of it or because it happens all the time that they couldn't possibly be reporting these sharps injuries two and three times a week," he explains. "What people don't bear in mind is that if the surgeon is exposed, then probably the patient is also exposed to the surgeon's blood. And that's something that does need to be managed as well."
"I do induction talks with new doctors every month and I focus on needlestick injuries because I think it is important for them to bear in mind and it is relevant. I always tell them that the three reasons for reporting needlestick injuries are: one, to make sure it"s appropriately managed to reduce the risk of transmission of bloodborne virus. Secondly, to make sure that all the details are recorded because if they need to make a claim later on they wouldn't be able to if no details had been recorded.
"And thirdly, it helps us to gather information about when, where and how these injuries occur and that helps us to then form measures that will reduce the risk of them happening in the future. If we are putting together a case for safety engineered devices, it helps if we've got some data to show what exposure incidents we're getting and how the risk of those could be reduced by using safer devices."
Infection, safety and devices
The past few years have seen an increased awareness of infectious disease transmission rates within hospital environments but these have been primarily focused on patient risk. Grime believes equal attention should be given to the risk faced daily by staff through unreported and therefore untreated needlestick injuries. He also believes that healthcare workers do not place enough importance on the subject of sharps injuries.
"There has been some progress in recent years towards national guidance in the UK that recommends healthcare employers should make safety devices available and ensure that they have safe systems in place to reduce the risk of infections. The guidance advocates not just the safe devices but also training and awareness, best practice, safer procedures and having safe processes for disposal of sharps."
Though the use of safer devices is not mandatory within the UK, it is anticipated that there may be possible intervention coming from future legislation. "There is EU legislation in Europe at the moment around reducing the risk of exposure to biological agents, but it's not specific enough to require employers to provide safer systems to work with sharps for example," says Grime. "But it may be that if we have EU legislation that is more specific that it will increase the need for change."
Though sales rates of safer devices have seen yearly increases, market share for safety cannulae, for example, remains at only 12%. Data supporting the cost effectiveness of safer devices is lacking and as a result, healthcare systems such as the NHS in the UK still primarily purchases standard, non-safety-engineered devices.
Instilling a reporting culture
The case for purchasing safety engineered devices can only be established through trial and studies with accurate sharps injury reporting. To accomplish this, hospitals need to raise awareness and educate their staff regularly on how to report. "At the Royal Free Hospital in London we have put posters in all critical areas so that people know that if they do have a sharps exposure we have a 24-hour hotline that they need to phone," says Grime. "And that's all they need to do.
"It's about having the systems in place and making sure employees are aware of those systems. Not only telling them during induction but reminding them in the workplace through the intranet and educational literature. It's about having a culture of reporting so that people aren't afraid, if they report, that something "bad" will happen. But actually it is in their interest to do that, for themselves and their colleagues as well."
"The case for purchasing safety engineered devices can only be established through trial and studies with accurate sharps injury reporting."
Unfortunately, due to such low reporting rates, these measures may paradoxically lead to an apparent increase in the number of needlestick injuries over the short term which will make it difficult to monitor the effectiveness of implemented policies and safer devices.
"As more people report, the case numbers increase despite the fact that you've actually made things safer," says Grime. "That's another reason why non-reporting is such a problem. It makes it more difficult to monitor exactly where you are and what you need to do."
"Every year there are hundreds of thousands of healthcare workers being stuck with needles unnecessarily. People still get exposed to and acquire infection. Although the numbers that are reported might be small, the outcome is already significant.
Just recently a case was reported in the UK of a nurse who had a sharps injury in 1999, acquired HIV and died from Aids in January 2007. She had the exposure at a time when she should have been able to have access to anti-retroviral medication and special prophylaxis.
"Since the exposure happened, that hospital made the change to safer devices," says Grime. "It's a shame something like that had to happen to drive the change. That somebody actually dies from an occupationally acquired infection is a very significant outcome." Perhaps dramatic incidents such as this will prick everyone's conscience when it comes to reporting needlestick injuries in the future.