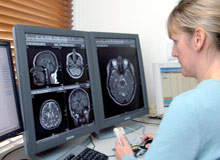 In the world of health, as in pop music, image is everything. But, while the likes of Madonna and the White Stripes struggle to ensure they're perceived as "cool", the challenges facing those working in medical imaging are rather different.
The ability to access images quickly and easily is a crucial factor within medical imaging, which is why picture archiving and communications systems (PACS) have become so important so quickly for healthcare providers around the world over the past 20 years. One such healthcare provider is John Somers, consultant radiologist at the Nottingham University NHS Trust in Nottingham, UK.
Systems integration
As part of a National Programme for IT, PACS are now operational in 127 English trusts, and Somers is well placed to discuss their installation. According to Somers, hospitals and healthcare institutions looking to install a PACS should focus on how it will integrate with other software.
"If I wasn't in a national programme and was just in a hospital buying a PACS, one of the things I would be looking for is added value over the standard PACS product," he says. "I would be looking to see if the PACS integrates with other systems to provide complex 3D reconstruction software."
"Ask radiologists now if they would go back to the old system, and they will say no."
Such software can be bought as separate stand-alone applications, but PACS manufacturers are now integrating them into their architecture so that they can be launched from within the PACS.
Hospitals should also be looking at how the system can be used in the future, for example, as well as radiology, can a cardiology product be fully integrated into the PACS; does it work seamlessly; can it integrate with card information systems in a seamless manner so that hospitals can use their card systems to access the PACS? In the area of anaemography, hospitals should find out if there is an ability to deal with other images such as endoscopy and medical photography, and if there are methods of integrating them into a PACS.
"It's all those sorts of future-proofing and value-added factors that I'd be looking for if I was modernising a PACS," says Somers.
Radiology information systems (RIS) are an essential part of any PACS. Questions of RIS functionality include: How good is it at managing workflow? Is it a good scheduler? Is it easy to use? Does it have integration with voice recognition software? How good is that integration? Does it integrate fully with the PACS so that it works in a bidirectional way? "Integration is the big thing for the future," says Somers.
User perspective
The National Programme for IT is an initiative by the Department of Health in England to move the National Health Service towards a single, centrally mandated electronic care record for patients and to connect 30,000 general practitioners to 300 hospitals, providing secure and audited access to these records by authorised health professionals. The Department of Health agency NHS Connecting for Health is responsible for delivering this programme.
In creating the PACS installation programme, the nature of the National Programme meant that healthcare providers didn't have an enormous amount of input at that stage.
"One of the disadvantages of the national programme was that because the PACS service was delivered by a local service provider, they subcontracted to a PACS provider and therefore we as users in the hospitals didn't have any say in which of the PACS systems we were going to have," says Somers. "But as far as I am aware, nobody has been disappointed with the system they have been given. Everybody has been happy because they've all been able to do what they want."
But not everyone was happy immediately. User discomfort with the new technology and inadequate hospital networks meant that at first some PACS were unable to operate at the optimum level.
"One of the things about implementing PACS is that it is different," explains Somers. "This means change. For some people that is difficult: before PACS, a helper would get the images out and put them on a viewing box so the radiologist didn't have to do anything. Now you have to log on, find the patient – some people find that transition difficult. But it won't take long before people see the advantages and get used to it. Ask radiologists now if they would like to go back to the old system and they will say no."
Other problems surround non-availability, such as when a hospital system goes down, and the slowness of that system. A PACS will show up deficiencies in a hospital network fairly quickly, so robust, wide bandwidth hospital networks that don't have single points of failure are required. If it takes someone a long time to log on and get images, they will get fed up very quickly. But, argues Somers, the benefits of PACS far outweigh the problems.
"Until the national programme they were fairly patchily distributed," he says. "But now, the big change over the last two years is that we've gone from various sites who've bought PACS on their own to now where every single NHS hospital trust in the country has PACS."
Right here, right now
One big advantage for PACS is that imaging is at the heart of modern medicine, believes Somers. There are few medical conditions or diseases that don't at some point require imaging. PACS delivers imaging quickly and it delivers it to anyone who needs it, wherever they are in the hospital.
"Further development is required to support the way radiotherapy uses imaging."
Traditionally, an image would be produced as an X-ray and would be either kept as an X-ray until it was reported – while this was being processed the image was not available for clinicians to look at – or it would send out to the clinicians, which meant that in one ward, only one person could look at the X-ray. However, this also meant that the radiology department couldn't report it.
Using film also meant that if the patient moved, the film had to be physically moved around after them and that it had to be stored, so if anybody wanted it in the future they had to send a request. That system has all gone. With PACS, the images are just there available for anyone to look at, at any time.
"You log on, put in the patient's ID and it's there," says Somers. "We don't lose files as we sometimes used to. It was not uncommon to lose films and for patients to have to have repeat examinations as a result. PACS allows speeding up of the process. It also allows data sharing. Healthcare, particularly in terms of cancer or stroke, is not going to be delivered locally; it will be planned centrally. So, for example, you have your scan locally, but that scan would then need to be reviewed centrally in a multi-disciplinary team meeting where everyone sits down to discuss the case. That can't be done unless you've got the imaging.
"If we can do it digitally it means that cancer care can be speeded up. It's hard to see how you could have met the targets for cancer care unless you had PACS that were linked up and able to share data. Now you've CT scanners that can produce huge numbers of slices and MRI scanners that can produce thousands of images for a single study, it is impossible to look at those on film. A PACS is an essential component."
Room for improvement
With the emergence of PACS, also comes the question of what to do with the films. Integrating traditional imaging processes with a PACS is deemed not worthwhile because of the length of time it would take to process the huge amounts of film.
"Most of us have decided not to do anything with the film because we have worked out that to digitise one year of backlog would take approximately one year," says Somers. "Reliance on old films has decreased rapidly. In three years" time, we reckon that less than 1% of those old films will ever be requested again."
However, Somers believes that PACS can still be improved, for example, embedding the software into the primary PACS product. "In developing PACS to support the other 'ologies', most PACS manufacturers would support cardiology, but I think you could go into supporting endoscopy and histology," he says. "Further development is required to support the way radiotherapy uses imaging, which at the moment is not well supported by PACS
manufacturers."
Other areas such as medical photography would require some development of the RIS side, for example, having supporting information systems.
"You either use the RIS, develop that and call it an imaging information system, or you develop the RIS so that it can support workflows for endoscopies, workflows for histology and workflows for radiotherapy," explains Somers.
"An alternative is to have new systems that integrate with the PACS in the same sort of way. You also want to see really tight integration with products such as voice-recognition software."
Bigger picture
The ability to send information over long distances is another area in which PACS will need to improve, looking at data compression and methods of sending very large files over networks quickly and securely; as well as the ability to send files within hospital departments, and from one city to another.
"PACS delivers imaging quickly and it delivers it to anyone who needs it, wherever they are in the hospital."
"Another instance is when a doctor is on call at night but doesn't need to go all the way into the hospital to look at an X-ray," he says. "The doctor should be able to log on to the system at home and sort out the problem with a telephone conversation, saving time and trouble."
PACS would also be ideal in the improvement of stroke care. To do this, patients need to be treated in the early stages of a stroke; in the first three or four hours of the onset with clot-busting drugs to prevent them developing full stroke or to reduce the impact of the stroke.
"To do that you have to have a CT scan within an hour of presenting and that has to be looked at and reported," explains Somers.
For example, if the hospital is located in Cornwall, the scan might be produced locally within a reasonable amount of time, but there won't be anyone to report it. To support this would require networks of radiologists working from multiple centres – maybe on a rotational basis – constantly available to report those scans.
"To get those scans to them, there needs to be some way of transmitting this data and getting the data back with the report to the place where the treatment is going to take place," Somers concludes. "Teleradiology needs to be developed and cracked to allow issues such as stroke strategy to succeed."