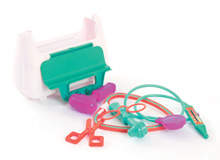 Technological advances in radiology and increasing demand for services have led providers to seek methods to safely and efficiently perform diagnostic imaging studies. The practice of using general anaesthesia (GA) to perform magnetic resonance imaging (MRI) and computed tomography (CT) scans significantly impacts the efficiency and use of diagnostic imaging studies.
Scans using GA take longer, which decreases the number of scans that can be done, limits timely access to services and reduces revenue for the hospital. Additionally, concerns regarding the invasiveness of a voiding cystourethrogram (VCUG) continue to generate discussion.
In 2000, a study was published that examined the efficacy of providing cognitive behavioural interventions for children undergoing a VCUG. Leaders in the Diagnostic Imaging and Child Life Departments at Children's Hospital & Research Center Oakland in California, US, hypothesised that using a child life specialist (CLS) to prepare outpatients for MRI, CT and VCUG studies would increase access, revenue and patient/carer satisfaction while diminishing the need for GA.
Why child life?
To be successful working with paediatric patients, one needs a basic knowledge of child development and the stressors affecting each age group. Other factors to consider are that:
chronological age might not coincide with developmental age
regression is common in stressful situations
chronically ill patients do not necessarily feel comfortable in healthcare settings.
A CLS is trained in child development and identification of stressors, particularly as they relate to healthcare. They are uniquely qualified to assess paediatric patients and provide interventions that mitigate the effects of these stressors and enhance coping skills.
"A CLS focuses on the psychosocial needs of children, striving to reduce fear and anxiety, and promote understanding and cooperation."
Child life services/diagnostic imaging
The diagnostic imaging and child life departments at the Children's Hospital Oakland began considering the benefits of child life services in the diagnostic imaging department (DID) in 2004, primarily because of a graduate student research project on VCUGs.
The research data indicated that catheter insertion for a VCUG and GA mask induction ranked high as patient stressors. One stressor many parents identified was restraining their child during a procedure.
In 2006, both departments conducted additional research to determine the efficacy of using a CLS to prepare and support patients for MRI and CT scans, precluding the need for GA. The study sample (30 patients) included children aged six to 13 years, and four to eight years, respectively.
Exclusion criteria included patients with autism, developmental delays, ADHD and a history of unsuccessful scans without GA. Additional exclusion criteria for MRI scans included patients with chronic pain or those scheduled for a double study.
The results of the 2006 study overwhelmingly supported the benefits of a CLS in the DID. All 30 patients prepared by the CLS successfully completed their scans without GA. In addition, the no-show rate of approximately 7% was reduced to zero.
Financial benefits
Conducting scans without GA decreased labour costs because pre-anaesthesia work-up, induction and recovery were not needed. It was estimated that one CLS could prepare 125 to 150 patients per year, saving the equivalent of three weeks of GA schedule time. In addition, the reimbursement rate for patients covered by Medi-Cal, a public health insurance programme, is greater when scans are performed without GA.
The study's findings led to the funding of a full-time CLS position in diagnostic imaging in February 2007. The department completed 24% more MRI and CT scans in March 2007 than compared with March 2006, with a total annual increase of 8%.
Role of child life in diagnostic imaging
A CLS focuses on the psychosocial needs of children, striving to reduce fear and anxiety, and promote understanding and cooperation. Ronald Cohen, diagnostic imaging's medical director, James Grosskopf, director, and Nigel Lucas, nurse coordinator, are convinced that child life techniques work.
They believe that part of the success of child life in their department is attributed to multidisciplinary teamwork. The CLS works closely with the nurses and technologists in the department to communicate how to best serve the needs of the patient given the time restraints of the schedule.
Preparing patients for scans
The screening process for MRI scans uses the same criteria as the 2006 study with a few exceptions. Patients who are developmentally delayed, have ADHD or autism-spectrum disorder are no longer automatically scheduled with GA. The scheduler, nurse or CLS screens this patient population to see if GA can be avoided. Questions include:
Does the child have a cognitive function of at least six years of age?
Does medication minimise the child's ADHD behaviour?
Are there adjustments that can be made to help children with autism-spectrum disorder be successful?
The CLS sees patients who fit the criteria for imaging without GA. The patients learn about the process through verbal explanation, by viewing photographs of the MRI environment and by simulating the procedure using a specially designed doll-size model complete with sound. The CLS often gains insight into patient or parent misconceptions at this time. For example, a seven-year-old patient believed his head needed to be removed from his body before it could be scanned. Patients can listen to the various sounds of the scanner, which better prepares them for the overall experience.
"One CLS could prepare 125-150 patients a year, saving the equivalent of three weeks of GA schedule time."
Depending on the anxiety level of the patient or parent, some children meet with the CLS prior to the day of the scan to help alleviate their concerns. Meeting with the patient in advance gives the CLS an opportunity to further assess the child's potential for a successful experience and to assign homework designed to strengthen coping skills and promote cooperation. Many patients practise lying still at home with loud sounds playing in the background.
While the age range for patients receiving child life support for CT scans is lower (usually four to eight years), the preparation process is similar. Patients are provided with developmentally appropriate information, shown photos of the CT environment and get hands-on experience practising with a CT model. The CT room has a projector that uses different rotating wheels of non-threatening images. This distraction tool is particularly helpful in reducing anxiety in younger patients.
Inserting an IV catheter often presents additional challenges for the patient in need of contrast for a scan. Timing is important, especially for the child who does not recover quickly from a stressful event. It is an unrealistic expectation for this type of patient to be compliant during the scan if he/she is not given a short break between the IV placement and the scan.
Child life preparation for an IV placement includes offering choices that enhance a patient's unique coping style. For example, will the patient respond best to distraction, active participation (such as watching), or being given a minimal amount of information? Many patients benefit from focusing on their breathing.
Preparing patients for scans under GA
An additional benefit of having a CLS includes preparing patients for GA. Patients now have more time and opportunity to interact with the GA induction mask. This starts with observation – watching the CLS gently place the mask over a doll's nose and mouth, then holding and smelling the mask or even making silly noises with it, and finally demonstrating the appropriate use for it. This additional step helps minimise a child's fears and anxiety of what might have been perceived as a frightening event.
Preparing patients for VCUGs
Cohen states that many centres recommend a VCUG after the first well-documented urinary tract infection. For children starting at three-years old, the CLS prepares and provides procedural support for patients undergoing a VCUG. Preparation includes using photos and an anatomically correct doll to demonstrate the procedure from start to finish. Since the main goal is to decrease anxiety, preparation is stopped if the patient becomes anxious. In this case, the focus changes to identifying and strengthening adaptive coping techniques.
During the test, the CLS will often show the carer how to help the child blow on a feather or whistle to facilitate muscle relaxation through breathing, or how to firmly hold the child's hands. As the bladder fills, a patient might choose to cope by watching a DVD, focusing on a distraction item, or watching the monitor.
Many children have difficulty emptying their bladder, therefore, it is not always helpful to tell them the hardest part is over once the catheter is in place. Because words are easy to misinterpret, the CLS strives to use language carefully. Asking patients to "pee on the table" may hinder more than help. Instead, the CLS might ask the patient to release the fluid that looks like water. This minor adjustment in language can make a big difference especially for a young child. Because a VCUG can be stressful, the CLS often checks in with the patient and carer after the test.
Applying child life communication techniques in DID
Although the best course of action is to employ a certified CLS in a DID setting, budget priorities may preclude making this a reality. This constraint does not prevent DID personnel from using child life techniques in their interactions with paediatric patients and their carers.
"While certain phrases or acronyms are well known to healthcare staff, patients or their parents do not necessarily understand them."
Language can promote confusion, fear or understanding, therefore it is best to use clear, developmentally appropriate and minimally threatening words. While certain phrases or acronyms are well known to healthcare staff, patients or their parents do not necessarily understand them. Some examples where opportunities for misunderstanding exist include "CAT scan", "flush your IV" and "we're going to put you to sleep".
DID staff should consider making small adjustments in the way they communicate with a patient. For example, telling a child "we will need to hold you down if you move" is different from saying "some children need help staying still". Making subtle changes in language also applies when talking about time. For example, which statement sounds like a shorter time period: "The next scan is only five minutes" or "The next scan is five minutes long"?
Empowering parents/carers
Paediatric patients come to their appointments with a parent/carer, so opportunities exist for the entire staff to help them actively support their child.
Inviting a parent to be passively present is not always enough. Adult carers can provide appropriate support for the child when they know in advance what they can and cannot do. Consider giving them a role such as providing physical comfort or distraction.
At times, you might solicit a carer's help in appropriately restraining his/her child. Carers can use many of the techniques used by a CLS. For example, while carers might be asked to hold the child's arms during a VCUG or IV placement, one might ask them to talk to the child in a comforting and supporting way, encourage the child to take slow deep breaths, or provide some form of distraction. All parents/carers have strengths, know their children best, and want what's best for them.