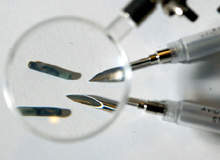 The biotechnology and medical industries are seen as key for Taiwan if it is to pull itself out of the industrial doldrums that have besieged it for the past decade.
"We need to develop our emerging industries," the country's vice-president Vincent Siew told the recent Taiwan Business Alliance Conference in Taipei.
"The biotechnology and medical industries are key. We want to put all our available resources into promoting these and other emerging industries."
The annual worldwide revenue for biopharmaceuticals is $600bn, of which Taiwan accounts for just 1%. But the country aims to increase that share significantly and is encouraging cooperation between overseas and Taiwanese companies.
"We have a reservoir of high-quality talent in this field," Chi-Ming Liang, secretary general of Taiwan's National Health Research Institutes, told delegates. "We also have a powerful electronics industry to back that up, along with knowledge of traditional Chinese medicine."
Technology in practice
A significant example of the country's expertise is Advantech, one of the leading companies worldwide in industrial computing. The Taiwanese firm's products can be found in applications from transportation to security systems, and of course in use in the medical industry. In Taiwan itself, many of the hospitals use its panel PCs on nursing trolleys to make it easier for nurses to complete their documentation and access patient data.
"Since the introduction of Advantech's Computerised Physician Order Entry system, prescription errors have fallen by 5% in Taiwan."
"This makes the nurses more productive," says Lydia Cheng, Advantech's product marketing manager for medical computing.
A typical case is at the Taichung Veterans General Hospital in Taiwan. It is using Advantech's POC-153 multimedia panel computers to record patients' diagnoses and store treatment history to eliminate the hassle of paperwork and storage.
Also popular in Taiwan is the firm's Computerised Physician Order Entry system for letting doctors order prescriptions and check if the correct drugs are being administered. It even shows pictures of the medication so that they can be compared against what is being given. Since its introduction, prescription errors have fallen by 5% in Taiwan.
The country's medical insurance scheme has also forced hospitals to computerise. Residents carry an electronic medical insurance card that the hospitals have to read before treating a patient and it may soon be used to carry more detailed medical data. So far, it carries the patient's ID, plus basic information such as allergies to particular drugs.
"At the moment there is not much data on the card, but it has forced hospitals to computerise," says Cheng. "They are trying to create a system to store the full patient data on the card, but that is still in the development stage."
In addition, this system helps hospitals receive money from the government. The amount they get each year is based on the number of patients they treat, which until its introduction was an administrative pain to calculate.
"Another problem is Taiwan's general lack of investment in healthcare, representing a mere 6% of government expenditure."
Teething problems
A complication with this computerisation is a lack of a standard system across the different hospitals.
This is due to Taiwan's huge expanse of software engineers, quite ironic when the rest of the world is crying out for them. This means that hospitals tend to hire their own software engineers to write bespoke software. "It is easy to hire these types of people in Taiwan so each hospital will have their own system," adds Cheng.
Another problem is Taiwan's general lack of investment in healthcare, representing a mere 6% of government expenditure compared with 16.2% in the US and an average across the EU of 9%.
This is even more concerning with the fact that these percentages are of a smaller pie than in Europe and the US.
The situation is not improving. There is great reluctance from Taiwanese hospitals to ditch their cheap barcode systems for tracking patient treatments in favour of an RFID system. This small, cheap chip that uses radio signals to identify and track products is growing in popularity in Europe. The slow uptake is despite RFID being widely used in the Taiwanese train ticketing system – the ticket is basically a tag that stores how much has been paid and the traveller's movements.
"Some hospitals in Taiwan are looking at RFID for patient checking, but most use barcodes," says Cheng. "They see it as a trend for the future. At the moment, the RFID tag is more expensive than a barcode."
"At present, a barcode would typically cost about NT$1 (less than 2 pence) compared with NT$10 for an RFID tag."
The extra expense of an RFID tag is not an issue for most industries as they can be used repeatedly, whereas a barcode is a one-off. However, this is not the case for patient tagging, as each tag would need sterilising and rewriting after a patient has used it, again adding to the cost. At present, a barcode would typically cost about NT$1 (less than 2 pence) compared with NT$10 for an RFID tag.
"European countries are using it quite a lot for patient tracking," said Gary Wu, sales engineer at German company SES RFID's Taiwan base, at the recent Taiwan RFID show in Taipei.
"In Taiwan, the cost is too high. It will probably be a few years before the technology is cheap enough for hospitals here to consider it."
Global partnerships
While costs remain high, forming alliances with international companies may well be the way forward. An example of this in practice is Japanese company Oncolys Biopharma, formed nearly five years ago to develop the anti-cancer drug telomelysin. Although the firm raised significant funding, it lacked the experience to move its work from successful laboratory trials into achieving the medical approvals it needed. It therefore formed an alliance with Taiwanese company
Medigen.
"We have a nice alliance with Medigen," said Yasuo Urato, president and CEO of Oncolys. "This should let us complete the second phase of getting telomelysin approved."
Medigen's strength lies in treating liver cancer and other liver diseases. This is a key area as in south-east Asia liver cancer is far more prevalent than in western countries. While the disease is not in the top five cancers in Australia and the US, it is the number one killer cancer in Thailand, and number two in China, Malaysia, Philippines and Taiwan. It is also in the top five in Japan and Vietnam.
"Medigen's strength lies in treating liver cancer and other liver diseases."
"Liver cancer is our prime target," said Medigen's chairman and CEO Stanley Chang at a recent conference. "Our core competencies are molecular biology and clinical trials." The firm has developed a business model for new drug development and tries to identify projects in which it can collaborate.
The Oncolys agreement is typical of this and already there are two trials of telomelysin running in the US. The company is hoping to start trials in Taiwan soon.
"Oncolys never considered doing a trail on liver cancer until the collaboration with us," Chang explained. "Now they are doing that trial."
Medigen has also just finished collaborating with Australian firm Progen on PI-88, an anti-angiogenic agent for cancer therapy. This joint venture started in 2000, taking the drug through its phase two trials and paving the way for Progen to take it to market.
"Over the past ten years, the government in Taiwan has tried very hard to put more money into biotechnology and related technologies, but they are not really hitting the core," said Chang. "We have some resources but not very rich ones, so we need collaborative investment into potential projects. This way we will gain the confidence to move on to other projects. We need these collaborations to catch up with the achievements in the US and Europe."
"We need these collaborations to catch up with the achievements in the US and Europe."
Medigen already has plans for a union with US firm SRI on its TPZ liver cancer therapy, while at the conference Scandinavian Health announced a plan to invest $100m in Taiwan in the next five years.
In addition, Advantech is working with Intel to develop a medical tablet based on Intel's Mobile Clinical Assistant technology. This will let nurses and doctors produce clinical documentation as they work, because they will be able to carry the tablet around with them.
"They can also check the five rights," said Cheng. "Right patient, right drug, right dosage, right time and right route [how it is administered]. Intel developed the concept and some design guides and we are designing a product based on that. We will show the prototype at a show in Denmark in November and it should be available early in 2009, probably February."
Although it is not just about finding a partner, but the right partner and a suitable project, forming global alliances should push the Taiwanese markets forward. With a brimming workforce of engineers, it has no shortage of talent and cross-border unions could reap rewards on both sides of the sea.