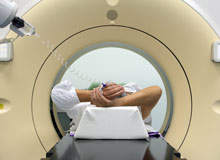 There can hardly be an adult in the western world who does not know of the health risks that smoking presents. It is common knowledge that lung cancer, along with a host of other ailments, can be caused by smoking cigarettes. However, not so long ago that link wasn't so obvious. According to Dr Jonathan Goldin, radiologist at UCLA Health System, US, until the 1950s, lung cancer was not popularly associated with the act of smoking. "Back then, most smokers simply did not understand
the risks they were taking," he says.
Goldin believes that computed tomography (CT) scans will one day be regarded in a similar light to smoking. Talking to the Los Angeles Times, September 2008, he said: "In 20 or 30 years, the radiation debate will be like the smoking debate today. People will say, 'Why did I get this imaging in the first place?'"
Understandably, the remark created a lot of interest and Goldin is keen to clarify to Medical Imaging Technology what he meant.
"Some comments were reflected in the context and some came across a little stronger than they needed to be," he says. "We are at a point where we need to recognise that CT is a brilliant technology – we are able to see things inside the human body that nobody even ten years ago would have thought we could do with such precision. As a result, we have a wonderful set of tools at our disposal."
One downside is that medicine is a combination of clinical assessment and technology, and technology cannot be relied on alone. Another downside is that medicine comes with a potential danger. "Radiation has a theoretical and now a fairly well documented clinical risk in a patient's lifetime," says Goldin.
Multiple scans
There is also evidence that the utilisation of CT imaging is exponential. "When you have such high utilisation of the technology, you start having to re-question whether your risk-benefit ratios are in line with what you are doing," Goldin explains. "Because radiation is carcinogenic – I raise the analogy of the smoking industry because what we don't want to do is deny the risk that is there and wait for further evidence – we need to acknowledge there is a risk of carcinogenesis within the lifetime of a patient being scanned from childhood to early adulthood."
In late adulthood, this becomes a moot point – but scanning people several times through childhood, adolescence and early adulthood, produces valuable data that show there is a reasonable risk attached. Goldin's concern stems from a rise in the number of CT scans being performed on one person.
According to IMV Medical Information Division, a US-based medical market research group, doctors in that country ordered 68.7 million CT scans last year, more than triple the number in 1995. "There is to some extent a dose relationship [with radiation]," says Goldin.
Background radiation
Goldin believes the understanding of radiation and safe levels of exposure needs to become more sophisticated as CT scan usage increases.
"Clearly if you have more than one scan, you start increasing your profile," he says. "It's generally accepted that a dose for CT is a yearly exposure, and that living in a big, urban city – for example, I live in Los Angeles, where there is about 3mSv of background radiation – there is a certain amount of background radiation, so the risk is calculated relative to that."
It is also generally accepted that the background radiation where people live is not associated with a greater risk of cancer, says Goldin, and that a radiation worker can get up to 50mSv a year. A standard CT of the chest is about 5-7mSv while a standard chest, abdomen and pelvis CT, which is a common procedure where they examine the body as a whole – whether it is for an investigative look for trauma or oncology – is about 20mSv.
"A 50-year-old male having multiple scans is a very different case compared with a 20-year-old having scans."
"As a radiologist I am allowed 50mSv because nobody has ever shown that adds increased risk," he says. "If I had two whole body CT scans, I would still be within the acceptable range. If I did that yearly, throughout my life, theoretically I should have no risk. So we are talking about scanning a patient maybe three to four times a year for many years."
One of the problems is understanding the effect yearly background radiation has and what happens when a scan is taken for, say, lung cancer.
"If you start screening patients every year, and they have to have interval scans two or three times a year, then people question if the whole thing about background radiation being a yearly thing still holds true," explains Goldin.
"If you start doing frequent scanning every year for ten years, 15 years or 20 years, there is a suggestion that – even though your background per year is not that high – the fact that you are having a moderate amount every year for many years may add up. That is an area where we are trying to gain a better understanding."
US-Europe comparison
The use of CT scans has not just increased in the US; it is a worldwide phenomenon. "Scan utilisation in the US has been higher because the US tends to have more of these high-end technologies distributed over a much greater geographical area than the rest of the world," explains Goldin. "Having said that, London probably has as much imaging as in Los Angeles but if you took the whole of the UK and compared it with the US, there would definitely be more in the US."
The other issue – and because of the fact that the technology is more readily available, there is probably a lower threshold in the settings where patient contact occurs often – lies in the emergency room where patients come with acute abdominal pain, a common presenting symptom.
"We've shown there is a very large increase in scan utilisation says Goldin. "Some of it is good, but some of it requires us to be sure of what we're doing."
Age and prevention issues
Children are at particular risk, because scanning from a young age has a strong impact on their cumulative dose. For young adults, and particularly young women, breast tissue and gonads are very sensitive.
"Age is a huge factor," says Goldin. "A 50-year-old male having multiple scans is a very different case compared with a 20-year-old having scans. Children are highly radio-sensitive and they are often presented with abdominal pain. So, a young child who has recurrent abdominal pain – in the old days he would probably never get scanned – could quite easily get scanned two or three times in a year, and that's the sort of thing we would prefer not to
happen."
One of the problems in recent years is that CT scans are increasingly being used for preventative purposes. While the issue is under debate in the US, it was Europe where the drawbacks of CT scans were first highlighted. "We're at a time where this area needs more discussion, no question," says Goldin.
"It's also true that the risk of radiation has become much better documented and dealt with over the last three to four years. There has been several very good articles looking at dose, a lot of them coming out of the development of what was called "screening CTs for prevention". If you start using a CT as a prevention tool, it may be good but it better be very good because now you've got a healthy person being subjected to radiation who may not even have any disease
but is being used a screen. There's a lot of debate on the use of CT screening in lung cancer, which has generated a very close look at radiation."
Preventative problems
European countries have been radio-sensitised for several years. "There's now a movement in the US to examine radiation," says Goldin. "The US is more litigious than Europe and so one fears that there could be a potential backlash in that area."
The litigious nature of medicine in the US presents a special problem for doctors. "That's one of the downsides of the medical-legal system in the US," he explains.
"The US emergency room is a high risk environment and you have to make the right diagnosis. If you don't, it's a tough society that comes to judge you."
"Having said that, the same medical-legal cycle is likely to turn on the doctors who overuse radiation. Doctors are walking a tightrope. The US emergency-room is a tough place for a doctor to be – it's a high-risk environment and you have to make the right diagnosis. If you don't, it's a tough society that comes to judge you. If you haven't done the tests that should have been done in the eyes of the emotional argument, you can find yourself in a difficult
situation."
Goldin would like to see radiologists more involved in the process of deciding if a CT scan needs to be taken. Here, the most useful thing that could be done would be to make imaging not simply a bench test – how imaging is used needs to be changed with the radiologist used as more of a consultant on a case.
"Radiologists need to take more responsibility for the clinical role of the imaging they carry out, particularly changing the way a CT scan is ordered," he explains. "This is often done without a radiologist even knowing about it until they read it on their worklist. This paradigm needs to be changed to a question from a clinical team saying "patient with abdominal pain, with clinical symptoms", and then a risk-benefit ratio can be discussed about the case as to
whether imaging needs to be done. We need to make imaging more of a consultancy pathway."
Technology is becoming a huge part of medicine and the computer revolution is changing the way things are done regarding, for example, training doctors and the expectation people have of the medical encounter.
"I think that we just need to adjust with that," says Goldin. "In the same way as you wouldn't rush into an interventional procedure without having a discussion – and I'm not saying it's the same as surgery. In the majority of cases, there should a change in use and who makes the decisions.