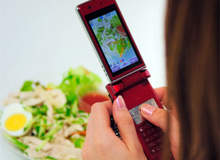 With 246 million people suffering from diabetes worldwide, the importance placed on new devices that can help manage conditions can never be undervalued. Lifestyle diseases, such as obesity-related conditions are some of the most common being dealt with by health organisations around the world today.
At Walter Reed Army Medical Centre, a new device is being tested with the hope that it can change the way such medical conditions are managed – and ease the strain on the health system.
"The US Department of Defense is the biggest medical insurer in the world."
Using a mobile phone, the Lifewatcher, the brainchild of Japanese-Canadian entrepreneur James Nakagowa, can help manage diet and lifestyle restrictions to help overcome complications associated with diabetes and obesity.
Now, at the Walter Reed Army Medical Centre, Colonel Dr Robert Vigersky is carrying out the first US trial of the device. Claire Doble caught up with the doctor to see how this trial will work, and what it hopes to achieve.
Claire Doble: What is your interest in diabetes?
Robert Vigersky: I'm an endocrinologist and I head up the diabetes institute that's part of Walter Reed Health Care System at the US Army's flagship hospital. Our mission is to look after all our soldiers, retirees and their families in the Washington metropolitan area.
How well do you
really

know your competitors?

Access the most comprehensive Company Profiles on the market, powered by GlobalData. Save hours of research. Gain competitive edge.
Company Profile – free sample
Thank you!
Your download email will arrive shortly
Not ready to buy yet? Download a free sample
We are confident about the unique quality of our Company Profiles. However, we want you to make the most beneficial decision for your business, so we offer a free sample that you can download by submitting the below form
By GlobalData
Obesity in the military is a huge problem for us. The military reflects the general status of the [population of the] United States. We, as everybody else, are looking for different ways to help our patients better cope with this obesity epidemic and, if they have diabetes, to better manage their diabetes.
CD: How did the US Army get involved?
RV: The military does a lot of medical research and development. In the area of diabetes, for instance, there are about 15 active research studies ongoing as we speak. And the military loves technology, so we tend to do a number of technology-oriented studies.
The US Department of Defense is the biggest medical insurer in the world, I think. There are estimates of about $1.1bn paid a year by the military on medical care that's associated with overweight patients. Like any insurance company, the Department of Defense has a motivation – both an altruistic and cost-benefit motivation – to undertake health research.
Based on body mass index (BMI), almost 60% of soldiers are overweight and 16% are obese. So anything we can do to keep them in active duty, or healthier, has a direct cost benefit to us.
CD: What attracted you to Lifewatcher?
"The importance placed on new devices that can help manage conditions can never be undervalued."
RV: I was at a meeting of the Diabetes Technology Society and the organisers knew I was interested in technology applications for the clinical management of diabetes. They introduced me to James [Nakagawa, inventor of Lifewatcher], he showed me his application and I thought it would have a lot of appeal to our population in the military.
This is pretty unique. It is not like anything in the US. There are a couple of other services that do some similar things – anyone can capture what you're eating on a mobile phone camera – but there are really very few that have tried to put this data into a programme that has some cohesiveness and some direction.
The beauty of it being mobile phone-based is it's a ubiquitous technology. So, say the trial is successful and hypothetically we decided to offer Lifewatcher to anybody that wants it: really the only limitation is the cost of the Lifewatcher application itself, because everyone has a mobile phone already. Although in the trial we'll actually give all participants – both the control group and the Lifewatcher group – a new, web-enabled phone with free minutes.
CD: What will the proposed Lifewatcher trial entail?
RV: We're going to test out using the Lifewatcher technology to supplement what we would consider usual care for an obese diabetic.
The trial will comprise two groups of 75 people – a control group and an intervention [Lifewatcher] group. Both groups will contain adults [18+] of different ages and of both sexes.
Our control group will be given the usual care, which is to see a dietician for an initial evaluation then three monthly follow-up visits thereafter. The intervention group gets all that plus access to the Lifewatcher technology.
The intervention group will use Lifewatcher's information database to get nutritional information about the food they're eating. They'll also use Lifewatcher to upload blood glucose information and activity information via the Microsoft Health Vault application.
"About $1.1bn a year is paid by the military on medical care that's associated with overweight patients."
CD: What are the main outcomes you're testing for and how will they be measured?
RV: At the end of the trial we will be looking at two things: blood sugar over the three months of the trial and weight loss, along with how participants may have altered their food intake – both in quantity and quality.
If we can achieve desired levels here, it translates into a huge improvement in care in terms of a patient's suffering and morbidity and, of course, costs.
A standard test, called haemoglobin AIC, that can tell what a person's average blood sugar has been over the previous three months will be done at the initial consultation as a baseline, then again at the end of the study.
We have very good data about what the implications of high or reduced AIC are in terms of diabetic complications and mortality. For example, we know that if you have an AIC of, say 9%, and you reduce to 8% you can effect anywhere from a 30%-60% reduction in the complication rate of diabetes.
CD: Will you test other aspects of Lifewatcher, such as ease of use?
RV: Yes, as well as the direct scientific data we're going to look at the psychosocial aspects of using the Lifewatcher system.
A number of validating questionnaires will initially ask things like how patients deal with the stress of diabetes, how they deal with depression etc. Follow-up questionnaires will try to ascertain if using Lifewatcher has helped with that.
CD: What about medical complications?
RV: The trial is going to be run through the dieticians but I'll be medically supervising. Because many of these patients are already on medication to control their diabetes, if they are successful [in the trial] and they're losing weight, their blood sugar could go down and we'll need to make appropriate adjustments to their treatment.
CD: What is the scope of this trial?
"Lifewatcher's information database will provide nutritional information about the food being eaten."
RV: We've only set this up as a short trial but of course we would like to see if this can be sustained long-term. This is a 'proof-of-concept' trial – we want to see whether people will use the technology, and if they like the technology here in the US. It hasn't been tried in the US before, only in Japan so far.
The trial is going to cost about $280,000, much of that is to pay for the mobile phones and the services. The remainder is to pay for a study coordinator to deal with the patients and administration.
CD: Assuming the trial is successful, what would you like to see happen next?
RV: I would like to see Lifewatcher become incorporated into diabetes management. We already have our diabetes patients regularly test their blood sugar by pricking their finger, and we use that information to help manage their disease. I see Lifewatcher as another tool to be used by both the patient and their physician or medical provider to help manage their diabetes.