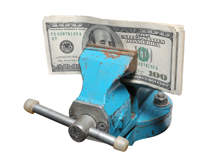 Pressure ulcers present a clinical challenge in all healthcare settings. But now they are also creating a public policy challenge. In October 2008, The US Centers for Medicare and Medicaid Services (CMS) implemented a new regulation increasing the scrutiny on pressure ulcer prevention in hospitals and adding transparency to the quality of care delivered. Inpatient facilities will no longer receive payment for certain hospital-acquired conditions that can be prevented.
Pressure ulcers have been identified as the most common and costly of these conditions. Under the new payment plan, the hospital will qualify for higher reimbursement only if the presence of a Stage III or Stage IV pressure ulcer is noted at the time of inpatient admission is given. Any facility-acquired pressure ulcer will not be eligible for additional reimbursement. The public reporting of facility-acquired pressure ulcers on a hospital report card is set to follow.
This new regulation has captured the attention of the entire wound care community. The basis for the regulation is the premise that pressure ulcers can be prevented with the application of evidence-based clinical practice guidelines, which is proving to be controversial. Wound care clinicians have long been the champions for pressure ulcer prevention. But there is now some understandable anxiety, as many worry that the bar has been set too high, holding hospitals accountable for this 'never' event.
"Inpatient facilities will no longer receive payment for certain hospital-acquired conditions that can be prevented."
Offering an incentive to healthcare facilities to take pressure ulcer prevention seriously may seem like a logical approach, but most experts acknowledge certain clinical circumstances where a pressure ulcer may be unavoidable. The statute does not require that a condition be 'always preventable', but rather that it can be 'reasonably preventable', which implies something less than 100%.
Unfortunately, the regulation does not contain provisions for an appeal process or recourse for a hospital with a patient that develops a pressure ulcer deemed unavoidable.
Hospitals are using this change in reimbursement as an opportunity to review their policies, procedures, equipment, methods of communication and risk management. There are a variety of clinical practice guidelines available to support best practices.
The challenge is incorporating these guidelines in a consistent manner in acutely ill and often medically unstable patient populations. Many of the preparatory efforts have involved the education of nurses, physicians and medical records personnel. Many physicians have previously deferred the management of patients' skin and pressure ulcer prevention to nursing staff. But the new regulations clearly put responsibility on physicians to be more involved with skin inspection as well as pressure ulcer prevention, since reimbursement is based on physician documentation.
Risk assessment
There are a variety of standardised pressure ulcer risk assessment tools, some of which have been widely researched and validated. While no tool is perfect, the consensus of the wound community is that standardised risk assessment is more accurate than the nurses' judgment alone in recognising an individual at risk for pressure ulcer development. The findings of the risk assessment should guide the plan of preventive care.
Skin inspection
While skin inspection has always been a part of physical examination, there is now a financial incentive to capture all pressure ulcers that are present on admission. This requires the bedside clinician to perform a thorough skin inspection as soon as is reasonably possible. Under the new rules, it will not be sufficient to simply document the presence of a pressure ulcer. The accurate staging of pressure ulcers present on admission will be mandatory for reimbursement as an indicator of wound severity.
This has created a challenge for hospitals, as there is wide variability in the assessment skills of clinicians and a wide variety of wounds and skin conditions that can be mistaken for pressure ulcers. Conditions such as incontinence dermatitis, skin rashes, abrasions, skin tears, neuropathic and vascular ulcers can all resemble a pressure ulcer. It often takes advanced education and assessment skills to distinguish the true etiology of wounds and to stage them properly. Even with a standardised staging system, there is a certain amount of subjectivity in the diagnosis and staging of pressure ulcers. Given the fact that hospitals will be self-reporting, a certain amount of ambiguity can be expected.
Preventive products and protocols
Hospitals are now using this statute as an opportunity to review their entire inventory of products used for preventive skin care to include pressure redistribution mattresses and chair cushions, positioning devices, skin cleansers, moisturisers and incontinence products. The use of pressure-redistributing support surfaces, consisting of beds, mattresses and chair cushions, is expensive and constitutes the biggest single part of a hospital's expenditure on pressure ulcer prevention. The lack of research on the efficacy and cost benefits of various pressure redistributing surfaces adds to the confusion.
There is now increased awareness of surfaces such as emergency room carts and operating room tables and the role these can play in pressure ulcer formation. Most hospitals can only afford to replace a few of their carts and tables with upscale pressure-redistributing surfaces. The challenge is trying to identify or anticipate which patients will be spending extended periods of time on these surfaces.
Efforts are underway to educate all direct caregivers on the proper use of these products. But products and high-tech devices are only part of the story. Staffing levels clearly affect the ability to prevent pressure ulcers. Research shows that lower pressure ulcer rates can be achieved with a higher proportion of registered nurses on staff as well as a skill mix of more experienced nurses.
"If you are not going to receive additional payment for the pressure ulcer, what is the incentive to report it?"
Even though pressure ulcer prevention increasingly requires a multidisciplinary approach, the bedside nurse will still bear the primary burden for pressure ulcer prevention and will unfairly be the person held most accountable. This clinician has little or no input into staffing, skill mix, census, budgets or the purchasing of equipment and supplies.
While prominent regulatory and consumer groups have such as the Joint Commission (JCAHO), Healthy People 2010 and the National Quality Forum, have called for the reduction of healthcare-associated pressure ulcers, none have directly addressed the need for adequate staffing levels and skill mix.
Improving communication
While efforts are underway to improve pressure ulcer prevention, many hospitals are also focusing on improving all forms of communication. Hospitals are looking for creative methods to communicate a patient's pressure ulcer risk to all caregivers, such as coloured armbands, and strategically placed signs or stickers. Hospitals are looking for easy methods to communicate to physicians when nursing staff discover a pressure ulcer on routine inspection.
Some hospitals play a musical cue over the intercom as a reminder that patients need to be repositioned. Documentation forms are being modified to facilitate more accurate and consistent recording of preventive interventions, and wound assessment parameters. Some facilities are instituting wound photography of all pressure ulcers.
Patient education
Individuals have the right to make informed decisions and to determine their goals for care. Respect for those rights included the right to be non-adherent with pressure ulcer prevention. Individuals may refuse some or all aspects of their care. As hospitals are increasingly being held accountable, they are likewise holding patients accountable. The importance of educating patients in all aspects of pressure ulcer prevention has been magnified.
Patient safety vs quality of care
Patient safety issues are considered never events. The potential for patient death or injury is serious and must be corrected. Hospitals are often willing to expend significant financial and human resources to solve a patient safety issue. A quality of care issue, on the other hand, is often viewed differently in that there is usually staff engagement and change comes from the grassroots employee level. With limited resources available, there is usually a prioritisation of quality improvement initiatives. Pressure ulcers, infections and patient falls have historically been viewed as quality of care issues. This new regulation has taken these clinical challenges and packaged them as patient safety issues.
While all hospitals are interested in improving quality, the wide-sweeping nature of this regulation might cause concerns over whether this is just a cost-cutting manoeuvre in a patient-safety wrapper. Getting staff to be engaged can be a challenge when there is a top-down approach to change. As hospitals rush to act, the cost associated with products, support surfaces and skilled staff will no doubt limit the ability of some to implement best practices.
Unintended consequences
New regulations such as this often lead to unintended consequences. As hospitals are paid less, there is concern that staffing levels will be affected. It seems shortsighted to eliminate bedside caregivers while you are trying to promote nursing-sensitive quality indicators such as pressure ulcer prevention. The reality is that hospitals have limited financial and human resources.
"The new regulations clearly put more responsibility on physicians to be more involved with skin inspection as well as pressure ulcer prevention."
Certainly, withholding payment for the presence of certain diagnosis codes creates a financial incentive to underreport those conditions. Patients who develop pressure ulcers are usually very sick and often have multiple complications and comorbidities. Under the current reimbursement system, the hospital will be able to justify higher payment rates based on factors other than the pressure ulcer. And if you are not going to receive additional payment for the pressure ulcer anyway, then what is the incentive to report it? The opportunities to manipulate the system are high.
Litigation related to pressure ulcers is on the rise and most experts anticipate this trend to continue. Many worry that the public is being sent the wrong message – that a pressure ulcer is always preventable. There is concern that increased litigation will add additional expense to an overburdened healthcare system. Hospitals are tracking their pressure ulcer incidence rates and initiating root-cause analysis to manage their risk. They are also modifying documentation forms to better capture preventive interventions.
A concern is that hospitals are focusing a lot of their efforts on improving documentation for legal protection, rather than focusing on improvement of care, which is the true intent of the regulation.
The effect of this regulatory change is yet to be realised. Certainly clinicians are wondering whether the intended consequence will be accomplished and what the cost will be to the system. The regulation has caused heightened awareness of pressure ulcer prevention, and most will acknowledge this as a good thing. Can hospitals do a better job? Will this result in a significant reduction in the number of hospital-acquired Stage III and Stage IV pressure ulcers? Only time will tell.
Research material has been referenced in this text. For full details please contact the editor, andrewtunnicliffe@spgmedia.com.