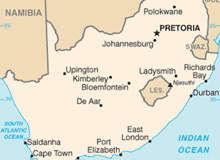 The modern healthcare sector in South Africa comprises of a large public sector and a small but rapidly growing private hospital market. Within this structure, healthcare varies from basic primary services offered free by the government, to highly specialised hi-tech health facilities provided by the private sector for those who can afford it.
The public health system is primarily government subsidised and serves the majority of the population, while the private healthcare system is administered by health insurance schemes and serves the minority who can afford medical aid cover. Despite private healthcare constituting over 50% of total healthcare spending in South Africa, it is still largely inaccessible to most of the population.
According to a new report compiled by GlobalData's market analysis specialist Medical eTrack entitled 'South Africa Medical Equipment Markets: Investment Opportunities', South Africa's total spend on healthcare in 2005 was $21.73bn, which is 12.2% more than the $19.36bn achieved in 2004. Furthermore, the per capita expenditure increased by 10% from $748 in 2004 to $823 in 2005.
From 2000 to 2005, total spend in South Africa more than doubled from $11.72bn to $21.73bn. By 2005, the figure as a percentage of Gross Domestic Product (GDP) in South Africa stood at 8.7%.
"Despite private healthcare constituting over 50% of total healthcare spending in South Africa, it is still largely inaccessible to most of the population."
Perhaps more revealing, however, is the fact that the South African government finances less than half the proportion of the nation's healthcare. According to an estimate from the World Health Organization (WHO), out of the total healthcare expenditure in South Africa, the government contributed only 41.7% in 2005. One of the key challenges facing the South African healthcare industry, therefore, is the discrepancy and inequality of healthcare provision.
Ill-equipped to regulate medical device equipment
Relatively speaking, the medical equipment market in South Africa is not a well-regulated market. The Department of Health (DOH) is the apex-level healthcare authority responsible for the regulation of medical equipment and devices in South Africa through various departments.
To date, there is no comprehensive medical device regulation system in South Africa. Products approved by the US Food and Drug Administration (FDA) or those carrying approved CE mark, face no regulatory issues. The exception, however, is electromagnetic medical devices which have to be registered with the DOH. A manufacturer involved in this sector has to receive a license from the Directorate of Radiation Control.
South Africa's DOH chooses not to make a specific distinction between refurbished and new medical equipment, which means no special tariffs or restrictions reserved for refurbished equipment exist.
Since each importer must obtain a license for each model imported, no third party may legally import the same device in refurbished condition without the used device being subjected to new safety inspections. There are also no restrictions on the number of licensed importers allowed per model.
Important importing advice
All importers of medical devices must apply for a license in terms of Section 4 (1)(b) of the Hazardous Substances Act, 1973 (Act 15 of 1973) found in South Africa's DOH Directorate: Radiation Control. Importers have to apply for a license for each medical device and must supply extensive information, including a completed 41BM-1 application form, which is again obtainable from the Radiation Directorate.
"South Africa's DOH chooses not to make a specific distinction between refurbished and new medical equipment."
Medical equipment in South Africa is distributed through a range of local agents and distributors.
A clear distinction divides the two; an agent's role is to order the product on an ad-hoc basis and receive commission, while a distributor enters into a formal agreement with the manufacturer and will have a larger stocking capacity.
Some distributors such as Bayer South Africa carry a specific brand name from the manufacturer and have even become a subsidiary. Large distribution companies with nationwide coverage, however, prefer to have exclusive agreements with the original manufacturer.
Given the sometimes uncertain nature of the South African healthcare market, it is important for a manufacturer to ensure that a local distributor is capable of offering sufficient maintenance and after-sales services.
Understanding the reimbursement issue
The private sector, which as mentioned constitutes a large part of South Africa's healthcare industry, is funded through health insurance or out-of-pocket expenditure. In the late 1980s, South Africa's government introduced universal unconstrained fee-for-service reimbursement mechanisms. There was, however, no separate reimbursement scheme for medical devices.
To get round this, medical devices were reimbursed as an integrated part of a medical procedure or service provided by the manufacturer. However, with a rapid escalation of costs driven by a rising population, the deregulated medical schemes offered by the government became too much of a burden to bear.
In the 1990s, government opened up the healthcare sector to private health insurance companies. With this in mind, it seems likely that the future healthcare system in South Africa will continue to follow the managed care model. This means that each private health insurance company has its own reimbursement method, with the majority of private insurance companies in South Africa adopting fee-for-service methods for reimbursement of medical devices and pharmaceutical drugs.
This report is available at Medical eTrack (www.medicaletrack.com/home.aspx)