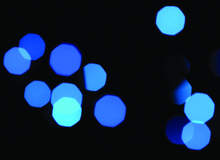 "I entered the field of ultrasound 30 years ago," declares Dr Greggory DeVore. "When I look at how far we've come, it's like comparing the Wright Brothers with the space shuttle."
The director of the Fetal Diagnostic Center in Pasadena, California, an expert in foetal ultrasound and pioneer in the identification of congenital heart defects using 2D, 3D, 4D and colour Doppler techniques, can take more credit than most for the speed of this progression. Having previously held teaching roles at the medical schools of Yale and the University of South California, DeVore left academic medicine some years ago to work full-time in the community.
However, he still has close links with manufacturers through various consulting roles and travels the world schooling physicians in the latest techniques and technologies. We talk on the eve of his departure on board the 15-hour flight to Sydney, where he is set to deliver a series of lectures at 4D Australia, GE Healthcare's annual seminar series, which shares the latest clinical advances around 3D/4D ultrasound technologies.
DeVore, by now a veteran of such events, clearly enjoys the opportunity to share ideas and techniques with his contemporaries. He only wishes the audiences he received on the domestic market could be more representative of the attendees he sees abroad.
"Fifteen years ago my American audience would be 90% physicians and 10% sonographers," he says. "These days, that ratio has been reversed. When I travel to Europe, Asia or South America, where physicians continue to do most of the work, it's a much more meaningful dialogue than when we're just talking to technicians. It's saddening that the physicians in this country have relegated the learning to the sonographers."
"There's so much that can be seen, used and learnt if we utilise this technology to its full capacity."
It becomes clear that DeVore finds this scenario more than merely saddening. In his eyes, a generation of physicians are missing out on important lessons and patients are suffering as a result.
"What disturbs me is that we're trying to get across concepts that physicians should grasp," he explains. "Sonographers may be trained to do imaging, but they don't have the grounding in obstetrical issues. People need to recognise that foetal ultrasound is about much more than just taking a picture; we're talking about pathology, recognising the subtleties and what their implications are clinically. A lot of that is being lost."
Furthermore, this state of affairs may directly influence industry pronouncements that have a detrimental effect on the manner in which care is delivered.
"Just last month the American College of Obstetricians and Gynaecologists declared that the use of uterine artery Doppler as a screening tool for high-risk patients should not be done," says DeVore. "The irony is that whoever came to that conclusion clearly didn't understand the issue – it's advocated throughout Europe, for example. I suspect whoever wrote the document doesn't do a lot of ultrasound. He or she might oversee people's work, but they clearly don't understand the nuances. To make a statement like this is ridiculous: a Doppler is non-evasive, completely safe and takes about two minutes. They've thrown it out when they don't have a clue. It's like having a drunk regulate the bar."
This culture of wilful ignorance among a huge swathe of American physicians is especially frustrating for DeVore as he is clearly passionate about the benefits of innovations and new features coming onto the market.
"The things we can do now amaze me," he exclaims. "There's so much that can be seen, used and learnt if we utilise this technology to its full capacity. It becomes a different ball game."
The idea of maximising existing technology is particularly applicable to the subject of 3D/4D. Although the technologies have been around for a while – 3D since 1989 and 4D arriving on the scene ten years later – advancements and new functions have allowed for an ever-increasing level of diagnostic precision.
While usage is widespread, however, the real benefits are often not being tapped.
"It's like owning a Lamborghini but only using it to drive at 15mph to the local gas station and back," DeVore remarks.
"All too often people just see 3D and 4D as a means of taking a pretty picture of the face. This tool is much more important than that. If used properly, especially in the cases of birth defects, the physician can get into the details much more efficiently and capture vast amounts of detail. 2D is fine for capturing basic growth, but it's extremely useful to be able to examine the curvature of the spine, the ribs and their relationship, the pelvic and shoulder bones, the skull, even the fingers and the way in which they move."
Heart of the matter
Where the technology really comes into its own, however, is in the area of heart defects. One of DeVore's Australian seminars was set to address this very issue: optimising existing techniques when studying coronary issues. "The hardest thing to do is figure out what's happening where," he begins. "The tubes may be going in the wrong direction or the organ is rotated in the chest wrongly; it's a complex problem. Using the 3D evaluation tools that are out there, we can reconstruct the anatomy, study the subtleties and be far more precise in diagnosis."
"Using the 3D evaluation tools that are out there, we can reconstruct the anatomy, study the subtleties and be far more precise in diagnosis."
While there is no next generation piece of technology waiting to replace 3D/4D outright, manufacturers continue to create smarter machines that demand practitioners stay abreast of developments.
"When we talk about the next generation it's a question of nuances," explains DeVore, "different ways of illustrating modalities that will provide more information. Things are moving quickly: with all the features engineers are now adding, it takes a while for clinicians to figure out what they can do. Keeping up can require a fair amount of effort."
This is an area where DeVore, who works alongside multinationals building new machines from the very early stages of development, believes manufacturers could be more pro-active through creating a more in-depth dialogue with end-users.
"A lot of the time ultrasound companies fail to optimise their education," he explains. "They provide the technology, but the guidance isn't always there to go with it. In my eyes, that aftercare should be the lifeblood of any such organisation. Teach a doctor how to use your machine to its full capacity and you'll have a customer for life. If all they're doing is using your equipment to take a pretty image and somebody else comes along with a machine that can do the same thing but costs 30% less, it's a no-brainer. If manufacturers wised up to this, all parties would benefit."
The lack of such dialogue is a further hindrance to getting clinicians excited about the potential of technologies on offer. Training CD-ROMS and DVDs are available on DeVore's website – "follow the programmes step by step and you'll understand what I understand" – but such outlets, though useful, cannot change a culture on their own.
"In American medicine there are only two things that drive physicians," declares DeVore, "money and being sued. That is the only leverage we've got to extract a change in behaviour: I have a whole lecture on the legal ramifications of missing a heart defect."
A recent case that called DeVore as an expert witness illustrates the dangerous implications of what has become an inconsistent and often cumbersome process. "The obstetrician, who didn't do ultrasound, had a sonographer come into his office to perform the procedure and then brought in a radiologist to read the image," he explains.
"When the kid was born with multiple birth defects that had not been identified, a case was brought against all three parties. Thankfully for them the insurance company settled out of court, but it's indicative of how dangerous a lack of knowledge can be."
Money talks
Patients being short changed when it comes to what options they are given and the level of expertise received has become common practise in DeVore's eyes. He cites a recent article in an American national newspaper, penned by a radiologist who complained of non-profitable or difficult patients – "the dumps" – continually being passed down the line.
"If a patient has preferred provider organisation (PPO) insurance then the obstetrician will perform the ultrasound because they'll get paid more money for doing so," explains DeVore. "When they get someone who's higher risk and pays less, more often than not they'll pass them on to a tertiary centre: if you're not making money out of it, what's the point of putting in the effort? Here's what the physician should say: 'Mrs Jones, I can find certain things, but if you want a more thorough check that will put your mind fully at rest, there are specialist centres and highly skilled tests offering a better level of evaluation.' It may cost a little more money, but it's a choice people need to make. That message is rarely conveyed and it is instead left to the patient to seek the information out. Everything is about the bottom line."
"The next great leap will be a transducer that captures a volume in one go sending out all its signals simultaneously and leaving no artefact."
The future
DeVore may see little hope of this situation being rectified in the near future, but his mood clearly lifts when asked about innovations in the pipeline for moving the ultrasound industry, from a technological standpoint at least, into exciting new areas.
"Right now the transducers we use are mechanical," he begins. "They sweep the area and, unless the foetus is holding still, you will often get some movement artefact. The next great leap will be a transducer that captures a volume in one go, sending out all its signals simultaneously and leaving no artefact. Similar technology is already being used in cardiology, the matrix array, but it has not been made useful for the foetal environment as yet. That day is coming and it will be huge. I'd say we're only two years or so away."
Despite the frustration of seeing so many of his fellow physicians lose touch with the nuts and bolts of a technology he so clearly loves, when the doctor gets on a roll such as this his passion is contagious. We may have come a long way since he first entered the field of ultrasound in 1979 but one can be sure just from listening to DeVore that, however much further we travel, no distance will ever be enough.