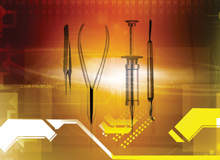 Last year, UK Prime Minister Gordon Brown announced the launch of a national screening programme for all men over the age of 65 to help improve detection rates of abdominal aortic aneurysms (AAAs). Because patients often do not suffer any notable symptoms, many AAAs remain undiagnosed until they rupture and require urgent treatment, by which point it is often too late to save their lives.
The new screening programme, being rolled out across England and Wales, will facilitate early detection, meaning more cases can be treated successfully. The obvious advantage is that mortality rates associated with the disease will be dramatically reduced, however, the growing number of aneurysm patients seeking treatment could put a significant strain on the NHS. It is therefore vital that the safest and most cost-effective method of treatment is used in every case.
There are two common forms of treatment for AAAs, both of which have their advantages and disadvantages in terms of patient outcome and operating costs for the care provider. First though, it is important to get an understanding of what AAAs are and how they are diagnosed.
AAAs explained
An abdominal aortic aneurysm occurs when the section of the aorta that runs through the abdomen bulges like a balloon, stretching and weakening the arterial wall. This can be caused by vascular disease, injury or a hereditary defect of tissue within the arterial wall. Blood pressure against the weakened area can cause enlarging and thinning of the wall, which if untreated can eventually rupture. The exact cause is unknown, and in its early stages the aneurysm is often virtually pain-free and may present few recognisable symptoms. Occasionally, a patient may become aware of a feeling of pulsation in the abdomen. On rare occasions, a lump can be visible.
The best way to diagnose an AAA is through an ultrasound or CAT scan. These are non-invasive and can be done by a GP or on an outpatient basis, with all the associated benefits for both patient and healthcare provider. If an aneurysm is detected, the GP will refer the patient to a vascular centre where the scan will be analysed to assess the size of the aneurysm and determine whether or not treatment is needed.
How well do you really know your competitors?
Access the most comprehensive Company Profiles on the market, powered by GlobalData. Save hours of research. Gain competitive edge.
Company Profile – free sample
Thank you!
Your download email will arrive shortly
Not ready to buy yet? Download a free sample
We are confident about the unique quality of our Company Profiles. However, we want you to make the most beneficial decision for your business, so we offer a free sample that you can download by submitting the below form
By GlobalData
"The success rates of EVAR are compelling, and it is fast becoming the method of choice for repairing aneurysms, but there are cases where it is not appropriate."
Smaller aneurysms, less than 5.5cm in diameter, that are not at risk of rupturing can be treated with medication. These should be managed with conservative treatment that aims to reduce the overall cardiovascular risk, such as stopping smoking, aspirin, stating and anti-hypertensive medication. In general, the risks of surgery to repair smaller aneurysms outweigh the possible benefits because smaller aneurysms rarely rupture.
Aneurysms larger than 5.5cm in diameter should be treated as early as possible because only 50% of patients make it to hospital on time if their aneurysm ruptures unexpectedly. Furthermore, treatment of a ruptured aneurysm is a far more complex and dangerous procedure than preventative repair because of the blood loss involved.
Treatment options
There are two main methods of treatment. Open surgery is the most common and is used in 70% of cases across the world. But it is a major operation involving general anaesthetic and long recovery times.
As a result, many hospitals are now offering a less invasive alternative known as endovascular aortic repair (EVAR). The success rates of EVAR are compelling, and it is fast becoming the method of choice for repairing aneurysms. That said, there are certain cases where is not appropriate, which is why it is important to understand what both methods entail.
Open surgery
AAAs have traditionally been treated with open surgery, in which the patient is put under general anaesthetic before a surgeon opens the abdomen with a long, midline incision to expose the section of the aorta containing the aneurysm. The surgeon then repairs the aorta by replacing the aneurysm section with a fabric tube called a 'graft'.
The graft is sewn into place and acts as a replacement blood vessel. Blood flow through the aorta is stopped while the graft is put in place and the surgery takes about two to four hours to complete.
Open surgical repair is a proven procedure, but, as with any medical procedure, there is a risk of complications, which for older patients with co-morbidity can be significant. In fact, for some patients it is not an option at all because the trauma of surgery would make the risk of morbidity too high.
Open surgery also entails a long recovery period. Patients usually stay overnight in the intensive care unit, and stay another seven to ten days in the hospital. Many are unable to eat normally for five to seven days after the surgery. The overall recovery period can last up to three months, which can be disruptive for the patient and cause a strain on healthcare providers.
The alternative: EVAR
Thanks to advances in medical technology there is a movement away from open surgery towards endovascular repair, a minimally invasive alternative. Instead of making a large incision in the abdomen, EVAR is performed by making two small incisions in the groin and threading two catheters through the patient's arteries. The surgeon inserts a stent graft into the arteries through these incisions and positions it inside the aorta.
Today's leading stent graft technology also uses special barbs at the proximal or top end of the graft, which secure the device to the undiseased aorta above the aneurysm to reduce the risk of stent graft migration. They are individually designed to fit each patient's specific anatomy.
The stent graft then expands to channel blood through the weakened section of aorta and reduces the pressure on the swollen aneurysmal sac. The stent graft makes a new path, through which the blood flows, and remains inside the aorta permanently.
"There is a risk of complications, but the technique has been reported to have a lower mortality rate compared with open surgical repair."
Endovascular repair typically takes one to three hours to complete and is less traumatic for the patient. The recovery time is a few days, meaning a reduced hospital stay compared with open surgery and a quicker return to normal activities. Not only does this improve the patient journey and decrease the risk of infection, but it also puts less strain on hospital resources.
Endovascular repair requires routine follow-up visits with a doctor, and tests to evaluate the procedure and monitor success of the treatment. There is a possibility, too, that additional treatment or surgery may be required.
There is a risk of complications, but the technique has been reported to have a lower mortality rate compared with open surgical repair.
Two large randomised control trials in Europe (the EVAR 1 trial and the Dutch Randomised Endovascular Aneurysm Management, or DREAM, trial) have shown that 30-day mortality is significantly lower for those patients treated with EVAR compared with open surgery.
EVAR is also now being widely used in individuals suffering from conditions that make them high-risk patients for open surgery, and would previously have been seen as untreatable due to their age or pre-existing conditions. There are still some patients who cannot be treated using EVAR and for whom open surgery is the preferred treatment option. However, medical device manufacturers and vascular surgeons are working to find new ways to treat these more complex cases.
Surgery of choice?
Ultimately, a surgeon's choice of treatment will always depend on what is best for the patient. However, the case for EVAR is a compelling one and as national screening programmes see the AAA patient population increasing, it will be difficult for hospitals to ignore the benefits EVAR affords.
As hospitals grapple with resourcing issues, managing hospital acquired infections and improving patient outcomes, any move towards reducing the number of high-risk open surgery procedures carried out will be a welcome one. Perhaps the most compelling motivation of all is the potential to give patients with large aneurysms the chance to live longer, fuller lives.