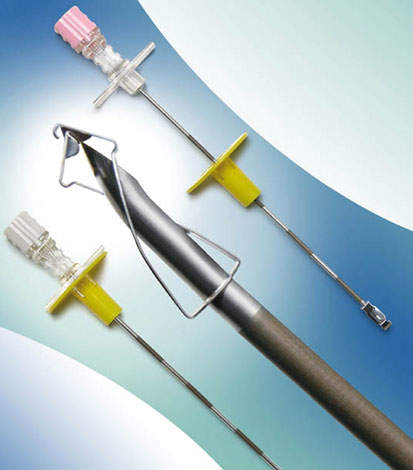 Healthcare facilities in the USA are now legally required to implement needlestick prevention programmes.
Needlestick prevention devices (NPDs) play an important role in these programmes and are highlighted in the federal Needlestick Safety and Prevention Act and the revised OSHA Bloodborne Pathogen Standard.
"The OSHA Bloodborne Pathogen Standard requires the use of safer devices where they are appropriate, commercially available and effective."
The OSHA Bloodborne Pathogen Standard requires the use of safer devices (including NPDs) where they are appropriate, commercially available and effective.
The statute requires employers to consider the use of safety devices that reflect the latest technology for eliminating or reducing employee exposure to bloodborne pathogens and to include this consideration in the annual review of their Exposure Control Plan. It also requires the participation of non-managerial employees in identifying, evaluating and choosing safer devices and work practice controls.
The following outlines a number of safety product categories that some clinicians may not be aware of.
ALLERGY SYRINGES
Allergy syringes are used to give allergens to patients. In some varieties of safety allergy syringes the needle is retracted into the barrel of the syringe. In others a sheath covers the needle after injection.
AMPOULE BREAKERS
Ampoules are small glass vessels in which liquids for injections are hermetically sealed. In a recent study, over 62% of nurses said that they have been cut by a broken glass ampoule. Safety ampoule breakers prevent this problem by covering the glass ampoule during the breaking process, thus protecting the clinician's hands.
ANGIOGRAPHY NEEDLES
Angiography needles are designed to obtain access to the vasculature of the patient for cardiology or radiology procedures. The needle is used during the seldinger or modified seldinger technique for initial access to vasculature.
Following insertion into the patient's vasculature, a guidewire is inserted through the needle. It is then removed from the guidewire and disposed of.
APHERESIS NEEDLES
Apheresis is a special blood donation procedure in which plasma or selected cellular elements, such as platelets or white cells, are separated from the other parts of the blood and returned to the donor. Blood is drawn and processed through a cell separator, and the other cells and plasma are returned to the body. Apheresis takes approximately two hours, compared with a whole blood donation (about eight to ten minutes).
During apheresis, the patient or donor is connected to the apheresis machine. In a donor situation, a needle is inserted into a vein in each arm. Blood is withdrawn from one arm, runs through the machine that extracts the stem cells, and all the remaining components of the blood are returned to the donor through the needle in the other arm. If a patient is donating their own stem cells, a central venous catheter with two lumens is used. Safety apheresis needles that pull the needle back into a safety clip at the end of the procedure are available.
ARTERIAL BLOOD GAS SYRINGE
Arterial blood must be used to determine oxygen saturation. A number of safety arterial blood gas syringes with hinged shields to cover the needle tip following blood draw are available.
BIFURCATED NEEDLES
Bifurcated needles can be used to administer smallpox vaccine. The bifurcated needle is dipped into the vaccinia virus vaccine and injected into the patient multiple times. The double tip is then covered by a safety shield before being disposed of.
BLOOD COLLECTION PLASTIC TUBES
Plastic blood collection tubes have many uses, including a consistently high quality of samples and analysis results and minimal risk of infection to staff responsible for collecting and processing blood samples.
"In a recent study, over 62% of nurses indicated that they had been cut by a broken glass ampoule."
In the past glass containers were used exclusively because it was impossible to preserve a vacuum for long periods of time in other materials.
Plastic evacuated blood collection tubes are as clear as glass but unbreakable. This protects the phlebotomist, laboratory workers, and other healthcare professionals. Plastic tubes are available through a variety of medical device companies.
BLUNT SUTURE NEEDLES
The need for blunt suture needles has become abundantly clear over the years. Take the experience of Alvin Heller, a chief of plastic and reconstructive surgery: "We were working on a patient with elevated liver enzymes who had tested negative for hepatitis B and was thought to have non-A non-B hepatitis [later identified as hepatitis C].
"During the procedure, I sustained a deep injury from a large (3.5in) retention suture needle and was probably infected as a result. But no test for hepatitis C was available then."
Blunt needles are now available for a variety of procedures.
CATARACT SAFETY KNIFE
All cataract safety knives have specially designed, integrated retractable shields that protect the blade during the procedure and during handling. This enables the cataract surgeon to create the desired incision architecture, whether the incision is scleral or corneal. After the incision is made, the clinician can activate the safety handle to cover the knife edge.
CATHETER SECUREMENT PRODUCTS
Securing catheters with tape or sutures can create problems for patients and clinicians alike. These problems can lead to complications such as phlebitis, infiltration, migration and dislodgment.
Securing catheters with adhesive tape has traditionally been associated with high IV restart rates, which expose healthcare workers to sharps injury risk and possible infectious bloodborne pathogens. These kinds of unscheduled IV restarts increase the use of costly materials, including expensive safety catheters.
Catheter securement devices can replace traditional taping or suturing. Following the introduction of a catheter, the securement device is applied and attached to the catheter, thus preventing migration.
CLOSED ARTERIAL SAMPLING SYSTEMS
Closed arterial sampling systems enable the aspiration of blood samples directly from an arterial line. They remove needles from blood sampling, which removes the risk of needlestick injuries. Closed venous sampling systems use needleless connectors where blood can be collected directly into a syringe or a vacuum tube, eliminating yet another needlestick injury.
CORD BLOOD COLLECTION
Several samples of umbilical cord blood are taken for testing following the delivery of a child. This is typically done by cutting the umbilical cord and inserting a large gauge needle into the cord in order to draw a sample.
There are many instances where the collection of blood from the neonate is difficult or impossible, placing strong emphasis on the collection of umbilical cord blood from every delivery.
The typical procedure consists of placing two plastic clamps onto the umbilical cord then severing the cord between the clamps with scissors. Both disposable and reusable scissors are a potential source of sharps injuries to healthcare workers and others.
SAFETY EPIDURAL NEEDLES
Epidural needles are used for the injection or infusion of pain medication into the epidural space. Once the needle is in the dural space, a catheter is advanced for infusion or injection of pain medication. The needle is pulled out of the patient and off the catheter. A standard epidural needle remains a contaminated sharp until it is properly destroyed.
SAFETY HEELSTICK DEVICES
A collection of capillary blood can be obtained by pricking the skin on the heel and collecting a drop or two of blood on a test strip into a small container. This area is then cleansed with antiseptic and punctured with a sharp needle or a lancet. The blood can be collected in a pipette, on a slide, onto a test strip or in a small container.
Using standard needles or lancets results in sharps that can accidentally injure healthcare workers or others. However, there are several newer technologies on the market that can minimise the possibility of sharps injuries.
These 14 safety categories represent a small sample of the over 120 different sharps safety devices currently available. This only scratches the surface, but the advances made in recent years certainly bode well for the future.