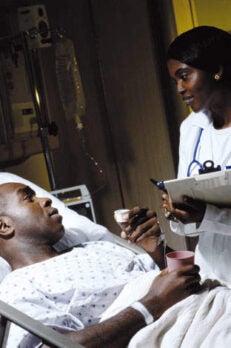 About 2.8 million new cases of cancer and 1.7 million deaths related to cancer are reported in Europe each year. The American Cancer Society expects 1,399,790 new cases to be diagnosed in 2006 in the USA alone.
There are important differences within Europe and the USA regarding cancer diagnosis, as well as treatment and outcome. In Europe, an important risk factor for increased cancer incidence and poor outcome is low socioeconomic status.
"Clinical cancer research is a truly multidisciplinary endeavour, involving scientists, surgeons, medical oncologists, radiation oncologists, pathologists and biostatisticians."
A recent report by the American Cancer Society states that: 'Racial and ethnic minorities face numerous obstacles to receiving equal access to prevention, early detection, and quality treatment.' As such, it is widely thought that the major challenge in cancer research is promoting translational research.
Translational research is a frequently used term, but closer scrutiny reveals that, like many other bits of scientific jargon, it is often employed indiscriminately; it is sometimes referred to in a very broad sense and sometimes in a much more technical way when referring to new and promising fields in cancer research.
Although the term has been coined only recently, translational research in the more specific sense has been a priority for the European Organisation for Research and Treatment of Cancer (EORTC) for many years.
WHAT IS TRANSLATIONAL RESEARCH?
The Translational Research Working Group (TRWG) of the National Cancer Institute (NCI) defines translational research as: 'to reduce cancer incidence, morbidity and mortality'.
Specifying the goal does not provide a complete definition, as this seems to define the ultimate objective of any kind of general cancer research.
However, the NCI TRWG's complete definition is more promising: 'Translational research transforms scientific discoveries arising from laboratory, clinical or population studies into clinical applications to reduce cancer incidence, morbidity and mortality.'5
This definition highlights a feature that is of paramount importance: translational research means doing more than just engaging in one of these classical fields of cancer research; translational research transforms the findings of the research into clinical applications.
However, the complexities involved in applying basic scientific discoveries to the daily practice of cancer treatment are tremendous, and often require international cooperation and multidisciplinarity.
Since 1962, the EORTC, founded by Henry Tagnon, has focused on academic research. Academic cancer research consists of asking scientific questions that do not necessarily have a commercial goal – for instance, studies to register a new compound.
The EORTC works closely with the pharmaceutical industry, which has the financial resources to develop innovative compounds, as well as acting as an independent research organisation to fulfil its wider mission of establishing state-of-the-art treatments involving multidisciplinary strategies, such as surgery and radiation oncology.
Translational research refers to a particularly promising and powerful type of research based on molecular biology, resulting in, for example, molecular markers for the fine-tuning of regimens or targeted drugs that interfere with tumour-specific pathways.
CREATING A NEW RESEARCH CULTURE
In order to improve translational research in cancer, scientists, health promoters and research lobbyists will have to create a new culture of research. This will involve making improvements in three different areas:
Continuing to work in a favourable regulatory environment in Europe that is conducive to the transnational nature of clinical trials
Providing and promoting the right kinds of infrastructures
Promoting translational research scientists by providing adequate training for young researchers
As the declining numbers of trials activated clearly suggests, Directive 2001/20/EC places an administrative and economic burden on research institutions and represents a disincentive to individual researchers, the effects of which are especially burdensome to chronically under-funded academic research. This is true for European cancer clinical research as well as other fields of academic clinical research.
"Creating a new culture of research will mean establishing fruitful partnerships across the traditional academic-industrial divide."
In order to overcome these kinds of difficulties, the academic clinical research community across Europe is invited to share its experiences with the EORTC, so that it can make its voice heard at both national and European level.
Clinical cancer research is a truly multidisciplinary endeavour, involving scientists, surgeons, medical oncologists, radiation oncologists, pathologists and biostatisticians.
In order to produce scientifically sound results, planned clinical trials involve a large number of patients. Since its early beginnings, the EORTC has been a paradigm of how academic clinical cancer research can be carried out.
This means:
Providing a central structure
Supporting its members in trial design and new drug acquisition
Collecting data and interpreting the results
Pooling academic research efforts from all over Europe
Traditionally disease-oriented, the EORTC has launched a new initiative, the Network of Core Institutions (NOCI), which is dedicated to translational research projects that cut across traditional cancer-oriented groups.
Successful academic clinical trials with translational research components in Europe seem to involve cooperation between a central infrastructure – providing support for scientists throughout Europe – and large institutions with patient-accruing potential as well as sophisticated laboratory facilities. Allocating funding to this kind of research is therefore absolutely essential.
Promoting a new culture of research means training individual researchers to become translational scientists – with adequate training to conduct clinical trials and the necessary multidisciplinary know-how via MD-PhD programmes.
The EORTC's contribution consists of providing fellowships as well as educational courses and conferences, and, more recently, the Young Oncologists Scheme, which places promising young oncologists on the boards of EORTC groups as well as providing research grants.
Creating a new culture of research will mean establishing fruitful partnerships across the traditional academic-industrial divide, ensuring that research agendas are determined according to scientific excellence and the benefit of the patient, and not according to short-sighted cost-benefit rationale. Recent steps, such as the Innovative Medicines Initiative, could pave the way for sustainable partnerships.
However, whether or not this culture of research will materialise is subject to economic decisions established by society as a whole. Furthermore, the use of biomedical research findings and the promises that will or will not be made are dependent on values, a claim that holds particularly true in the case of biobanks.
A NEW CULTURE OF RESEARCH
Recent advances in biomedical research have created a tremendously powerful new tool – biobanks. Large international biobank studies can make a substantial contribution to scientific research (through validation of previous studies and identification of unknown causes of disease), especially in cancer research.
For example, the collection of tumour tissue already allows genomic and proteomic signatures to be identified for individual therapies, and such an approach is expected to lead to major breakthroughs in cancer treatment.
"One of the main challenges involves safeguarding potential donors from any pressure from interested parties."
However, as powerful and promising as this tool is, the ethical and regulatory challenges lying ahead remain complex.
One of the first principles which European societies tend to agree on is the non-commercialisation of body fluids and body parts, so no financial incentive should be given for their donation. However, the findings of the research projects involving tissue that have already been carried out could ultimately give rise to patents, and financial interests will inevitably come into play.
So one of the main challenges involves safeguarding potential donors from any pressure from interested parties. Clearly, however, this type of research means considerable costs must be covered somehow, and it seems only fair that the benefits from patents be used to help finance research.
One of the reasons biobanks are such a powerful tool is that they store tissue and link it to the clinical data of its donor – which can be done before specific research hypotheses are formulated. This represents a tremendous opportunity to gather information and provide scientific data for future hypotheses. These may be tested in a much shorter period of time, significantly shortening the time span from laboratory discovery to clinical practice.
However, whether this is feasible depends on what kind of consent from the donor is considered ethically sound with regard to patients' autonomy. In terms of providing maximum flexibility for future research, broad consent would appear to be essential.
Indeed, the ethical soundness of this broad consent approach, regarding specific provisions, was recently discussed in considerable depth in The Lancet.
BEYOND REFLECTION
The case of biobanks once again shows that progress in biomedical research gives rise to questions requiring ethical reflection. This should form an integral part of the new culture of research.
If societies are to solve the problem of cancer in the long run, further discussion and reflection will be required, particularly regarding the allocation of resources. The next step is to move beyond reflection, show renewed commitment and invest more in cancer research.