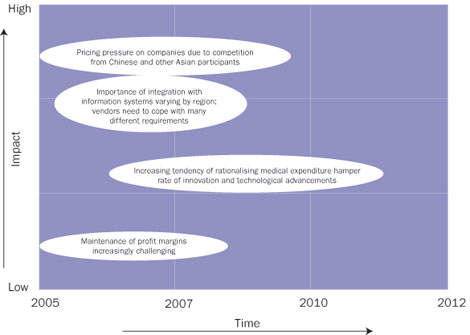 Consolidation is the norm in the medical devices industry right now. In a transaction estimated to be worth £14m, Spacelabs Healthcare Inc recently acquired Del Mar Reynolds Medical Ltd, a subsidiary of Ferraris Group plc. This followed the merger of Cardiac Science International with Quinton Cardiology in September 2005, signalling a larger trend that cannot be ignored.
Greater market consolidation implies more participants coming together to create a highly competitive market space that will challenge newer participants with higher entry barriers.
According to Frost & Sullivan, the patient monitoring industry is experiencing a wave of collaborations and partnerships with vendors from the same industry, as well as from IT, telecoms and other industries. Global companies such as Ericsson, Cisco and Sony are spearheading cross-industry collaborations and making forays into the medical devices and healthcare industries.
However, a word of caution; while extending market reach by leveraging existing technologies might look easy on paper, there are several challenges in doing so.
In an attempt to exploit its position in the digital imaging market, Eastman Kodak entered the radiology business. Owing to extremely rapid technological developments, it has been unable to profit on its core competencies and has now decided to look for alliances or buy out of its healthcare group.
REVENUE PER PROCEDURE
Medical technology businesses around the world have attempted to create the kind of revenue model that minimises their dependence on the national reimbursement structure.
EDAP TMS SA, whose trademark technology is high-intensity focused ultrasound (HIFU) therapy used for the ablation of prostrate tumours, has recently introduced a new business model. The company has installed the first HIFU treatment centre at the Aker Hospital in Norway. The Aker Hospital houses the largest urology department in Norway, the ideal location for EDAP to launch its HIFU initiative.
EDAP has taken a strategic decision to base its revenue model on a per procedure basis (revenue per procedure). The installation of the system was made without any capital expenses for the hospital and the company will be reimbursed on minimum use criteria.
This will ensure that more hospitals are targeted and penetration of the market is achieved. It remains to be seen how well the system will work for EDAP.
ADOPTING DICOM FOR CARDIOLOGY
Digital imaging and communication in medicine (DICOM) has existed for nearly 25 years. These standards enable interconnectivity and flexibility in using multi-vendor modalities within a single suite. They are the gold standards for communicating data from CT, MRI, nuclear medicine and other imaging modalities.
"The industry needs to adopt DICOM standards that enable creation of an 'open' platform for data and systems integration."
With the onset of the 'integration era', where all medical equipments are being interfaced into one common data pool, it is inevitable that monitoring and diagnostic device vendors will adopt these standards.
Mortara Instruments Inc pioneered the adoption of DICOM standards in diagnostic cardiology with the introduction of its E Scribe DICOM workstation, which is capable of annotating and reviewing DICOM waveforms from other sources and can be embedded effectively within other DICOM workstations.
The industry needs to adopt standards like this that enable creation of an 'open' platform for data and systems integration. More such initiatives are needed to ensure that effective patient care remains the ultimate goal.
MID-RANGE PATIENT MONITORING
Frost & Sullivan recently concluded an analysis of the European market for mid-range patient monitoring devices. The industry defines mid-range patient monitors as modalities with multi-parameter monitoring functionality suitable for measuring ECG, NIBP, IBP (in some cases), SpO2 and capnography. These can be either bedside monitors or portable monitors with wireless networking capability.
The industry is seeing tremendous input from Asian manufacturers, which are providing high-quality equipment at very competitive prices – a major concern for manufacturers of vital sign monitoring equipment in Europe.
This is especially true in the case of the newer EU countries, which are still at the growth stage in terms of market uptake. Asian manufacturers such as Mindray have established themselves in these markets as high-quality, competitively priced vendors – and an important parameter in such growth markets. The impact of these changes in the market is considerable, as can be seen in the figure above.
WIRELESS AND WEARABLE
"One major area of work has been the development of vital sign monitoring systems that can be worn by patients."
Medical technologists are developing innovative methods to prevent disease. One major area of work has been the development of vital sign monitoring systems that can be worn by patients.
This category also includes devices such as mobile phones with embedded chips, which can continuously monitor changes in the vital signs of high-risk patients. Technologies such as Bluetooth and Zigbee are being used to create a wire-free environment by forming a patient area network. Several studies are underway at both industry and academic levels.
The market for these kinds of devices will be largely governed by the technology initiatives of their respective local governments. Technological assessment of the use of wireless monitoring and other forms of remote monitoring will largely depend on the existing healthcare infrastructure as well as resource availability.
Such statistical analysis will enable industry participants to zero in on ideal market locations for commercialisation ventures. However, opportunities must also be assessed based on the socioeconomic environment of the region.