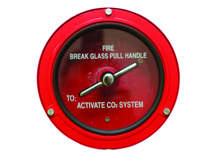 In February 2003, a fire broke out in the early hours of the morning at the Greenwood Manor nursing home in Hartford, Connecticut. "16 residents died, primarily because of a lack of knowledge among the staff about emergency procedures and their duties in an emergency," recalls Robert Solomon of the National Fire Protection Association (NFPA), one of the investigating officers that night.
"Of 12 employees, only three really knew what actions they should be taking, and one of those simply manned the front door waiting for the fire-fighters to arrive while the others tried as best they could to save the residents. Their familiarity with the plan was a couple of pieces of paper given to them in a coffee break which they had talked through but never actually practised. It just shows what can happen when there is a total lack of awareness," he adds.
If that sounds familiar to the situation in your own healthcare institution, you'd be right to be worried. Thankfully, with modern automatic sprinkler systems and safer, more-reliable electrical equipment and circuits, the chances of everything going up in flames are much rarer than they once were – but fire is still a danger that hospital managers and all employees in healthcare facilities need to be aware of and planning for on a regular basis.
"It is imperative that whoever is leading ensures whatever plan is in place has been effectively communicated."
A smooth operation
After all, points out Solomon, it can mean the difference between life and death. Take, for comparison, a fire that broke out in March 2009 at Regency House, a short and long-term nursing facility in Wallingford, also in Connecticut. There, just like at Greenwood, the fire started in the early hours, in a kitchen adjacent to where some of the residents lived. But, unlike at Greenwood, the outcome was very different.
"It was, if you can ever call a fire positive, the sort of fire experience you would want to have. With the help of an automatic sprinkler system, the response of the staff was textbook, they all knew precisely what they were supposed to do and had practised it.
They, for example, quickly put a call out to all off-duty staff to come in, they met fire-fighters at the front of the building and reported on the conditions inside, they closed fire doors to isolate occupants from the fire and so on," explains Solomon.
While the staff did contemplate evacuating the 110 patients, 48 of whom had originally been in the affected area, the swiftness of their response meant that this eventuality – which is pretty much considered a last resort by fire-fighters in that you are potentially having to move ill, immobile or frail people and any medication and vital equipment outside into the elements – did not have to happen.
"There was no one even injured and at no point were patients in jeopardy from the effects of the fire," Solomon adds. "A lot of it involves simple things: closing residents' doors, making a realistic assessment of whether the fire is being controlled by the sprinklers, and so on. The least desirable action is having to evacuate the facility. If you can keep residents in their rooms and fully appraised of what the fire-fighters are doing that is much better," he advises.
Knowing the drill
For hospital managers, the NFPA's Life Safety Code 101 is the key document, says Solomon. This places a great deal of responsibility on staff of a healthcare facility to take appropriate action during a fire, with responsibility extending to knowing the duties and responsibilities of each staff member, when doors are to be closed, when patients have to be relocated to other areas within the building, and when patients may have to be evacuated to the exterior of the building.
And the key to this is planning, preparation, communication and practice, he recommends. "It has to be at all levels, managers, supervisors, doctors, nursing staff, caretakers and dieticians and so on. There is an obligation and responsibility on everyone working at the facility to know what they need to be doing," says Solomon.
"There is an obligation and responsibility on everyone to know what they need to be doing."
Often the lead responsibility for an issue such as this will fall on the facilities management department, which will have responsibility for ensuring the physical attributes of the building are up to scratch, such as materials being fire resistant, sprinklers and alarm systems work and are regularly tested, that there are adequate exits and fire doors and so on. It may, too, be the hospital engineering department, which deals with physical plant issues and may have a safety role, which takes the lead. Either way, it is imperative that whoever is leading ensures whatever plan is in place has been effectively communicated and people are aware of it.
"It needs to be more than just awareness too. People need to have participated in the plan and for there to have been mock drills.
"If you have an automatic sprinkler system, there is a high probability you will be able to control any fire and if it originates in a patient's room, you may need to move them and others in adjacent rooms. But it may be you only need to move people down the corridor or to another floor," Solomon suggests.
Mix things up
"It does not matter if your facility employs 50 people or 800 people, there is always work you can do on this. If management are not 150% behind it, you can experience a negative event. You need to be carrying out drills and doing them at least quarterly and during different shifts, so it is not always done at 2pm, but sometimes at 2am. It may be that they need to be carried out randomly or when a shift is changing over. You need to mix things up to make them more realistic," he adds.
"You may want to ensure there is a coded message that goes out to ensure staff respond and go to a particular area, that you know emergency services have been notified and that people are out of danger or that residents' doors have been closed or that, if necessary, patients have been relocated," he continues.
"If your staff have never tried to get a 200lb patient on to a blanket and into the hallway, for example, they really need to do so; they need to go through the exercise, be taking it seriously and be familiar with it. In a real fire, they get one chance to get it right and cannot afford for it to go wrong."