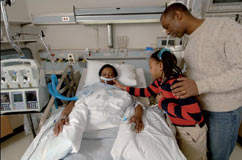 Hospital intensive care units (ICUs) around the world tend to have different
policies on family visits. Individual hospitals have different resources and
training policies, both of which have a bearing on their visiting policy.
There is an important debate among healthcare professionals about allowing
families unrestricted access to their relatives while in an ICU. It can be
argued that unrestricted visits by family members can help boost the
patient's recovery, while easing family anxiety. However, it can be
argued that visiting family and friends may obstruct nurses trying to carry out
necessary, and at times, unpleasant and intrusive procedures.
From the visiting family's point of view, restricted visiting may seem
obstructive and present the hospital and ICU in entirely the wrong light. It is
natural for the families of ICU patients to be worried about the patient and
look to hospital staff for help and reassurance.
The International Review of Patient Care recently discussed this
issue with Martha Curley, a nurse scientist at Children's Hospital Boston who is also a
member the Nursing Faculty of the University of Pennsylvania, and Anne
Alexandrov, professor and assistant director of The Center for Advancement of Evidence-
Based Practice, at Arizona State University. Both these nursing professionals
are employed in the US healthcare system, and have many years of experience in
critical care nursing.
IRPC: What are your individual approaches to establishing visiting
hours?
Curley: I favour open visiting hours, but I believe that the actual
visiting hours should be decided jointly with the family to work out what is
best for the patient – it is essential for healthcare professionals to
establish a good working relationship with the family. The whole concept of
visiting someone who is sick is very culturally mediated. What may work for one
family might not work for others, and deciding what is going to be good for the
patient needs to be jointly determined.
Alexandrov: This is true. Obviously every case is different, and it
is important for the nurse and other healthcare professionals to spend some
time getting to know the family and involving them in decisions about the
patient's care. I think this begins with establishing visiting, as the
nurses and family can then develop a good relationship and focus on the
important central goal of healing the patient and returning them to good
health.
Curley: Because we do not have the luxury of one nurse dealing with
one patient, it can be very difficult to manage the situation. Different people
have different expectations.
Alexandrov: No situation is going to be ideal when dealing with
different personalities, but both nurses and family have to remember that the
patient is the important person, and their well-being is the only issue. One of
the good ideas put forward recently is to employ older nurses as a family
liaison to help the family understand about the patient's condition and
treatment, and what they can do to help the treatment process.
Curley: This is a good idea. One of the most important functions of
the nurse or auxiliary is helping the family interact with the critically ill
patient. Many people will not have had a lot of experience with ICUs and will
require guidance on what they can and cannot do, and also how they can help. It
is also a good idea to establish a family spokesperson for communication
between the healthcare professionals and family members when decisions have to
be made. This can avoid confusion and make the process more friendly and
efficient.
IRPC: What do families expect from the healthcare professional?
Curley: The family should work with the nurse, and together they can
decide the ground rules: when the family should visit, when they should leave
and how they can help the nurse take care of the patient. Traditionally,
families are at a loose end when they first come into the ICU. They don't
know what to do or how to interact and they tend to feel awkward.
Sometimes you have a revolving door of different family members and a
situation where, in the worst cases, the nurse has to stop taking care of the
patient to explain to different family members what is required of them and
what is going on. With good communication from the start, this can be avoided
– it's a question of forward planning. On the other hand, the nurse
should use the family as a resource to aid the patient's recovery.
Alexandrov: Families who have been asked about their experiences of
the ICU say that what they really need is open, honest communication, and they
want it provided regularly or when they feel they need it. They also want to be
able to feel that they can ask a question when they want to, and they would
like the patient to be seen as an individual. People tend to respond to a good
approach and a healthcare professional willing to take the time to keep them
informed. Both the patient and the family deserve respect and understanding.
Good communication is a big step towards this.
Most people have little or no experience of hospitals and the whole place is
shrouded in mystery. Sometimes it terrifies them. In such cases, it is up to
the nurse to put them at their ease and give them good information,
understanding and reassurance, as even small things the family can do to help
the patient are very valuable.
Curley: This is very true, particularly when we are talking about
adult treatment. In paediatric ICUs things tend to be a little easier, as
parents are more informed and open to good communication. In general the nurse
needs to set up some sort of structure, so that family members know how to work
together in a team to aid the patient's recovery.
IRPC: Do patients recover more quickly if they have unlimited visits from
their families?
Curley: Studies have shown that patients recover more quickly when
they are allowed unrestricted visits from their families, and the whole process
is much less stressful for their families as well.
Alexandrov: But quantitative studies have also shown that not all
families want to be deeply involved in the process. I think there would be a
spectrum of opinion in any family. Some want to be involved as much as
possible; some feel awkward, don't know what to do and would prefer just
to observe or even stay outside and just be kept informed.
IRPC: How do staffing levels and security affect visiting?
"It is essential for healthcare professionals to establish a good working relationship with the family."
Curley: The ratio of nurses to patients is going down, increasing the
workload for nurses and making it much more difficult to develop the required
relationship with the family. As far as security goes, visiting must always be
controlled using some sort of ID system. Hospitals must be secure – you
can't just have people walking through hospitals – but you must also give
families access.
Alexandrov: Obviously, staffing levels have dropped, but it is still
a very good idea to retain a nursing liaison with the family to develop a
relationship and a better understanding of the patient and family situation.
When there is good communication, care improves and the patient recovers more
quickly.
Curley: In some larger hospitals, there are volunteers who meet the
families and orientate them. They also help nurses develop a better
relationship with them. This sort of structure helps inform families.
IRPC: How do you feel about pets visiting patients?
Curley: It can be difficult. However, sometimes a pet might be the
only family a patient has. So a pet being brought into hospital to comfort a
patient can be extremely beneficial.
Alexandrov: It's a wonderful idea, and makes a huge difference
to the patient. ICU policies on visiting vary, depending on a hospital's
culture and resources, while some hospitals may just be stricter than others.
In general, visiting policies should be geared towards the development of a
good relationship between healthcare professionals and patients'
families. Dialogue and communication are vital. The family must be involved as
part of the team, to help them understand what is happening and help the
patient recover.