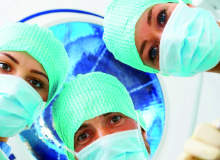 When you think of high-tech products, what are the first words that spring to mind? Expensive? Certainly. Accessible? Probably not.
The top rung of technological innovation is easily reached only by the upper echelons of society, and this applies to healthcare innovation too. Many developing nations do not have access to simple point-of-care devices, while surgeons in the top hospitals in the West use minimally invasive robotic technology on a regular basis.
The Institute of Global Health Innovation (IGHI) has been launched to counter this trend and bring balance to healthcare systems worldwide not only through the development of technology, but also by ensuring that it is accessible to the people who need it most.
"What makes the IGHI unique is that we don't look at technology in isolation," explains Professor Guang-Zhong Yang, the Institute's deputy chairman. "We also look at the clinical, engineering and business aspects, as well as health policy as a whole. Technological innovation alone is not able to reshape healthcare practice; you have to look at the different aspects of the healthcare delivery process. To ensure its relevance in the global sense, we need to acknowledge the differences between the developed world and developing countries, while at the same time using technology to find a common ground for innovation."
The Institute of Global Health Innovation
The IGHI aims to overcome global health challenges by harnessing Imperial College London's interdisciplinary research expertise in safe, effective and accessible technologies. Acting as a hub for global health research and technological innovation within the university, the Institute works closely with basic sciences, engineering and biomedical researchers to generate novel solutions to global healthcare problems in both developed and developing countries. It is made up of two research centres:
The Hamlyn Centre
The Hamlyn Centre develops safe, effective and accessible imaging, sensing and robotics technologies that can be used worldwide. The centre focuses on technological innovation with a strong emphasis on clinical translation and direct patient benefit.
The Centre for Health Policy
The Centre for Health Policy is a joint venture between Imperial's Faculty of Medicine and Business School that contributes high-quality research and develops policy and innovations to help governments, clinical leaders and other global decision-makers meet the strategic challenges of improving the health and wellbeing of their citizens.
New technologies – in tandem
The gap is closing between the developed and developing worlds, as IGHI chairman Professor the Lord Ara Darzi is keen to emphasise. As nations such as China are faced with the problems that come with an ageing population, they need to be able to tackle age-related diseases as well as the political and economic ramifications that they produce.
Alongside this, of course, there is a general shortage of basic healthcare provision in the most deprived nations. Therefore, it is essential to develop technology that can be used for both basic patient care and the monitoring of patients with chronic diseases. "What we're trying to do in the West is develop effective point-of-care devices in the form of miniaturised sensors that enable better home-based care for people living alone," says Yang. "If you look at the demographics of the ageing population, we have a reduced workforce and a much larger ageing population, so this is what we're driving towards in developed countries.
"At the same time, if you look at resource-poor countries, they don't have effective point-of-care devices for monitoring key physiological indices and other such basic care provisions. So if you link the two together technology-wise, there is no difference."
The world is in need of low-cost, sensitive, wearable, wireless devices that can be used in both privileged and deprived counties. "If we can use this kind of model – looking for common ground for innovation – there is a tremendous incentive for manufacturers to develop a device not only for Western countries, but also for the developing world," Yang notes.
But how can these devices be made affordable for healthcare facilities in resource-poor countries? "Historically, we've always invented something for the Western market and then tried to take it to the developing world, and that may not be the way to do it," says Darzi. "The needs in developing countries are different to our own, so we need to put on a different thinking hat to try and address the gap. Simple technologies can have a lot of impact."
For Yang, the key is using cost as the major driver of technological development – something that is eminently achievable in the arena of electronic devices. "We've developed a device the size of your little fingernail that offers wireless transmission, continuous sensing, onboard processing and storage, and only costs $10-20," he says. "If we can use devices like this, it could change public health dramatically in developing countries and also deliver continuous care to the ageing Western population."
Altering perceptions
The crux of the matter is that people's perception of innovation needs to change. As well as developing technology that is safe, effective and high-tech, the devices need to be accessible. "This will inspire a whole new generation of scientists to change their priorities," Yang hopes. "You may have heard many people arguing that we have enough technologies and I agree with that to some extent. But do we have the right technologies that can transform the future of healthcare?"
'Give a man a fish and you feed him for a day. Teach a man to fish and you feed him for a lifetime': for Yang, this Chinese proverb perfectly encapsulates the goals of the IGHI. "It's laudable to donate sophisticated technological equipment," he explains, "but it's more important to actually make it sustainable."
This is where training comes in. IGHI provides web-delivered teaching guidelines to healthcare professionals in the developing world and has also developed remote presence technology that enables the remote mentoring of procedures, helping medical staff in resource-poor countries to deal with complex situations.
Simulated surgical training is another great innovation that can be used throughout developing nations and for training medical students in the West.
"We are leveraging a lot of the current progress in terms of wireless communication to make the training process a lot more cost-effective," Yang notes.
It all comes down to patient safety; not only do surgeons need to be proficient in operating techniques, but healthcare professionals across the board must be able to utilise devices safely and effectively.
"One of the problems in resource-poor countries is that devices are not utilised because they are broken. This is because staff have not had effective training and don't know how to operate them," says Yang. "We are addressing this by taking into account all levels of healthcare provision: human factors, equipment, teamwork and training. For example, the equipment must be properly designed, ergonomically sound and have a safe, effective user interface."
A new point of view
The key message both Yang and Darzi are keen to get across is that it's about time global healthcare problems were examined from a different angle, taking into account technology, human factors, policy, business, resources and engineering.
"I use this phrase again and again," Yang concludes, "but we need to find common ground for innovation. This could solve problems across the board."
---

This article was first published in our sister publication Practical Patient Care.
---