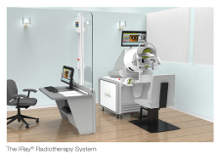 UK-based Royal Hallamshire Hospital, part of the Sheffield Teaching Hospitals NHS Foundation Trust, and four university hospitals in Germany adopted Oraya Therapeutics' therapy for the treatment of wet age-related macular degeneration (AMD).
The four German hospitals now offering Oraya's therapy are the University Hospital Essen, the University Hospital Schleswig-Holstein Campus Luebeck, the University Hospital Freiburg and the Medical Care Centre of the University Hospital of Cologne.
Several additional NHS hospitals and German hospitals are also expected to offer the therapy by the end of 2014.
The University Hospital of Essen (UK Essen) completed the world's first robotic-assisted cancer procedures with Medrobotics' Flex system, which enables surgical procedures where conventional line-of-sight technologies are either not feasible or sub-optimal.
Professor Stephan Lang, Dr Urban Geisthoff and Dr Pia Hasskamp performed the removal of a malignant lesion in one patient and the removal of a benign lesion in a second patient.
The patients are also the first two enrolees in a post-market clinical follow-up study evaluating the safety and performance of the Flex system to access and visualise structures in the mouth and throat down to the level of the voice-box.
Tenet Healthcare signed a new multi-year contract extension with Humana that will enable Humana members to continue to make use of Tenet's 79 hospitals, 193 outpatient centres and more than 1,800 employed physicians.
Under the contract, patients in five new cities who are enrolled in Humana's healthcare exchange plans will now have access to Tenet hospitals and facilities.
The five cities now included in the agreement are Atlanta, Birmingham, Houston, Memphis and San Antonio. Humana Exchange members located in Chicago, Detroit and Phoenix will continue to have access.
Sandwell and West Birmingham Hospitals NHS Trust received approval from the UK Government to build the new Midland Metropolitan Hospital at a cost of £353m in Smethwick.
The project will be funded by both the public and private sector through a Private Finance 2 model, including a £100m contribution from taxpayers.
The hospital will be built on more than 16 acres of land in Grove Lane. It will contain 670 beds and will provide treatment and care for patients from Sandwell and across the region.
US-based Tufts Medical Center automated its anesthesia documentation process with the installation of the Anesthesia Touch solution developed by Plexus Information Systems.
Anesthesia Touch is a full-featured anesthesia information management system (AIMS) designed to automate the anesthesia documentation process.
The solution enables Tufts Medical Center's anesthesia providers to improve workflow processes, enhance patient safety and increase mobility.
Belgium's Az Groeninge Hospital selected Agfa HealthCare to replace its existing third-party picture archiving and communication system (PACS) with the company's Impax RIS/PACS/reporting solution.
Under the agreement, Agfa HealthCare will provide all hardware and manage both hardware and software. The agreement includes Impax, clinical applications, ICIS View, ICIS VNA and Impax BI.
According to Agfa HealthCare, the integrated solution will unify images, data and reporting workflows across all imaging departments and beyond.
US-based healthcare providers Emory Healthcare and Select Medical formed a joint venture (JV) to enhance patient care services in Georgia.
Effective from 1 July 2014, the JV will work on providing teams of post-acute care specialists that will help patients recover in an appropriate setting, while offering more convenient locations for patients in Georgia.
As part of the collaboration, Emory's Center for Rehabilitation Medicine has been renamed Emory Rehabilitation Hospital.
Arkansas Heart Hospital in Little Rock, US, selected Medical Asset Management to install its procedure-integrated inventory management system (PIIMS) in its four cardiac catheterisation labs, two electrophysiology labs, clinic and operating room.
The web-based PIIMS system will help the hospital manage its inventory.
The system has been designed to track the use of inventory, monitor expired and expiring products on a real-time basis, and track model and lot numbers for the quick identification of recalled products.