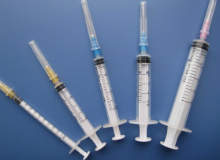 The reprocessing of single-use devices (SUDs) has been an accepted practice in the US for more than ten years, but there is only one country in Europe that even tolerates the reuse of so-called disposable products.
Arguments against SUD reprocessing cited by European experts include contamination and infection risks, the danger of devices not meeting their performance criteria following re-manufacturing and the potential for high-tech sterilisation methods to alter a device's material characteristics.
As the pros and cons continue to be debated, however, there remains a distinct lack of firm European legislation on the issue, which could potentially lead to a decrease in the quality of the third-party reprocessors currently operating in Germany, the only country on the continent that allows reprocessing of SUDs. With no real regulation in place, they are free to drive down costs and quality in order to gain the competitive advantage.
Conversely, the US Food and Drug Administration (FDA) has been regulating SUD reprocessing for over a decade, making it a popular option for hospitals countrywide and meaning third-party reprocessors are obliged to adhere to certain standards.
But is reprocessing SUDs a 'greener' option for hospitals? Does it save costs? Or do the risks of this ever more popular practice outweigh the advantages? Practical Patient Care joins the debate.
Elly Earls: Tell me about the current regulation surrounding the reprocessing of SUDs.
Cheryl Macpherson: In the US the FDA oversees reprocessing and regulates both how it is carried out and safety issues. The Medical Device User Fee and Modernization Act of 2002 requires that all reprocessed SUDs are clearly labelled and identify the reprocessor. Moreover, in January 2008 the US Government Accountability Office (GAO) released a report entitled 'Reprocessed single-use medical devices: FDA oversight has increased and available information does not indicate that use presents an elevated health risk'. In this, the GAO outlined steps taken by the FDA since 2000 to improve its supervision and regulation of reprocessing.
It's really a question of whether we have confidence in the FDA, and if we're going to trust the FDA to monitor drug and device safety, we have to trust their assessment that the reprocessing approach is safe.
Peter Schroeer: It's important to differentiate between reusable devices (devices intended to be reprocessed) and SUDs. Reprocessing of reusable devices is regulated on an EU level; in the Medical Devices Directive (MDD) you have to validate that the reusable device can be safely reused in a clinical environment. This means you must have clinical data for your product and follow clear design requirements.
The reuse of SUDs is not regulated in Europe. When the devices are used, it is without proof of meeting the requirements that lead to CE marking. However, article two of the MDD [Member States shall take all necessary steps to ensure that devices may be placed on the market and/or put into service only… when duly supplied and properly installed, maintained and used in accordance with their intended purpose.] is open to interpretation – particularly the term 'intended purpose' – and thus legal manufacturers within different member states interpret and handle it differently.
In France, for example, reprocessing of SUDs is not permitted because the country distinguishes between
single-use and multiple-use devices. If a hospital decided to reuse an SUD it would be using the device for something other than its 'intended purpose', which is not permitted under CE marking. In Germany, however, authorities do not differentiate between single-use and multiple-use devices. 'Intended purpose' is defined as clinical application only. The fact that the product is not sold ('placed on the market'), but is only 'put into service' within the same hospital does not require CE marking and responsibility is placed on the user (the hospital).
Are European regulations set to change in the future?
PS: Yes, the European Commission (EC) will definitely have to look into this. There are a couple of changes we will most likely see as a result of the recast of the MDD. Within the recast, the EC will look into the reuse of SUDs and they will have to take into account the conclusions drawn from a recent assessment conducted by the Scientific Committee on Emerging and Newly Identified Health Risks (SCENIHR). This report found that there was an absence of data on the safe reuse of SUDs as no one has ever proven that the reuse of SUDs is safe in a clinical setting.
What are the advantages of reprocessing SUDs?
CM: I'm very concerned about the health impact of climate change and this is one significant way in which the healthcare profession can combat those effects. Reprocessing medical equipment saves over 2,000 tonnes of medical waste a year in the US – along with millions of dollars for US hospitals. According to the data cited in recent paper 'A call to go green in healthcare by reprocessing medical equipment', in 2008 alone there was a 20% increase in hospital utilisation of reprocessing services offered by one leading reprocessor and associated cost savings of $138.142 million nationwide.
There certainly are hidden costs, but those costs are also true of new devices; you still have to pay for them to be shipped in to you and out to the landfill or incinerator.
Do you agree that reprocessing can result in significant cost savings for hospitals, Peter?
PS: The debate tends to focus on cost savings rather than what does the practice mean for patient safety, but the interesting factor there is that if you look closely at the evidence, there are no cost savings. It is only on a purchasing cost level that the price is different; reprocessors typically offer the product at a significant discount and, if this wasn't the case, no one would purchase reprocessed SUDs.
If you then look at the situation on a macro level, additional costs because of infection, prolonged procedure times and pre-cleaning are not taken into account. The SCENIHR document highlights the absence of solid proof that reuse of SUDs is economic if you consider all the costs.
What are the disadvantages and risks associated with reprocessing SUDs?
PS: SUDs have not been designed with reuse in mind. The obvious disadvantage is infection, which was extensively covered in the SCENIHR report. Another element, particularly with third-party reprocessors, is that instruments are often disassembled and some parts exchanged, so the functionality of the device often changes – resulting in a product with an unknown performance that is not validated by any clinical trials.
Alongside this, the materials used in SUDs are often different from reusable devices. Reusables are often stainless steel while SUDs are commonly plastic or a combination of steels and plastic; this combination is almost impossible to sterilise and reuse without causing changes to the materials, which then have not been validated for reuse by the manufacturer.
Finally, when reusable devices are designed, reliability is built into the device, but SUD design is focused on avoiding only initial failure.
Where does patient consent come into the equation?
CM: It is a bit of an issue in the US. In most of the world, the standard of informed consent is to tell people what a reasonable person would want to know about their diagnosis and/or treatment. However, it isn't routine to disclose the details of how devices are produced or which company produces them.
So, from my perspective, once it is known that a device is safe and equivalent to an SUD, I don't think it's important to tell patients.
PS: In general, countries tolerating the use of SUDs do not require any form of patient-informed consent, but we as an industry definitely believe that the patient has a role to play in proving their own safety – they should be empowered; they should know. Although, which patient would openly and honestly consent to having a reprocessed SUD used on them when such devices are without benefits? Dr Hans Haindl, a German expert witness, famously said that the reuse of SUDs is "clinical experimentation without informed consent".
The other question that's important to ask is whether clinicians know they are using a reprocessed SUD. Even if they are willing to do so, often they are unaware that they are operating with such a device. Should clinician consent also be obtained?