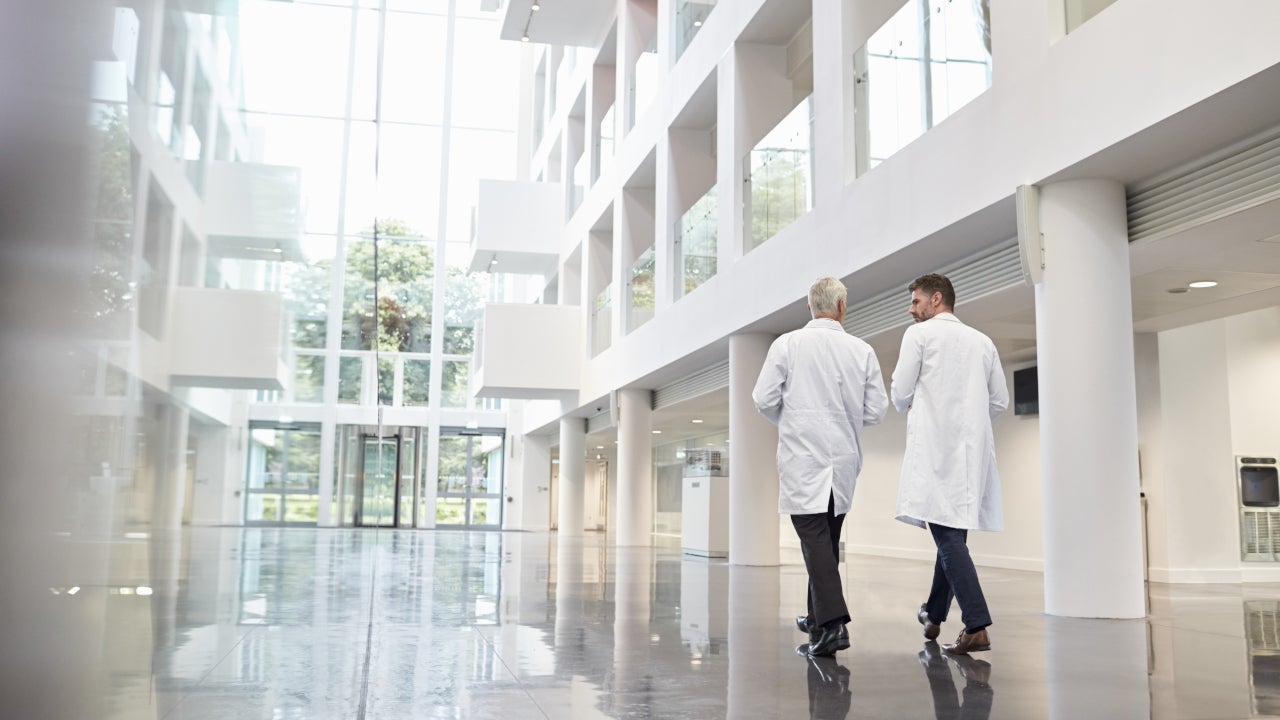 The US was estimated to have more than 575 registered psychiatric hospitals, as of December 2021.
With more than 1,527 beds, DSH Patton in California stood as the biggest psychiatric hospital in the US by bed size, followed by the Napa State Hospital.
Hospital Management lists the top ten psychiatric hospitals in the US based on bed size in 2021, using GlobalData's research.
1. DSH Patton – 1,527 beds
The Department of State Hospitals (DSH)-Patton is a forensic psychiatric hospital in Patton in the San Bernardino County of California. It is among the five state hospitals managed by the DSH, apart from Atascadero, Coalinga, Metropolitan, and Napa.
Opened in 1893, DSH-Patton specialises in the treatment of forensically and civilly committed patients. It is accredited by the Joint Commission on Accreditation of Healthcare Organizations (JCAHO) or the Joint Commission, a non-profit and accrediting body in healthcare. Offenders with mental health disorders account for 18% of the total facility population.
How well do you
really

know your competitors?

Access the most comprehensive Company Profiles on the market, powered by GlobalData. Save hours of research. Gain competitive edge.
Company Profile – free sample
Thank you!
Your download email will arrive shortly
Not ready to buy yet? Download a free sample
We are confident about the unique quality of our Company Profiles. However, we want you to make the most beneficial decision for your business, so we offer a free sample that you can download by submitting the below form
By GlobalData
The hospital provides specialised treatment programmes that are designed to help patients gain knowledge and skills to return to court. The programmes also help patients learn new adaptive coping mechanisms to improve their quality of life and eventually get transferred to a community outpatient treatment centre. Other treatment goals include developing a sense of independence and learning the art of self-discipline and daily living.
2. Napa State Hospital – 1,284 beds
Opened in 1875, the Napa State Hospital is the oldest state hospital managed by the DSH. Located in Napa, California, the hospital provides specialised treatment programmes for offenders with mental disorders, civilly committed patients, and patients who are deemed incompetent to stand trial.
The facility is accredited by the Joint Commission and was built in response to overcapacity at the Stockton Asylum, which was the first state hospital. Patients who are incompetent to stand trial account for a majority (30%) of the total patient population at the hospital.
The hospital's specialised treatment units include assessment of behavioural stabilisation, trial competency treatment, dialectic behaviour therapy (DBT), polydipsia treatment, sex offender treatment, intensive substance recovery and geropsychiatric. The treatment programmes also focus on skills development aimed at community living and relapse prevention.
3. Atascadero State Hospital – 1,184 beds
Opened in 1954, the Atascadero State Hospital is a psychiatric facility and was previously known as the California Department of State Hospitals-Atascadero (DSHA). The hospital houses an all-male patient population, the majority of whom have been convicted for treatment of mental disorders at psychiatric facilities by California's superior courts or the Department of Corrections and Rehabilitation (CDCR).
Located in the San Luis Obispo County of California, approximately 48% of the facility's total population includes offenders suffering from mental disorders. The hospital's treatment programmes include a trial competency programme and a conditional release programme for patients paroled to the hospital.
The hospital also provides mental health services for offenders from California prisons that aim at stabilising their symptoms and enabling them to function well in the community's enhanced outpatient programme. The facility is accredited by the Joint Commission.
4. Bergen New Bridge Medical Center – 1,070 beds
The Bergen New Bridge Medical Center is an acute and long-term care hospital that provides acute and ambulatory care, behavioural health, mental health and substance abuse treatment. It is operated by Care Plus Bergen, which is a collaboration between Rutgers New Jersey Medical School, and non-profit organisations Care Plus New Jersey and Integrity House.
Located in Paramus, New Jersey, the hospital is fully accredited by the Joint Commission. The behavioural health services at the hospital include acute partial hospitalisation and outpatient treatment for individuals, groups and families that need mental health evaluation and treatment.
The hospital's behavioural health treatments include medication stabilisation and management, coping skills, stress management, addiction counselling, and relapse prevention. It also offers treatment to veterans and children for depression, anxiety, bipolar disorder and obsessive-compulsive disorder (OCD).
5. Florida State Hospital – 987 beds
The Florida State Hospital is a mental health facility owned and managed by the State of Florida and is a division of the Department of Children and Families. It is the only state facility that accepts patients from both forensic and non-secure civil programmes to treat serious mental health conditions.
Located in Tallahassee, the hospital admits individuals who are civilly committed both voluntarily or involuntarily according to the Florida Mental Health Act or the Baker Act. The hospital also accepts individuals admitted to the forensic programme who are committed by a Florida Court and may come from any county in the state.
The hospital's programmes focus on planning, assessing, and the treatment of psychological stressors that affect individuals' mental health. It provides therapy sessions and counselling, analyses and understands the clinical needs of individuals, and networks with external systems on behalf of the individual.
6. Western State Hospital – 857 beds
The Western State Hospital (WSH) started its operations in 1871. Located in Lakewood, it is among the two psychiatric hospitals for adults in Washington that are operated by the state government.
The psychiatric facility provides mental health care to 20 counties located west of Washington. The Eastern State Hospital (ESH), the other state-owned psychiatric facility for adults, provides services to 18 counties east of the state.
WSH specialises in the evaluation and inpatient treatment of individuals suffering from serious or long-term mental conditions. Patients admitted to the hospital include those individuals referred by behavioural health organisations and those referred to by the civil court system when they qualify for involuntary treatment or through court orders.
The hospital also provides psychiatric services for children aged between five and 18 years through the Child Study and Treatment Center.
7. Bryce Hospital – 820 beds
Opened in 1861, the Bryce Hospital is an inpatient psychiatric facility for adults and is owned by the University of Alabama. It is one of the oldest facilities in the state and was previously known as the Alabama Insane Hospital (AIH).
Located in Tuscaloosa, Alabama, the psychiatric facility provides various recovery and treatment services such as counselling, group therapy, physical and occupational therapy, speech and hearing therapy, and mental illness therapy. It also provides alcohol and substance abuse counselling, academic programmes, and patient education.
Individuals can be admitted into the hospital both voluntarily and involuntarily. Individuals are admitted involuntarily after a Probate Court deems the person as mentally ill and a threat to self and others.
8. Manhattan Psychiatric Center-Ward's Island – 745 beds
The Manhattan Psychiatric Center (MPC)-Ward's Island is an inpatient and outpatient psychiatric facility for adults and children. Located on Ward's Island, New York, the centre is managed by the New York State Office of Mental Health (OMH).
The MPC specialises in many services and programmes, including community services, inpatient psychiatric services, graduate education programmes, and residential services. It also provides training facilities for nursing students, social work externs, psychological interns and externs, medical students, and psychiatric residents.
The centre provides mental health services to the Greater NYC Region and Manhattan.
9. Oregon State Hospital – 680 beds
The Oregon State Hospital (OSH) is a psychiatric treatment facility for adults, which provides hospital-level care to all the residents of the state. It is accredited by the Joint Commission and is managed and operated by the Oregon Health Authority.
The OSH has two campuses, one in Junction City, Oregon; and the other in Salem, Massachusetts. It serves patients who are civilly committed, patients under the jurisdiction of the Psychiatric Security Review Board, and those who are incompetent to stand trial.
The hospital specialises in services such as mental health and illness evaluation, diagnosis, and treatment, along with peer support and community outreach. It includes 24-hour care, on-site nursing, food and nutritional services, pharmacy, laboratory, and educational and vocational services.
10. DSH Metropolitan – 657 beds
Located in Norwalk, Los Angeles County in California, the DSH Metropolitan is a psychiatric hospital and is among the five state hospitals managed by the DSH. It is accredited by the Joint Commission and serves patients under conservatorship, those who are incompetent to stand trial, offenders with mental disorders and those who are found not guilty due to insanity.
It is the first state hospital facility to introduce a special unit that is focused on DBT, which aims to treat complex mental illnesses for patients whose emotional responses are poorly curbed and do not fall within the acceptable range. The treatment is also meant for those individuals who exhibit behaviours such as self-harm, substance abuse, suicidal patterns, and aggression towards others.
The facility's programmes and treatments include weekly individual therapy sessions, bi-weekly outings, group therapy, DBT skills groups training, a trial competency programme, and skilled nursing treatment and care.