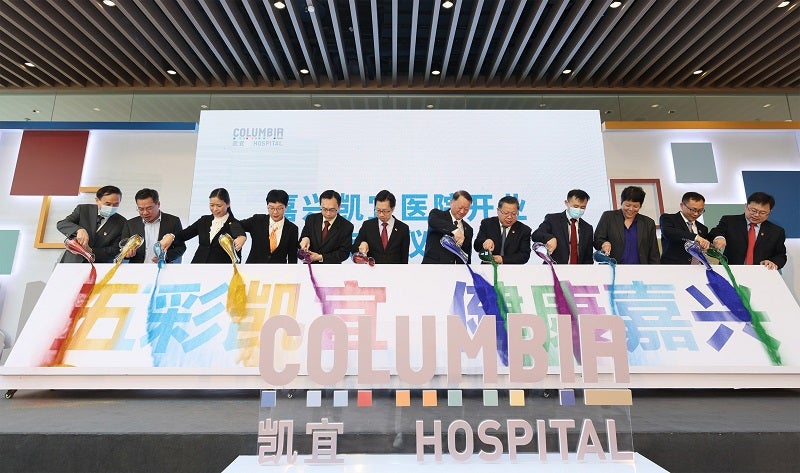 Columbia China has announced the opening of the 500-bed Jiaxing Kaiyi Hospital in Jiaxing, Zhejiang Province, built with an investment $220m.
It is the third hospital opened by Columbia China, a joint venture (JV) company of Seattle's Columbia Pacific Management, Sheares Healthcare Group, and Hong Kong-based Swire Pacific.
Spread across 112,000m2 area, the Jiaxing Kaiyi Hospital has been built as per the Joint Commission International (JCI) standards.
It is equipped with advanced medical technologies and features ten operation theatres (OT) including two digital OTs, two DSAs, six labor, delivery, recovery and postpartum (LDRP) rooms, and an advanced diagnostic equipment.
The hospital will offer a wide range of treatments that include oncology, endocrinology, general surgery, respiratory, gastroenterology, neurology, nephrology, cardiology.
Other specialties include dermatology, gynaecology, orthopaedic, urology.
The Jiaxing Kaiyi Hospital also offers outpatient consultations, inpatient services, accident and emergency as well as health screening services.
Columbia China president and group CEO Bee Lan Tan said: "With the opening of its third and largest hospital, Columbia China aims to deliver the highest level of healthcare quality, service and patient experience to the 5.5m population in Jiaxing.
"The successful opening of the hospital during the pandemic period would not have been possible without the commitment and efficiency of the Jiaxing government and the support of the government officials at Jiaxing Economic and Technological Development Zone.
"Columbia China remains dedicated to bringing more international medical and management talent and resources to Jiaxing, so that the needs of the local population can be well served."
The hospital will serve people living in Jiaxing and its surrounding areas.