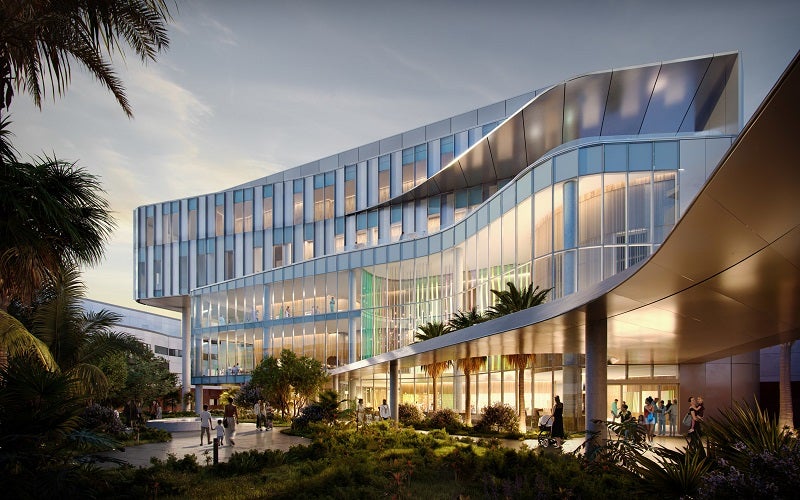 Nicklaus Children's Hospital has broken ground on a new 127,000ft2 surgical tower in Florida, US.
The new surgical tower represents the next phase of the master facility plan of the hospital.
The four-storey tower will rise above the Emergency Department of the hospital, situated at the centre of the main campus near Coral Gables.
It will include new advanced operating suites and private pre- and post-surgical care spaces for the children as well as their families.
The new operating suites will replace current operating rooms, which are 35 years old and lack size and ceiling height required to accommodate the latest equipment.
Slated to be completed in 2024, the new surgical tower will offer virtual reality surgical planning, augmented reality during surgery, and many other.
It is said to be a companion to the hospital's Advanced Pediatric Care Pavilion, a six-storey bed tower.
The 217,000ft2 pavilion accommodates the hospital's three intensive care units, including paediatric, neonatal and congenital heart.
It also includes neurology units, the hematology-oncology/bone marrow transplant, single patient rooms, latest technology, and an intraoperative MRI.
Nicklaus Children's Health System president and CEO Matthew Love said: "We are beaming with pride as we celebrate the ground-breaking of the new surgical tower.
"The tower will strengthen our legacy as the number one children's hospital in Florida and the premier centre for delivering the best surgical care to the children of our community, our state and around the world."
Construction company Brasfield & Gorrie has been appointed as the contractor and Perkins+Will as architect for the project.
CBRE Project Management is the representative of the owner.