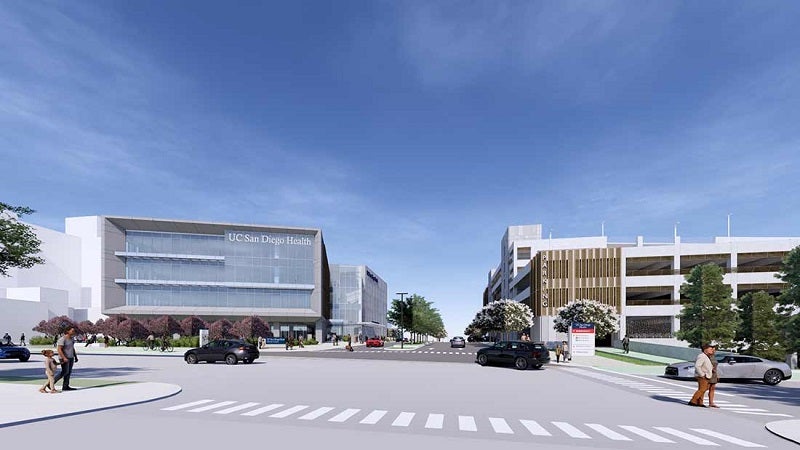 UC San Diego Health in the US has started construction on a redevelopment project at the Hillcrest Medical Campus.
This marks the start of work on the first phase of a multi-phase redevelopment project to increase capacity, provide new technology and facilities, expand care offerings as well as other community services and amenities.
The phase one redevelopment includes construction of a 250,000ft2 outpatient pavilion that will house specialty clinical programmes including orthopaedics, oncology and neurosurgery.
Slated for opening in 2025, the new building will feature gastroenterology procedure rooms, ambulatory surgery operating rooms, advanced imaging, infusion, and radiation oncology.
UC San Diego chancellor Pradeep Khosla said: "The transformation of UC San Diego Medical Center in Hillcrest is part of an overarching goal to bring the most advanced science and research to our communities to help people lead better, healthier lives.
"The reimagined medical centre will provide expanded opportunities for faculty, staff and students to use their knowledge and expertise for the benefit of our region through a broad scale of services and innovative treatment options."
This phase will also include demolition of the existing Bachman and Arbor parking structures and construction of an 1,850-space parking structure, which is expected to be opened at the end of 2023.
It will allow consolidation of patient and employee parking to improve patient and caregiver access and experience.
UC San Diego Health CEO Patty Maysent said: "The new hospital will provide new facilities, new technology and increased capacity, while expanding care offerings and addressing the growing demand for specialty care.
"It will be the cornerstone of a modern medical campus and a premier destination for health care."