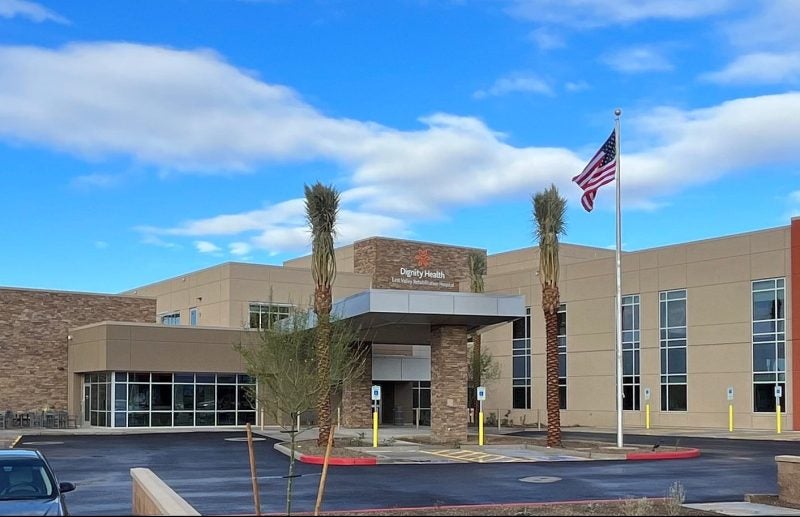 Dignity Health and Lifepoint Rehabilitation have opened a 40-bed inpatient rehabilitation facility, Dignity Health East Valley Rehabilitation Hospital – Gilbert in Arizona, US.
Situated at 1850 South Santan Village Parkway, the two-storey hospital is spread over 50,000ft2.
With all private rooms, the tailored inpatient care models of the facility offer acute rehabilitation and recovery for individuals who suffer from stroke, spinal cord injury, traumatic brain injury, complex neurological ailments, amputation and orthopaedic conditions among others.
The hospital is also equipped with multimodal therapy gymnasiums, which are furnished with new therapeutic technologies including augmented reality balance training, full-body exoskeleton and therapy bionics.
In addition, to boost patient ambulation and activity, the facility offers a therapeutic courtyard with exterior features.
As per the terms of the joint venture for establishing this hospital, Lifepoint and Dignity are both its stakeholders.
This Gilbert facility is the second Dignity Health rehab hospital in the East Valley.
Dignity Health Chandler Regional and Mercy Gilbert Medical Centers president and CEO Mark Slyter said: "Dignity Health East Valley Rehabilitation Hospital – Gilbert will be the much-needed resource for those in our community who have suffered from serious illness and injury.
"We are proud to partner with Lifepoint Rehabilitation to provide care and services close to home that will help people resume engaging in the activities that they enjoy, and to live life to the fullest."
In addition to the new hospital, Lifepoint operates over 30 freestanding inpatient rehabilitation facilities (IRFs) across 18 states in the country.
Lifepoint provides established rehabilitation management and services capabilities to aid patients in healing and returning home sooner through its IRFs and over 100 acute rehabilitation units.