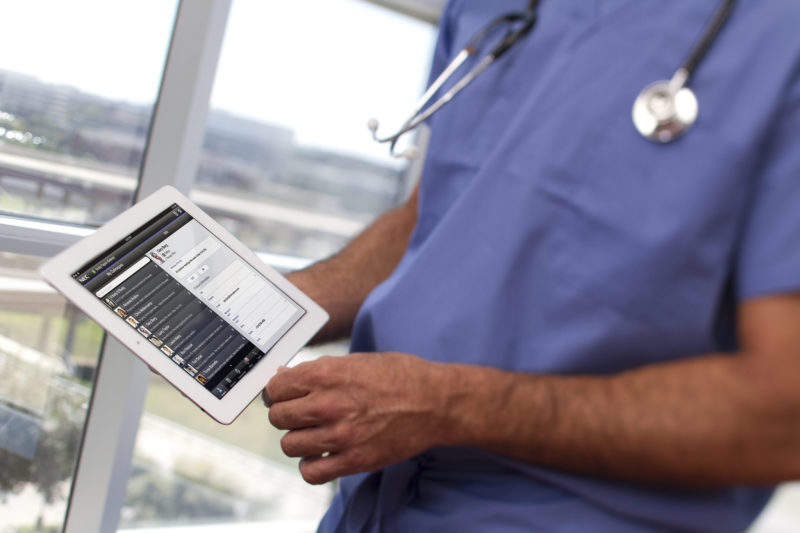 Hospital records need to be more digitised and better integrated in order to implement technologies such as artificial intelligence, according to an expert panel at the Digital Health Technology Show.
Getting the 'technology and the data records to flow' could also reduce unnecessary costs, such as having to take the same blood test at different practices due to a lack of data sharing.
Although the technology and potential applications for technology such as artificial intelligence are constantly improving, the foundations are not currently suited to maximise its potential.
"We're starting to see a bigger uptake in the use of artificial intelligence, but all of that has to be supported by strong digitisation of records," said director of transformation at the Eastern Academic Health & Science Network Victoria Corbishley.
"We're still struggling in our patch with having access to integrated care records that have access to primary and social care data, and unless we have access to those digital records finding an AI that can speak to and look through all those data records is difficult."
Corbishley also called for an update to hospital ecosystems, such as improving Wi-Fi access, as well as broader infrastructure investment across the country in technologies such as 5G.
The NHS has also been slow to adopt cloud-based technologies, despite it being mandated by the Government.
However, any technological changes must be based upon a solid foundation of strong primary, community and mental health care.
The fragmented nature of NHS medical technology is also having a negative impact, according to Charlotte Small from the Academic Department of Military Anaesthesia and Critical Care at the National Institute for Health Research.
"Some of the barriers are related to the NHS procurement process; they're related to the inevitable fact that we have lots of different companies using lots of different bits of kit," said Small.
"Our monitors are from a different manufacturer to our fusion pumps and there's little incentive for those companies to develop systems where those devices will talk to each other, and therefore the ability to download the information into a centralised system where you can then amalgamate information on physiological monitoring, drug prescriptions and patient notes."
Small suggested that unnecessary technology should be stripped back, and for trusts to avoid systems that don't have longevity and require lots of updates.
While there are concerns that digitised records are susceptible to cyber-attack, such as the WannaCry ransomware that affected thousands of NHS computers last summer, Small pointed out that paper-based records carry their own security risk.
"The current paper-based system we've got isn't as secure as I think our patients think it is. We worry about cyber security and we worry about unwanted forces accessing notes, but actually, we still have issues with leaving paper notes on buses, leaving handover sheets in hospital car parks, so I think it's important to be able to quantify the risk to patients," said Small.
Long-term access to older paper records is also an issue, with potentially-useful records being destroyed after a set period of time, a risk that can be avoided with digitised records.