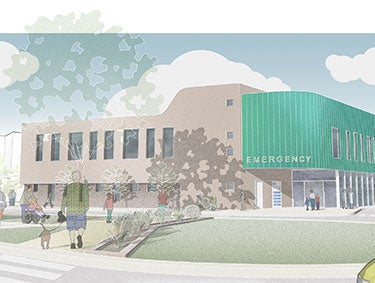 Interserve Construction has been selected to commence development work on Walsall Manor Hospital's new £36m worth Emergency Department and Acute Medical Unit in the UK.
The development work will incorporate a new Emergency Department with front door access to a new Urgent Treatment Centre and Paediatric Assessment Unit.
A new Acute Medical Unit and Medical Ambulatory Emergency Care Unit will be constructed on the first floor within the refurbished existing Emergency Department footprint.
The site will be prepared in readiness for the first stage of development. Construction is set to start early next year.
Walsall Healthcare NHS Trust CEO Richard Beeken said: "This is such an important project for the people of Walsall who rely on our services and it will help us transform the way in which health and social care is provided.
"We know we will see a yearly increase in ED attendances of more than 10,000 patients once the Midland Metropolitan Hospital is open in 2022 but we have an immediate need to improve the inadequate and sub-standard physical environment for both our patients and our staff who are trying to work within these constraints.
"The Covid-19 pandemic may have dominated much of our healthcare activity but sterling work has been continuing on this project throughout this period to ensure we stay on course to maximise safety and quality of care for all."
The development plan was approved by Walsall Council's planning committee last month.
Once completed, the vital project is expected to improve healthcare.
Interserve Construction senior project manager Richard Myatt said that work will commence on the site shortly.