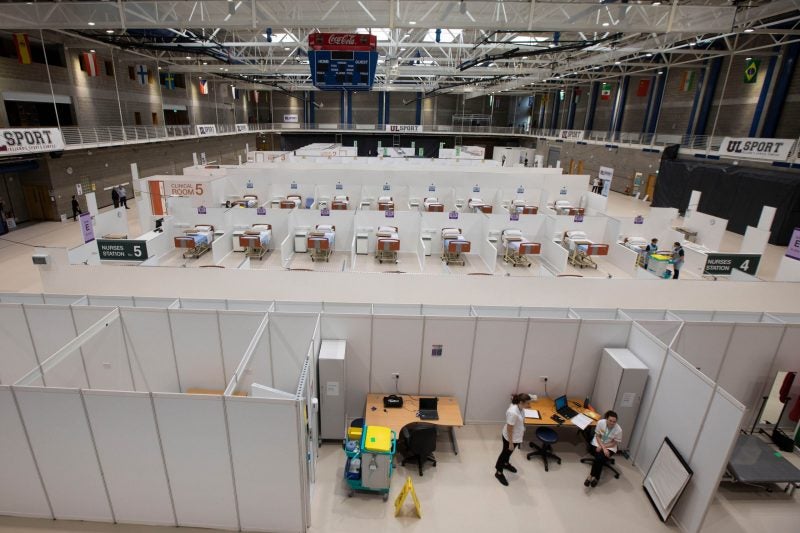 University of Limerick in Ireland has partnered with UL Hospitals Group to open an intermediate care facility at the UL Sport Arena on its campus.
The UL Hospitals Group Intermediate Care Facility (ICF) is set to accept patients from today. It is staffed and equipped to care for non-Covid patients.
ICF will accept patients who can be discharged from any of the UL Hospitals Group acute hospitals, but require further rehabilitation, or waiting to receive long term care.
It is a 68-bed facility that can be expanded to 84 beds. The facility's design involves partitioned wards and has ward support accommodation, pharmacy, clinical treatment areas, staff change, two recreation areas, four enclosed rooms and pantry.
The facility is set to run until at least September with an option to extend until November. Meant to operate as a contingency facility, ICF is expected to address patient flow and crowding at regional hospitals during the Covid-19 pandemic.
University of Limerick president Dr Des Fitzgerald said: "The ICF will provide a unique opportunity for training of UL healthcare students and has significant potential for research for the university.
"It is likely that there will be patients who have recovered from Covid-19 and this would be the ideal situation to observe their continued recovery from a disease with largely unknown long-term consequences."
Further, UL Hospitals Group is collaborating with community and national colleagues to boost intermediate care and permanent acute hospital bed capacity in the region by the end of this year.
UL Hospitals Group CEO Colette Cowan said: "The Interim Care Facility will be a vital strategic element in UL Hospitals Group's efforts to manage patient flow at a time when there is such significant demand for our services.
"We are working with community colleagues on further increasing intermediate care once we vacate the UL Arena."
The physical works for the ICF were planned and completed under HSE Estates' management. The facility has been built within four weeks.