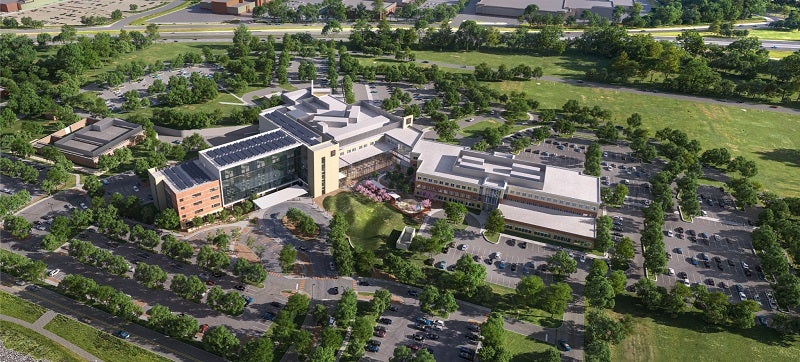 Indiana University Health (IU Health) has broken ground on its $300m expansion of IU Health Saxony Hospital in Fishers, Indiana, US.
The $300m investment will be used to expand the IU Health Saxony Hospital campus and services.
It will also be used for adding offsite outpatient access to primary care as well as specialists to meet the needs of the growing communities.
The expansion project will increase the hospital campus' square footage by around 50% and will also add stand-alone outpatient physician office developments in the community.
It will also add 50 inpatient beds and expand services in ear, nose and throat; obstetrics and gynaecology; neurology; nephrology; and pulmonology.
The support services space will also be expanded to accomodate additional staff and high patient volumes.
The project will also include growth in the hospital's existing specialty programmes in general surgery, primary care (pediatric and adult), urology, gastroenterology, general medicine, orthopedics, and cardiovascular.
The hospital expansion project is anticipated to complete in 2025.
IU Health Indianapolis Suburban Region president Doug Puckett said: "Fishers is the sixth largest city in Indiana today, and with notable population growth expected each year, could be as much as 50 percent larger by the year 2040.
"Community members and leaders have told us what they need and want from IU Health to best serve that growth.
"Thanks to the vision and investment from our executive leadership team, as well as our regional and system Board of Directors, we're able to meet these needs."
IU Health stated that Riley Children's Health will also commence work on a new dedicated, paediatric emergency department as part of the $300m investment.
The new emergency department will have eight paediatric emergency rooms with a four-bed observation unit, waiting room, triage area, along with a separate paediatric entrance.
It will be staffed 24/7 by the emergency medicine physicians and nurses of Riley Children's.