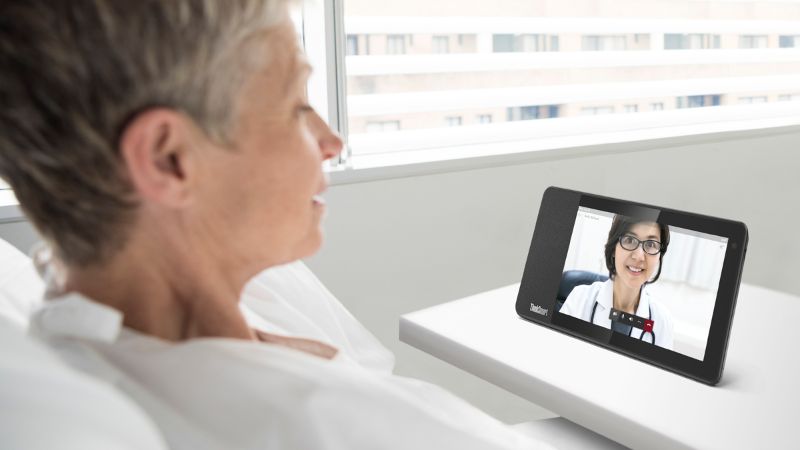 Technology company Lenovo has launched a new solution to enable virtual patient care while reducing the need for hospital visits and personal protective equipment (PPE) during the Covid-19 pandemic.
Healthcare providers can use the new Lenovo Virtual Rounding solution to remotely communicate with patients. The solution is said to help providers reach more patients and also lower their in-person exposure to ensure better safety.
The solution comes with a Lenovo ThinkSmart View, which works on the Microsoft Teams collaboration and communication platform. Providers will be able to access the solution from their office, home or another facility.
Patients admitted in care locations such as hospitals, rehabilitation centres or long-term care facilities will also be able to use ThinkSmart View for collaboration via video conferencing.
Lenovo Global Healthcare Solutions director Dr Bob Monteverdi said: "Lenovo Virtual Rounding was rapidly developed and brought to market in response to the acute needs of healthcare systems during the global Covid-19 pandemic.
"Physician-patient communication is fundamental for good care, this solution preserves valuable face-to-face time, making daily rounds more efficient, convenient, and safe."
The new solution, which is supported by Lenovo Services worldwide, is based on end-to-end service infrastructure. It can be configured based on the requirements of the individual hospitals, with access to virtual deployment installation.
Lenovo Services also offers technical support, remote maintenance and warranty support to providers.
Furthermore, Lenovo Virtual Rounding is intended to enhance the safety of patients and providers, access to care and the quality of care during the near-term pandemic as well as in the future.