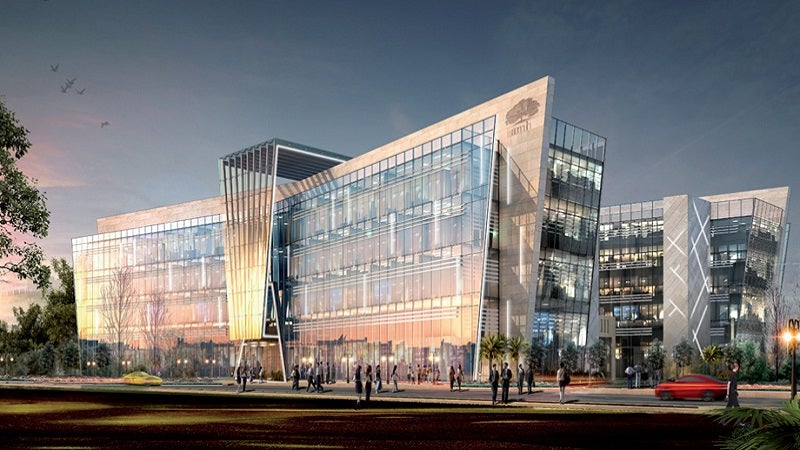 The National Bank of Bahrain (NBB) has agreed to support the King Hamad American Mission Hospital (AMH) construction that also includes solar panels installation.
AMH, which is slated to open next year, will be the first hospital in the country to use 50% photovoltaic energy to meet its electricity requirements.
AMH corporate CEO Dr George Cheriyan said: "With NBB's support, we are looking to install around 3,000 solar panels on the hospital's roof to generate a sufficient amount of power that aims to reduce our electrical bills by up to 50%.
"As the first eco-friendly private hospital, we hope that this will become the norm amongst other healthcare facilities and hospitals across the Kingdom."
Located in the town of A'Ali, the hospital is spread across a 57,000m2 area, and will feature a maternity and children's block, as well as a multi-specialty block with an intensive care unit (ICU).
It will also have a diagnostics centre, fertility centre, a special needs children's development, assessment and treatment centre, and an auditorium with seating capacity for 300 people.
Financing the project is said to be in line with NBB's commitment to support local enterprises as well as many sectors within the Kingdom, especially the health sector.
NBB Commercial and SMEs Arif Janahi said: "We are pleased to provide the financing for construction of the upcoming state-of-the-art King Hamad American Mission Hospital which includes eco-friendly financing to install solar panels.
"At NBB, we remain steadfast in our support of strategic sectors within the Kingdom and are committed to working hand-in-hand with the healthcare sector to bring sustainable projects of this scale and magnitude to life."