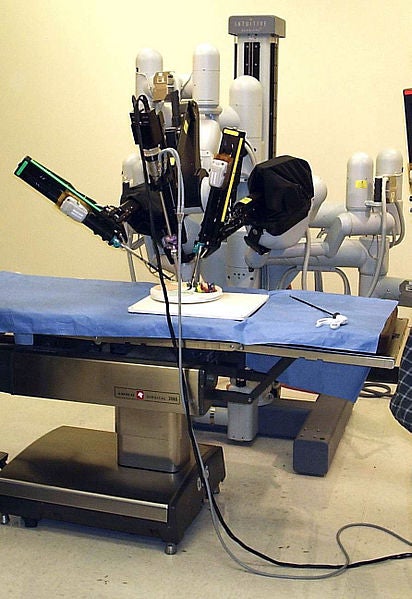 St John's Hospital in the US state of Minnesota has performed the first robot-assisted thoracic surgery to treat lung cancer. The surgery was performed by cardiothoracic surgeons Matthew Cooper and David Joyce.
The da Vinci Surgical System, developed by Intuitive Surgical, is designed to facilitate complex surgery using a minimally invasive approach. It can be used to treat lung cancer, as well as non-malignant thoracic disease.
The robotic surgical system consists of a console, a patient-side cart where the patient lays during surgery, four interactive robotic arms, a high-definition 3D vision system, and EndoWris instruments.
The robotic technology of the system scales, filters and translates the surgeon's hand movements into precise micro-movements of the EndoWrist instruments working inside the patient's body.
St John's Hospital medical director John Kvasnicka said, "Our pulmonary nodule clinic is one of the newer offerings at St. John's Hospital. From the start, its members have demonstrated a keen ability to collaborate on behalf of patients in order to determine the most appropriate treatment and therapy for each individual."
St John's Hospital is a full-service, acute care facility and a member of the HealthEast Care System which is a network of integrated care services.
The 184-bed hospital offers diagnostic and therapeutic services, including a breast care centre, cancer care, emergency care, maternity care, orthopaedic care and radiology care.
Image: The use of the da Vinci Surgical System to treat lung cancer will increase the options St John's Hospital can offer patients. Photo: Nimur