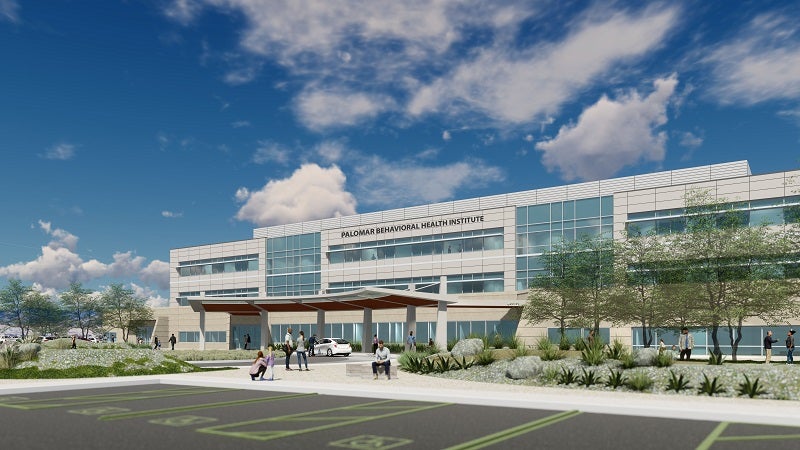 Palomar Health and Kindred Behavioral Health (KBH) have entered a joint venture partnership to construct and run the new Palomar Behavioral Health Institute.
The $100m inpatient behavioral health hospital will employ more than 200 health care professionals.
With the construction of the new hospital, Palomar Health will be able to offer equitable, person-centered services across the continuum, treating the helpless members of the community with a suitable level of care.
The three-storey, approximately 90,000ft² facility will have 120 inpatient beds and cater to outpatient services.
Palomar Health president and CEO Diane Hansen said: "To achieve the extraordinary in healthcare, the entire organisation constantly seeks better ways to improve every part of the patient experience and to always provide the highest quality of care.
"This partnership helps us reimagine behavioral health and offer support to so many people who need it, which is very important to us and our community."
The behavioural health hospital will act as the first point of assessment and care, offering primary emergent estimations for individuals in the community going through a behavioural health crisis, apart from the crisis stabilization unit.
Mental health emergency patients will get emergent assessment and rigorous stabilisation with an instant evaluation for determining the safe treatment plan beyond the initial crisis.
By partnering with private practice physicians, the hospital will offer services to members of the community seeking care.
LifePoint Health joint venture and strategic services senior vice-president Cleve Haralson: "We are excited to expand our relationship with Palomar Health and leverage their clinical expertise to make the North San Diego community healthier."
"We expect to break ground within 12 months and welcome our first behavioral health patients in 2024. Through both our rehabilitation and behavioral health specialty hospital partnerships with Palomar, we are proactively meeting local healthcare needs with a dedicated focus on high-quality care and excellent patient outcomes."