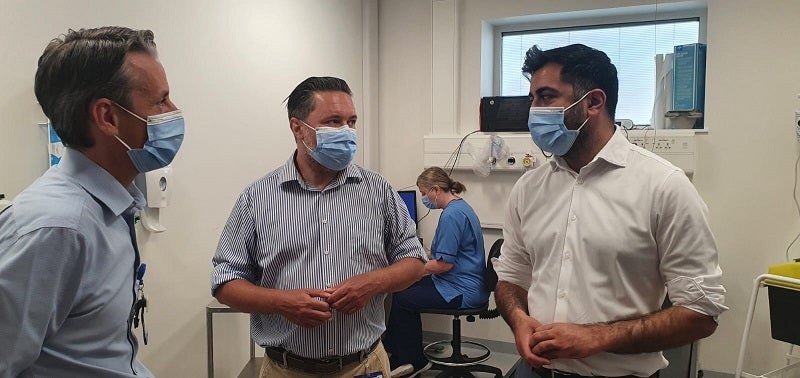 NHS Forth Valley has announced the opening of a new Urology Hub at Forth Valley Royal Hospital in Scotland.
The new centre is part of Scotland Government's £70m Endoscopy and Urology Diagnostic Recovery and Renewal Plan.
The hub will provide improved diagnostic services for bladder and prostate cancer patients, along with a wide range of surgical procedures.
It will serve as a one-stop diagnostic and treatment facility for local residents.
The purpose-built centre features three treatment rooms, two patient recovery bays and a central waiting and changing area.
Surgical procedures including vasectomies and circumcisions will now be performed in the Urology Hub's treatment rooms, instead of operating theatres.
This in turn raises theatre capacity and paves way for complex surgeries.
Health secretary Humza Yousaf said: "This new facility will make a huge difference to local people across Forth Valley who require tests and treatment for a wide range of bladder and prostate conditions.
"It forms part of wider national plans to support the faster diagnosis of cancers and other illnesses of the urology system, bladder and prostate across Scotland."
In order to address workforce challenges and reduce waiting lists, the NHS Forth Valley has focused on training new and existing staff to take on additional responsibilities.
Trained nurse practitioners are now capable of carrying out majority of diagnostic procedures that include cystoscopies, prostate biopsies, bladder botox injections, uroflowmetry tests among others.
NHS Forth Valley consultant urologist Craig Mcilhenny said: "The creation of this new Urology Hub at Forth Valley Royal Hospital, along with the significant investment in staff training and development, has helped us to significantly reduce our waiting list despite the pressures of the Covid-19 pandemic.
"It also ensures we have greater flexibility and can quickly adapt to the changing needs of local patients, now and in the future."