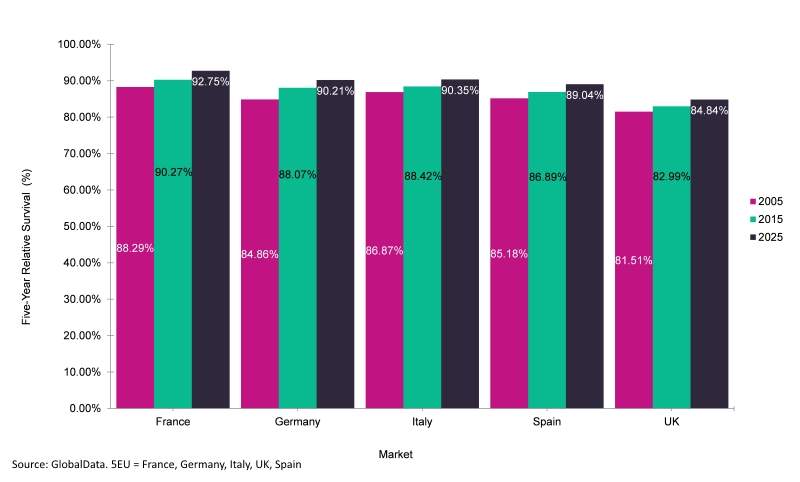 Five-year survival represents the percentage of patients who live at least five years after being diagnosed with cancer. It is often used by doctors to provide a better understanding of a patient's disease outlook, chance for recovery, and treatment options.
It is also a reflection of a country's specific cancer prevention, diagnosis, and treatment strategy. The five-year survival rate is most commonly used in cancer.
In the 2015 five major European pharmaceutical markets (5EU) of France, Germany, Italy, Spain, and the UK, GlobalData epidemiologists found that five-year survival in breast cancer patients in the UK was only about 83%, as opposed to approximately 87%-90% in the remaining EU markets (as shown in Figure 1).
In addition, UK breast cancer survival in 2015 (82.99%) was significantly lower than that observed a decade ago in the other major EU markets (around 85%-88%), and is expected to continue to lag more than two decades behind the other EU markets by 2025 (84.84%) (as shown in Figure 1).
Figure 1: 5EU, Five-Year Relative Survival Rates of Invasive Breast Cancer in Women, Ages ≥18 Years, 2005, 2015, and 2025
GlobalData epidemiologists attribute the low breast cancer survival rate to the UK's delay in diagnosis, sub-par access to treatment, and not enough healthcare spending.
Research led by the Swedish Institute of Health Economics (IHE) shows that there is significant under-investment in UK cancer patients in general, especially when compared with Germany and France.
The IHE also reports that the UK is behind in the uptake of new cancer drugs, which further compounds the issue of survival.
In the future, increased resource allocation and better diagnosis and treatment strategies will play a role in the UK's ability to successfully increase five-year survival in breast cancer patients.