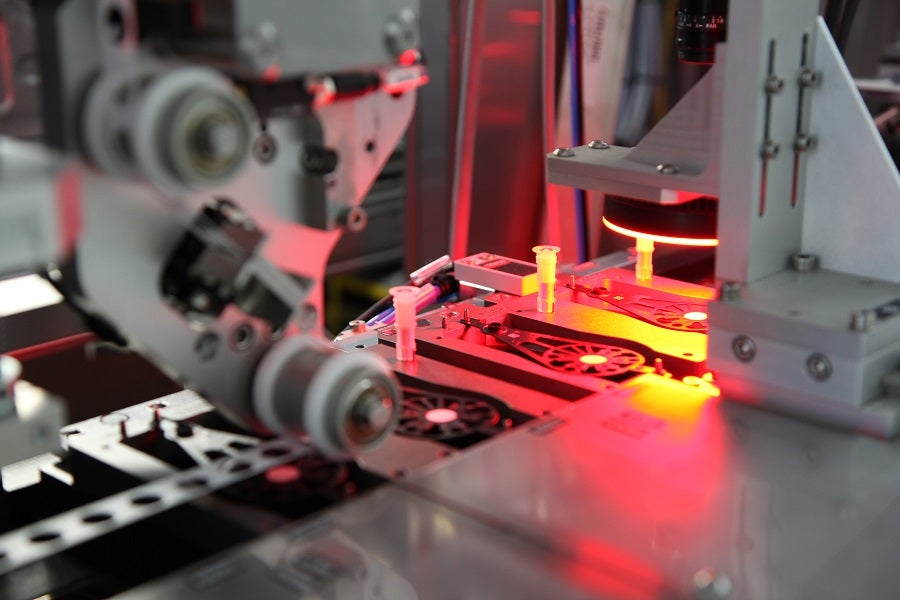 Analysts at GlobalData predict that the market for point-of-care (POC) diagnostic devices will reach $297.6bn by 2023, a growth of almost $1bn from 2015.
While a significant proportion of this increase is due to the volume of lateral flow tests (LFTs) manufactured to perform mass screening of populations for Covid-19 over the last two years, this trend towards POC diagnostics is positive news. In the pursuit of improving patient care, the continued development of POC testing can help support future demand for rapid diagnosis and treatment, with opportunities to implement successful POC facilities expanding over the years as the technology has improved.
While POC testing has most widely been used for blood glucose monitoring in diabetics or in testing for pregnancy or HIV, more sophisticated molecular POC diagnostic devices are rapidly creating new opportunities. In fact, developments are underway that would see POC testing utilised in the identification of cancer, tuberculosis, and stroke markers, as well as a range of other conditions that would benefit from an early diagnosis.
With the pandemic increasing the demand for these devices, manufacturing companies have been racing to make the next-generation of POC platforms faster, easier, and more reliable. As such, POC diagnostics are well positioned to challenge traditional centralised laboratory methods.
Manufacturing challenges
Traditional approaches to POC testing have typically required overnight culturing and pathogen isolation. While nucleic acid amplification tests – a type of viral diagnostic test for a virus or bacterium that detects genetic materials rather than antigens or antibodies – can provide a shorter turnaround time, they come with challenges, ranging from their complex nature to the intensity of labour required in their creation.
Molecular devices, meanwhile, require the assembly of what amounts to a small laboratory, and present additional complex challenges.
"For strip devices, you have just a few processes for the device assembly," says Jean-François Bauer, head of marketing and business development at Mikron Automation. "In molecular devices, you have a lot of processes, and they are very complex because you are dealing with different reagents and with a variety of materials. To compose one full molecular device, there are many, many components."
But in the highly regulated world of medical devices, there is no margin for error, and quality standards are consistently high. To succeed, manufacturers must understand the technical challenges that come with devices this critical and sophisticated and ensure precision is built into their production processes.
Customisable solutions
Mikron has more than 50 years of experience providing pharmaceutical assembly system expertise and works in full accordance with FDA, GAMP 5 and GMP. Its Mikron Automation division has built a reputation for high quality, process expertise, innovation, risk management, and commitment to its customers, installing 3,900 assembly and testing systems worldwide for clients in the pharmaceutical and MedTech industries.
"We are not a start-up company for diagnostic device manufacturing," remarks Bauer. "The standard strip cutting devices began back in the '90s and molecular diagnostics back in 2015, so our customers can rely on our experience and expertise in this field."
Headquartered in Boudry (Neuchâtel) and employing more than 750 people, the division also has sites in Denver (USA), Singapore and Shanghai (China). At these sites, it develops fully automated solutions from lab stations through to clinical pilot lines, using a broad range of standard, proven platforms to deliver optimal solutions for a vast range of devices, including molecular diagnostics and POC tests.
Mikron Automation enables manufacturers to meet their end goals while reducing their time to market. The division provides scalable and customisable assembly solutions with a full suite of Pre-Production Services, ranging from consultancy advice to full engagement such as design for manufacturing (DFM) analysis, PFMEAs (process failure modes effects analysis), process range studies, proof of principle feasibility studies, prototype component builds, process characterisation, and clean room assembly of design verification build or clinical trial builds.
"Often our customers have a principle that works but need other skills to move from the lab environment into the industrial production environment," says Karl Taferner, Mikron Automation's head of project development. "We can identify what production equipment can be used to make this ramp up in production."
For more information on POC test manufacturing trends and challenges, download the whitepaper below.