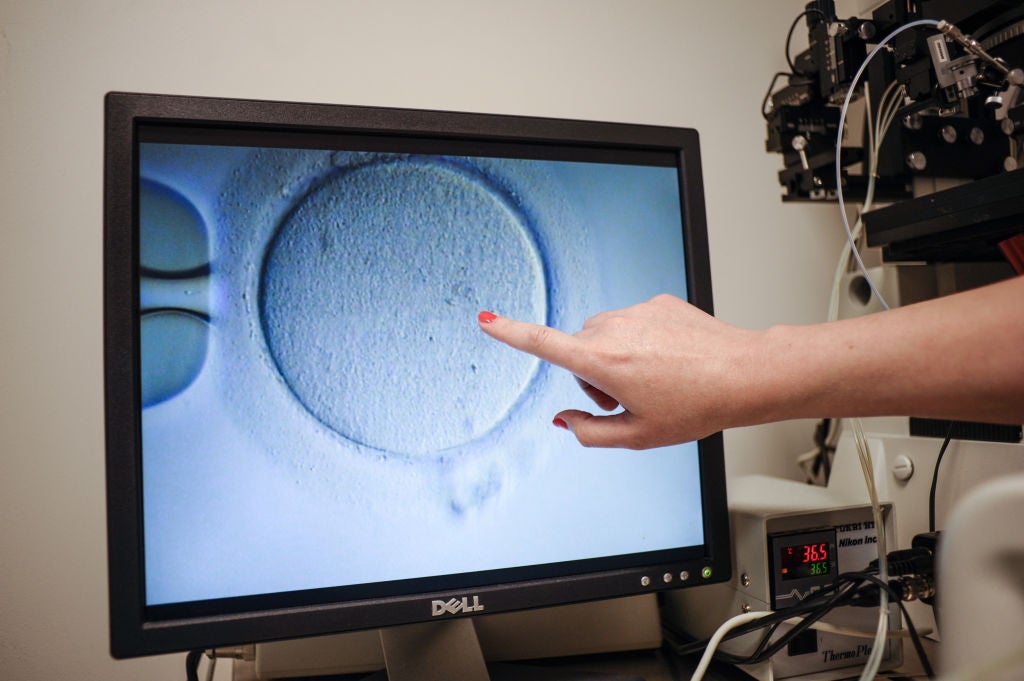 On 25 July 1978, a baby was born in Oldham General Hospital, England, just like many others that day. However, the birth of Louise Joy Brown was of huge significance for couples all over the world. She was the first ever baby to be born through in vitro fertilisation (IVF), a medical procedure by which eggs are fertilised by sperm in a lab and later implanted in the uterus. In short, couples for whom a family through natural birth had been an impossibility were now given hope.
The repercussions of this birth over the past 44 years have been huge. The World Health Organisation states that 15% of reproductive-age couples are affected by infertility globally. To them, and the families of the estimated ten million babies born worldwide using assisted reproductive technology (ART) since Brown was delivered, IVF has been a life-transforming breakthrough. Little wonder, then, that 25 July is celebrated as World IVF Day.
The increasing use of IVF and artificial insemination has played a key role in the growth of the ART sector, which is expected to reach more than $54.7bn in value by 2028, according to analysis by market research and consulting company Emergen Research.
Indeed, the ART sector is fast-growing market, with figures from the UK showing that IVF birth rates in 2019 were three times higher than they were in 1991.
What is driving demand for IVF services?
People will typically turn to IVF when they have issues such as fallopian tube damage, ovulation disorders, endometriosis, uterine fibroids, previous tubal sterilisation or removal, impaired sperm production or function, or genetic disorders. Other factors affecting fertility levels (and therefore boosting demand for IVF) include smoking, excessive alcohol intake, obesity, stress and calorie restriction.  
How well do you
really

know your competitors?

Access the most comprehensive Company Profiles on the market, powered by GlobalData. Save hours of research. Gain competitive edge.
Company Profile – free sample
Thank you!
Your download email will arrive shortly
Not ready to buy yet? Download a free sample
We are confident about the unique quality of our Company Profiles. However, we want you to make the most beneficial decision for your business, so we offer a free sample that you can download by submitting the below form
By GlobalData
In addition, demand for IVF services has increased significantly in the 21st century due to rising rates of infertility, a trend towards delayed family planning and changing work habits/lifestyles, according to corporate finance advisory Clearwater International.
Where are the leading fertility hubs?
While some people opt for fertility treatments in their home country, others decide to travel to other countries. 'Fertility tourism', or reproductive tourism, is gaining popularity, but is also becoming a key sector for investors looking to generate stronger profits from the largely stable medical or meditech sectors.
The Fertility Tourism Survey 2020 conducted by Fertility Clinics Abroad found Spain to be the number one destination for people travelling internationally to have IVF treatment, followed by Cyprus, Greece and the Czech Republic. Other leading IVF destinations highlighted by the survey include the UK, the US, Ukraine, Portugal, Denmark, Turkey, India and Hungary.
Factors behind patients travelling for IVF treatment include success rates, cost, patient feedback/experience, donor availability, wider treatment options, waiting lists, the anonymity of donors, gender selection and the number of embryos available for transfer, according to the survey.
What are the investment opportunities in the IVF market?
With the IVF market increasing in size steadily over the past few years, myriad opportunities have emerged for foreign investors to back projects in this area.
Jinxin Fertility Group provides a good example of foreign direct investment (FDI) in this field. The China-based healthcare company announced in 2020 that it was looking to open an IVF-licensed clinic in Boten Special Economic Zone, Laos, which would have a projected capacity to conduct over 3,000 IVF treatment cycles per year, according to GlobalData's FDI projects database.
Apart from IVF fertility clinics, there are also opportunities for investments in the fertility-focused tech sector, and more specifically in start-ups developing new reproductive treatments and diagnostic tools.
Data from Pitchbook shows that $823.1m was invested across 90 deals globally in fertility tech venture capital in 2021, up from $132.2m and 18 deals in 2012.
Investments in fertility tech include projects related to egg freezing, machine learning for embryo selection, artificial wombs for premature babies, sperm count, IVF improvements and diagnostics apps.
The GlobalData database has tracked several deals in the IVF sector, with deal types including acquisitions, venture financing, private equity, asset transactions and partnerships.
Some recent deals in the acquisition space include the purchase of Evidence Solution, a software company offering IVF management technologies and quality management systems, by the life sciences company Esco Lifesciences Group in July 2022. Elsewhere Virtus Health, a provider of in-vitro fertilisation services, was acquired by private equity firm BGH Capital in May of the same year.
In addition, Alife Health, a fertility technology company building AI tools related to IVF, has raised $22m in Series A financing.
Indeed, the increasing popularity of IVF is set to positively impact the ART devices market, which consists of single-use devices in IVF and intrauterine insemination procedures. According to analysis by GlobalData, the ART devices market is expected to grow at a compound annual growth rate of 6%, resulting in a global market value exceeding $440m by 2030.
The Asia-Pacific region is worth double that of North America when it comes to market value for ART devices, with the highest contribution coming from Japan and China.
The key global players in the ART devices market include manufacturers such as Cook Medical, CooperSurgical, Corning, FujiFilm Irvine Scientific and Vitrolife.
The growing number of fertility clinics, an increase in the average age of couples choosing to have children, and a rising number of women opting to undergo IVF because it improves pregnancy success rates are among the key drivers of global market growth in IVF device sales, according to GlobalData.
Could the US abortion ban affect the IVF market?
IVF has been a growth industry for decades, but is there a threat on the horizon? Some are voicing concerns that the abortion ban recently introduced in some US states could have an impact on IVF services.
The overturning of the Roe versus Wade ruling leaves each state to interpret its own rules with regards to reproduction rights. Some in senior positions in the US believe that every fertilised egg is entitled to the same rights as a child already born. Therefore, in cases where more than one embryo is transferred during the IVF treatment, resulting in a woman being pregnant with triplets or more, doctors might opt for multifetal reduction, where one or more foetuses are aborted, in order to preserve the chances of a successful pregnancy. This practice would clearly fall foul of the stricter abortion laws being introduced in many states.
On top of that, the practice of embryo selection may also come under threat from the new abortion laws. After the eggs are fertilised in the lab, they go through preimplantation genetic testing (PGT), which is a process that defines which embryos would be implanted, and the embryos that do not pass PGT are usually discarded or donated for scientific research. However, the process of selecting only the embryos that passed PGT for implantation could now be classed as being illegal, depending on how each state would define the beginning of life, either at the state of fertilisation or once the embryo is transferred in a womb.
It remains to be seen how the US abortion law will affect the IVF market, with the potential now existing for each state to have very different rulings. Given the increasing reliance upon ART technologies, this could create medical tourism opportunities for states with less onerous interpretations of the abortion law. Such setbacks do not alter the fact, however, that fertility tech is a growing market, a situation unlikely to change in the coming years.