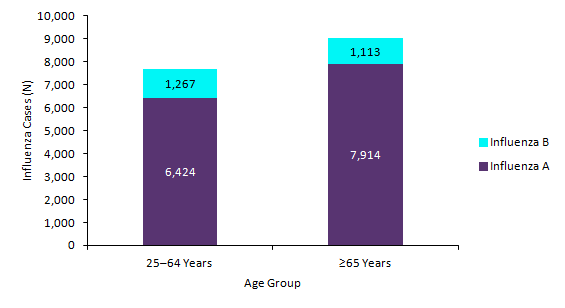 A January study published in the New England Journal of Medicine suggested that respiratory infections are associated with a greater risk of acute myocardial infarction (MI).
The researchers reported that MI incidence was 5.17 times greater during the week after infection with influenza A, while it was 10.11 times greater in the week after influenza B infection. These findings are especially relevant given the particularly devastating flu season in the US.
US public health laboratories reported 23,837 cases of influenza to the Centers for Disease Control and Prevention (CDC) through February 3, 2018, according to the CDC's FluView tool. This includes 7,691 cases in adults ages 25 through 64 years and 9,027 cases in adults ages 65 years and older.
In adults ages 25 and older, 85.76% of influenza infections were caused by influenza A, while 14.24% were caused by influenza B. Figure 1 shows the breakdown of influenza A and influenza B cases in adults ages 25 through 64 and ages 65 and older.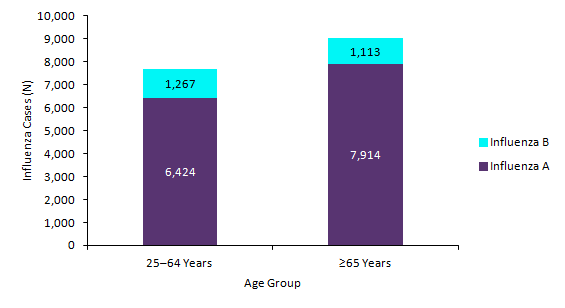 In the 2016 acute coronary syndrome epidemiological report, GlobalData epidemiologists projected there will be 671,935 total incident cases of MI among adults ages 25 years and older in the US in 2018. Three-quarters of these cases are expected to occur in adults ages 65 years and older.
However, the burden of MI could be exacerbated by the serious flu season. A significant increase in the number of influenza infections could result in a slightly higher number of MI cases. While this would be a small fraction of total MI cases, the impact could still be notable, especially since many influenza cases may go unreported.
Figure 2 compares the number of forecast MI cases in 2018 with the number of adults at greater risk for MI due to confirmed influenza infection.
This serious flu season continues to take its toll on the US. The link between influenza and MI outlines an aspect of influenza infections that may not always be considered. This relationship reinforces the importance of vaccinating against influenza and seeking medical care when symptoms arise.