DOBCO Medical Systems is a Belgian software company which focuses on connectivity in healthcare IT. Grown from the radiology department, DOBCO has expanded its experience hospital-wide to other imaging departments, such as gynecology, nuclear medicine, cardiology, etc. We mainly focus on providing software solutions in three different areas: PACS migration and conversion, teleradiology, and PACS connectivity inside and outside radiology.
DOBCO's market-leading solutions are based on international standards (DICOM, HL7, IHE, etc.). We provide not only the software, but offer our customers a methodological approach of the project, from sales to acceptance and support. Our key values are quality assurance, process transparency and customer satisfaction. Backed with our software, our mission is to deliver an excellent result.
Faster PACS migrations
Migration is a key element when installing a new PACS system. Because both the legacy PACS and the destination PACS need to be maintained during migration, there are often unanticipated high service costs involved. Because of that, it is necessary to perform the migration as soon and as fast as possible. With the standard techniques used by most PACS vendors, the migration can take a very long time. The migration duration is often underestimated.
DOBCO Medical Systems has developed a number of techniques to migrate data up to ten times faster. This migration speed is achieved by communicating with multiple DICOM servers (advanced configuration) or by bypassing the time-consuming DICOM retrieve (custom configuration). The DICOM communication is always multithreaded. Our verifications and reporting tools ensure that the migrated data is accurate and correct.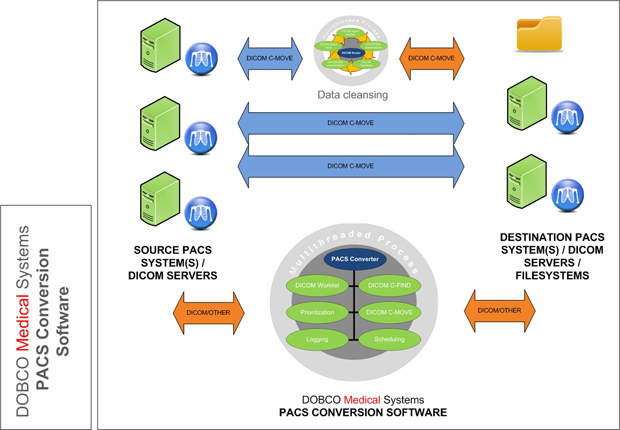 PACS migration advanced set-up: speed up PACS migrations using multithreading and connecting multiple DICOM servers for both the legacy and the destination PACS.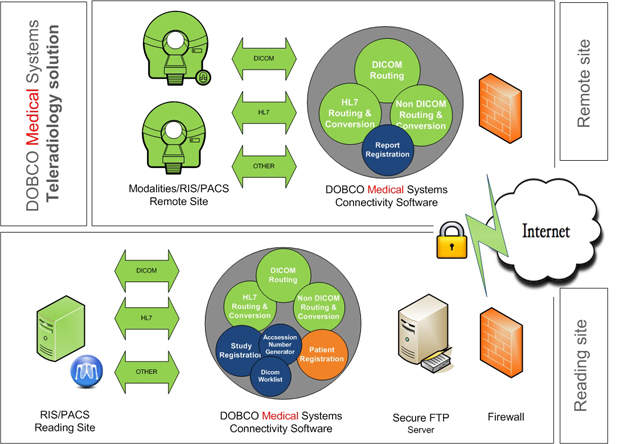 Connectivity overview for teleradiology: secure and robust transfer of medical data from remote site to reading site and vice versa.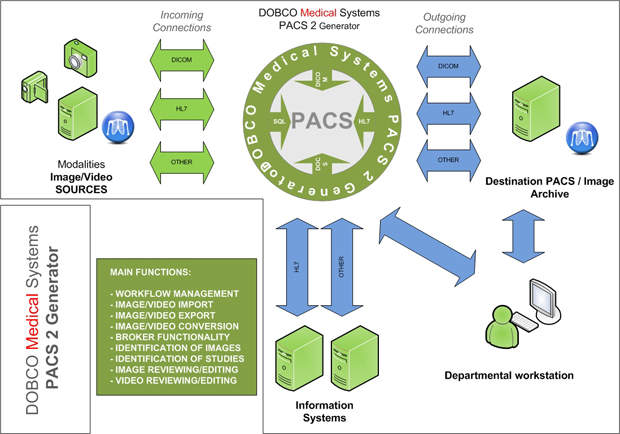 Connecting PACS outside radiology: non DICOM images and departmental workflows connected to the radiology PACS system.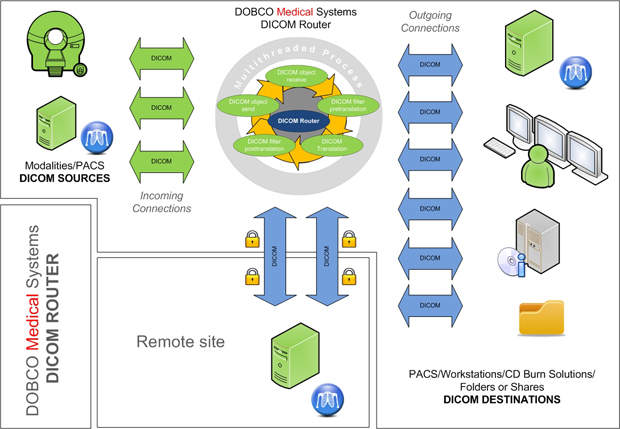 Out of the box software: DICOM Router routes, translates and filters DICOM objects and centralises the DICOM workflow and management.
A complete teleradiology connectivity solution
Through teleradiology, hospitals and their patients can obtain readings at any given time. This service requires a robust and adequate exchange of data between the reading sites and the (remote) data acquisition sites.
DOBCO Medical Systems' teleradiology solution connects various sites to facilitate this exchange of data: new and prior studies are easily uploaded to the reading site, together with the order information. After reading the study, the remote site receives the report automatically. This customised solution uses the DICOM and HL7 standard, but can also exchange other information. DOBCO has multiple installations worldwide, ranging from Russia to Saudi Arabia.
PACS inside and outside radiology
PACS 2 Generator is the first digital imaging solution that facilitates the digital processing of non-radiology images within your current radiology PACS. It is very effective software to add, view and archive digital images. For this to succeed, we build a shell around the PACS system, and handle the departmental workflow and the import of images. The images are converted and stored in a format the PACS system supports. Later, the images can always be retrieved with the PACS 2 Generator software in their original format. The storage of images is totally facilitated by the PACS system. The modular design is fully adaptable to meet the workflow requirements of various departments.
DOBCO Medical Systems offers a unique solution as an add-on to your current PACS infrastructure to connect other departments, using various imaging workflows and image formats, to your current PACS system. We analyse and implement the different workflows and interfaces (DICOM, HL7, Other) that need to be supported.
Out-of-the-box software for medical imaging
We also offer out-of-the-box software for medical imaging. Our software applications, based on international standards, help our customers to improve their clinical workflow.
An example is our DICOM Router Software to manage DICOM connections and our PACSizer software that enables the possibility to register and import images from CD/DVD or from another DICOM source into PACS.
About DOBCO Medical Systems
DOBCO Medical Systems is a Belgian company founded by a team of experienced entrepreneurs. It is a high technology solution-focused corporation with solid expertise in DICOM, HL7 and other connectivity standards. At DOBCO Medical Systems we are committed to developing, producing and delivering cost-effective, high-quality and state-of-the-art products that meet the expectations of our customers.