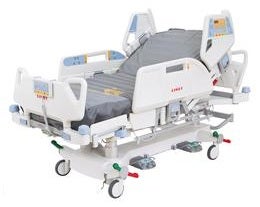 Linet Americas will target a new segment of the health-care market with its latest hospital-bed model.
The company has begun taking orders for its mid-range acuity bed, called the Multicare LE. Linet expects the bed to generate $40m in sales within five years, says Colin Bain, president and chief executive.
The new product fills a gap in Linet's offerings and will help it capture a greater share of the market, he adds
"It's a great product," Bain says. "It allows us to adapt and offer many different customers the solution they really need in different environments."
Linet Americas is a subsidiary of Czech Republic-based Linet, which operates in more than 100 countries. Its North American headquarters is in Charlotte.
The Multicare LE expands Linet's product lines, which include a general medical-surgical bed and a higher-end intensive-care model.
The new model bridges the gap between those two products, Bain says. It offers characteristics of Linet's higher-end, intensive-care model, but its features have been scaled back slightly.
"This gets them 90% of the functionality for a significantly lower price," Bain says.
The Multicare LE will sell for $10,000 to $13,000, as much as 30% less than products from Linet's competition. By comparison, the company's ICU bed costs up to $25,000.
Bain notes all of Linet's hospital beds employ user-friendly technology to help medical personnel deliver better care in patient's rooms. For example, the beds' simple design makes it easier for doctors to examine patients or for nurses to move patients without assistance.
That also helps reduce the possibility of injury. Linet says its beds are easier to clean, which prevents the spread of infection. There's been early interest in the Multicare LE model, Bain says. Conservative estimates place sales for that bed at $2m within 12 months. Within four years, Bain expects it will account for 40% of Linet's revenue.
"I would classify it as critical to our growth plans," he says.
He notes Linet Americas is in the midst of a five-year strategic plan. The company could reach $100m in revenue within three years, he adds. That would translate into as much as 12% of the US market.
It also has a goal of establishing a production facility in the Charlotte region within three years.