With lives on the line, the operating room is no place for mediocre equipment. Panasonic's reputation, reliability and expertise in video and imaging technology continue to make strides in the medical marketplace. Our Medical Vision Systems division now offers a total medical video solution, complete with a range of HD cameras, monitors and recording equipment.
These medical-grade products are ideally suited for:
Ophthalmology
Neurosurgery
Microscopy
Pathology
ENT
Head-mounted cameras
Remote head cameras
The sharpest, purest color images available come from Panasonic's three-chip HD remote head camera (GP-US932A Series). With high-sensitivity progressive CCDs, the camera outputs true 16×9 multi-format high definition. Each pixel has a large light receiving area, giving the 1/3in type progressive CCD exceptional sensitivity. The digital signal processor, combined with sophisticated offset spatial technology, achieves a balance of high resolution and high S/N ratio required for critical HD applications.
Panasonic's single-chip full HD remote head camera (GP-KH232) offers a low cost with high-performance. The 1080p/60 HDMI output provides increased resolution up to 900 TV lines. Its compact and lightweight head module, weighing only an ounce, is just right for surgical microscopes and head-mounted camera applications.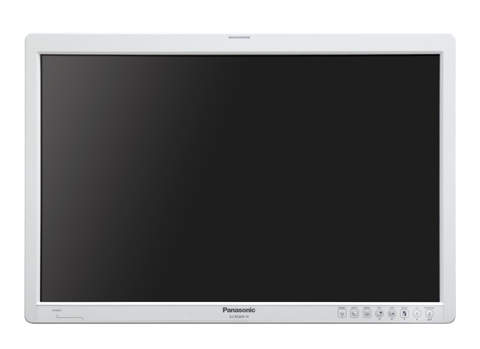 EJ-MLB26U-W 26in medical-grade monitor.

GP-US932A HD remote head camera.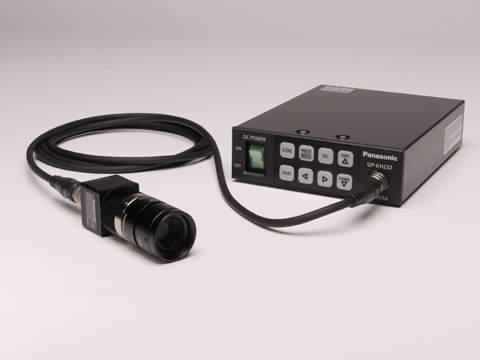 GP-KH232 Single Chip HD camera.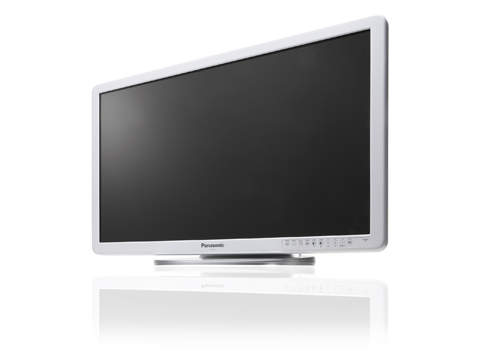 EJ-MLA32U-W 32in and EJ-MLA37U-W 37in medical-grade monitors.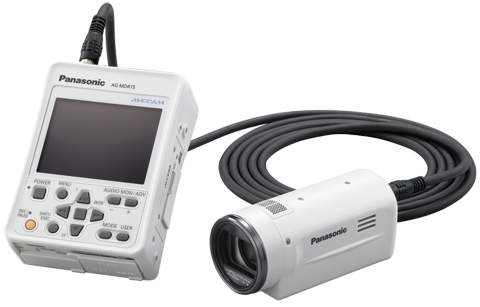 AG-MDR15 POVCAM camera and recorder.
Remote head camera accessories
Panasonic offers a wide range of cables to suit your application. From 4m for short space usage to 20m for flexibility and maneuverability, the accessories complete your total package.
Medical-grade monitors
Our medical-grade certified monitors are offered in 26in, 32in and 37in models; ideal for the space requirements of an operating or exploratory / diagnosis room. Features of these models make operation easy, including user-selectable picture-in-picture or picture-out-of-picture and side-by-side display of two HD images with independent adjustment of each, and up to three simultaneous screen displays (such as a surgical image, vital signs, etc.). Less time adjusting separate monitors allows more time for addressing the most important subject – the patient. And, the replacement of multiple screens leaves additional working space.
Operating room recording system
The POVCAM (AG-MDC10; AG-MDR15) maintains the high resolution that your camera is capturing, ensuring you see the same crisp images that you originally viewed. New 3MOS ¼in imagers utilize 2.2 million pixels suitable for independent processing to provide exceptional color accuracy and detail. This affordable solution records HD video on a low-cost recording media. The AG-MDR15 can record up to 12hr of H.264 format footage on a single 32GB SD card and can easily be transferred to a hard drive.
Ultrasound imaging system for heart disease detection
The Panasonic CardioHealth® Station utilizes state-of-the-art ultrasound imaging technologies to empower clinicians to practice personalized preventive medicine. Its user-friendly design allows direct visualization of subclinical atherosclerosis (hidden plaque in carotid arteries) and enables virtually any medical professional to perform reproducible carotid scans.
CardioHealth® Station's intuitive touch-screen interface simplifies the entire examination. After entering basic risk factor information, the ultrasound imaging module is launched. There is no need to adjust for image resolution, gain and image quality features. Following a sweep of the carotid artery, the distal common carotid artery is automatically measured for IMT in a few seconds using Panasonic's proprietary, auto-freeze function. A colorful comprehensive report is just a couple of screen touches away.
Panasonic medical imaging solutions go beyond being equipment and become a virtual extension of the medical professional.