toutenkamion is the European leader in the category of custom-built mobile medical units on 3.5t chassis, trucks and trailers as well as large expandable semi-trailers. All our vehicles are designed to the specific requirements of our clientele.
Our production programme is comprised of units for: operating theatres, intensive care, sterilisation, breast cancer screening, dental surgery, blood donation, medical analysis, anti-doping control, hearing testing, ophthalmology, mobile hospitals, scanners, radiology, epidemiology, pharmacy, mother and child care, occupational health, dispensary, decontamination, antipollution, ambulances, laboratories, etc.
Like all of the vehicles of the toutenkamion production range the bodywork of the mobile medical units can be built with extensions, also called pop-outs, in order to increase the working area.
Mobile medical units with GRP sandwich panels
All of the bodywork panels of the toutenkamion mobile medical units are manufactured in a unique vacuum moulding process. The different layers and elements of the GRP sandwich panels are glued together, compressed and evacuated during the manufacturing process. This ensures a compactness and rigidity unmatched by other processes.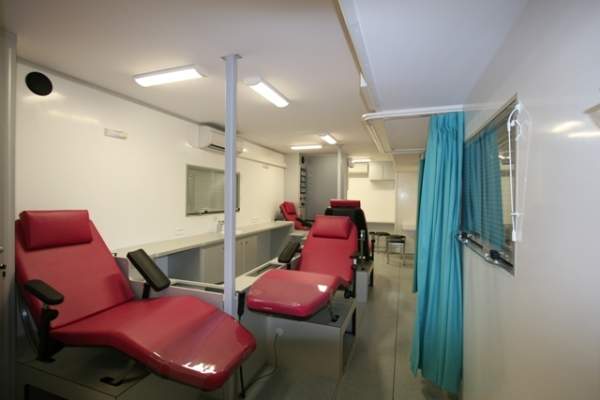 Interior of a blood donation unit. It is autonomous with electric power, lighting, heating, air condition, etc., and features all necessary medical equipment.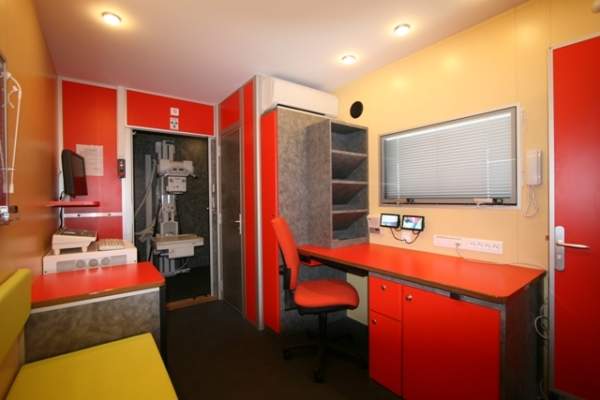 X-ray unit on semi-trailer. It is purpose-built with treatment room, medical office, etc. and an electric generator for all appliances.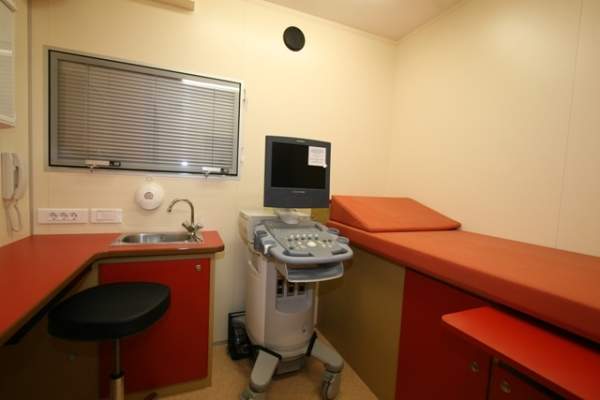 Unit for occupational medicine. It provides full autonomy with electric power for all testing equipment, heating, air conditioning, lighting, etc.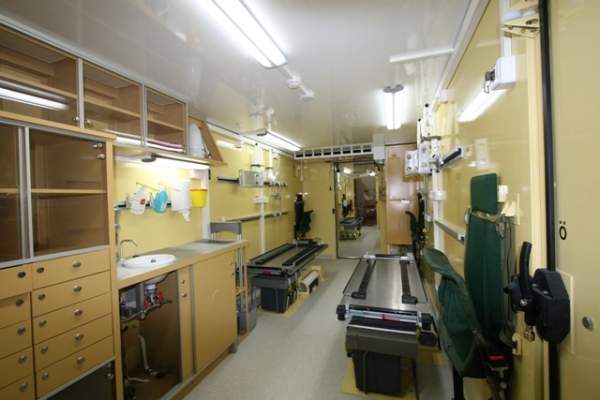 Air transportable operating theatre integrated in a container. It is a custom-built unit for special assignments.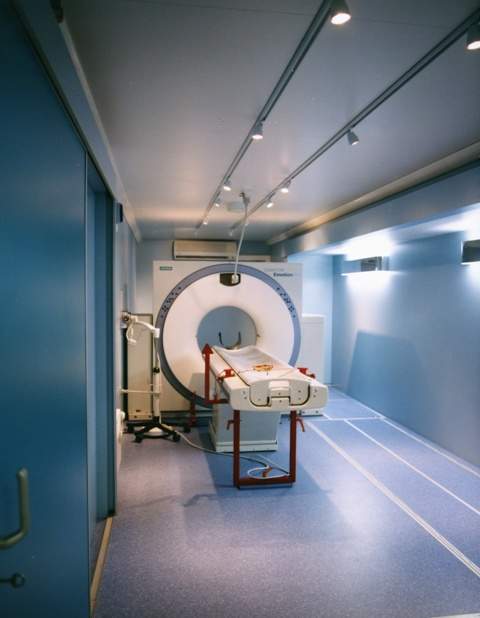 Scanner unit on semi-trailer. Radiation protection is integrated in the wall panels. It can be built with an extension for a larger working area.
The toutenkamion reinforced GRP sandwich panels provide superior features for thermal insulation for both heat and cold. The GRP sandwich panels are resistant against corrosion and chemicals and have high fire-retardant characteristics. They are UV and weather-resistant and have a unique acoustical performance. The sandwich panels are bonded together to ensure stiffness and sealing of our vehicle body work. The combination of these advantages leads to a minimum weight.
Workshops and production facilities for composite sandwich panels
Housed in a 12,000m² factory site, toutenkamion has brought together all the equipment and tools needed to make and assemble large composite sandwich panels: two semi-automatic resin spray machines with a working area of 3.5m x 18m each, two resin injection machines, a fibre reinforcement interlacing machine and an NC machining centre with working dimensions of 3.3m x 15m x 0.2m.
They all combine in assembling the individual elements in the manufacture of complex composite sandwich panels. toutenkamion has developed a unique method for one-shot moulding of structural sandwich panels of up to 3.3m x 15m requiring no additional steel framing or reinforcing.
Mobile medical units: blood donation vehicles
toutenkamion is the leading supplier of mobile blood donation units in France and many other European and overseas countries. These vehicles conform to the best practice in blood donation.
They are built up of the following divisions: entrance, reception, registration area, waiting room, blood test in private room, donation area with special seats, resting rooms with refreshments area. The units are equipped with lighting, certified electric and IT wiring, fresh water supply, electrical generator or service batteries for autonomous operation, heating system, floor heating, air conditioning, one or several extensions to increase the working area, hydraulic or manual extensions systems, personalised interior, safety and alarm systems, and other options.
toutenkamion has built blood donation vehicles for many decades and has mastered the inherent subjects associated with medical units. These vehicles comply with the highway codes, road regulations and legislations prevailing in the countries of destination.
Customised mobile medical units
Since 1972 toutenkamion has designed, built and delivered approximately 1,000 units of mobile medical vehicles. They have been supplied mainly to Europe but also to a number of overseas markets. Through this experience toutenkamion has acquired the specific know-how for successfully supplying mobile medical units.
Despite the big quantity of vehicles supplied, each one is built to the specific requirements of the customer. We take into account the climatic conditions of the country of destination and heating and air conditioning are individually designed by our engineers. All technical details are discussed and agreed with our customers, leading to a valid concept based on decades of experience. Specialists for each professional activity in our workshop combine their experience and manufacture a top-quality product. Don't hesitate to contact us. We will be pleased to take up your enquiries.