Accumetrics develops, manufactures, and markets the VerifyNow® System, a state-of-the-art platform and comprehensive suite of tests for the assessment of platelet reactivity to all major antiplatelet therapies such as aspirin, clopidogrel, prasugrel and GP IIb/IIIa inhibitors.
The VerifyNow System is fully automated and easy-to-use, providing physicians an accurate way to assess platelet reactivity to guide treatment decisions in patients who may be at risk of a life threatening thrombotic event or bleeding complication.
Founded in 1996, Accumetrics is a privately-held company based in San Diego, California, US. Since its introduction of the VerifyNow System, Accumetrics is at the forefront of revolutionizing the way physicians manage millions of patients who take antiplatelet drugs to prevent cardiovascular and cerebrovascular events.
Assessment of patient response to aspirin or Plavix
Unlike statins, anti-hypertensives, anticoagulants, and other critical therapies, antiplatelet medications are given with the assumption that all patients respond equally, but they do not.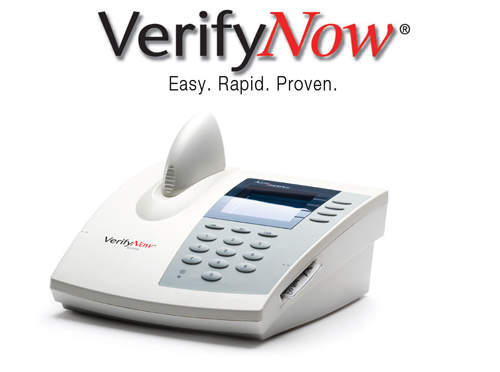 The VerifyNow System helps physicians assess their patients' response to all major antiplatelet therapies in minutes.<br><br><br><br>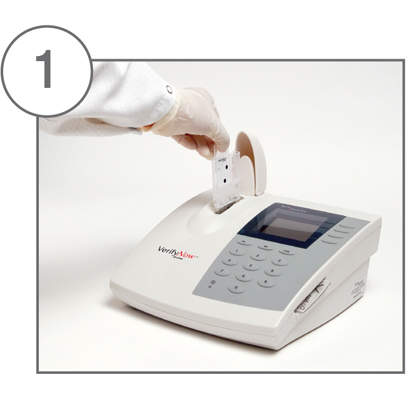 Three easy steps. Step one: when prompted, insert the test until it clicks.<br><br><br><br>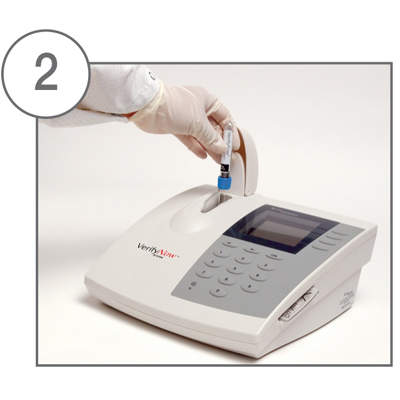 Step two: when prompted, insert the tube onto the test sample port. <br><br><br><br>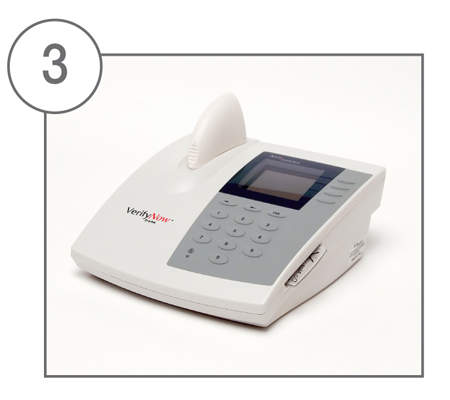 Step three: close the cover and read results within approximately 2–5min.
Up to one in three patients on antiplatelet medications such as aspirin and Plavix® may not respond adequately to antiplatelet medications¹
Patients who are not responding adequately to their antiplatelet medications may be at five to ten times greater risk for ischemic events2-5
Minimize bleeding complications during cardiac surgery
Additionally, studies show that individual patients vary widely in their rate of return to baseline function after their platelet medications are discontinued. As a result, cardiac surgery is often delayed from five to seven days in order to minimize the risk of bleeding complications that might result from platelet inhibition. Now, with the development of stronger P2Y12 inhibitors such as prasugrel/Effient® to reduce the risk of ischemic events, physicians are faced with new challenges for surgical scheduling as prasugrel patients are at increased risk of bleeding.6
Assessment of patients' platelet reactivity
Backed by numerous peer-reviewed studies that demonstrate the VerifyNow System's clinical utility and analytical performance, the VerifyNow System delivers a proven method for platelet assessment to ensure that patients are receiving the desired antiplatelet effect from their therapies, and to monitor patient compliance. Assessing patients' response to their antiplatelet medications also allows for precise scheduling of surgical procedures for patients on antiplatelet therapies, thus reducing presurgical wait times and minimizing bleeding risks.
Easy, rapid and proven method for platelet assessment
The rapid and easy-to-use VerifyNow System provides physicians with results in minutes.
The features of the VerifyNow System include:
Three easy steps
Results in minutes
Whole-blood, closed tube samples
No pipetting
No sample preparation
Measuring patient response to all major antiplatelet medications
The VerifyNow System measures patient response to all major antiplatelet therapies:
VerifyNow P2Y12 Test: P2Y12 inhibitors (i.e., clopidogrel/Plavix®, prasugrel/Efient®, ticlopidine/Ticlid®)
VerifyNow Aspirin Test: aspirin
VerifyNow IIb/IIIa Test: GP IIb/IIIa inhibitors (i.e., abciximab/ReoPro®, eptifibatide/Integrilin®)
The Accumetrics VerifyNow System is available worldwide through an international network of distributors. Please visit us at www.accumetrics.com/distributors/ for your local distributor or email us at support@accumetrics.com for more information.
References
Dupont, AG et al. Thromb Res. May 2009; 124(1):6-13.
Patti, G et al. J Am Coll Cardiol. 2008; 52:1128–33.
Marcucci, R et al. Cir. 2009; 119(2):237-42.
Cuisset, T et al. Am J Cardio. 15 June 2008; 101(12):1700-3.
Price, MJ et al. Eur Heart J. April 2008; 29(8):992-1000.
Wiviott, SD et al. N Engl J Med. November 2007; 357:2001-15.
Accumetrics logo and VerifyNow are registered trademarks of Accumetrics, Inc. ReoPro is a registered trademark of Centocor, Inc. Integrilin is a registered trademark of Millennium Pharmaceuticals. Plavix is a registered trademark of Sanofi-Aventis. Efient is a registered trademark of Eli Lilly and Company.