Elta® skin and wound care products are manufactured by Swiss-American Products, which was founded on the principle that the use of medically accepted products in daily skin care can help solve and prevent a wide range of skin and wound problems. Elta products include silver antimicrobial products, protease-enhanced products, wound care dressings, moisturizers and sun blocks, as well as products for incontinence, wound healing, massage, psoriasis and eczema. Clinical studies and clinical support are available.
Skin therapy products
Elta skin therapy products are formulated to provide long-lasting moisturization and address a wide range of skin conditions.
Concentrated hydration moisturizer
Elta Crème provides the highest level of concentrated hydration for problem skin areas. It melts on contact, penetrating skin cell layers to provide superior long-term moisturizing. Elta Crème is a leading product in hospital burn centers and radiation oncology and for diabetic dry skin conditions. Clinical studies have proven it is safe for all skin types, non-comedogenic, hypoallergenic, fragrance-free, latex-free, and contains no preservatives.
Light lotion moisturizer
Elta Lite Lotion is a light lotion moisturizer for the entire body. It adds water to the skin and provides a watertight moisture barrier, supplementing the skin's natural oils and providing long-term moisturization.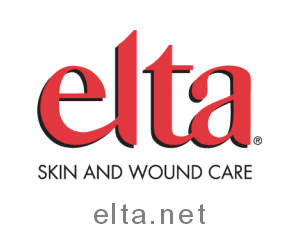 Elta&#174; skin and wound care products are manufactured by Swiss-American.<br><br><br>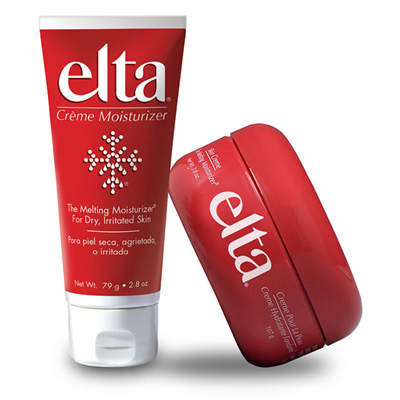 Elta Cr&#232;me, 'The Melting Moisturizer', delivers long-lasting, high levels of hydration to all skin types.<br><br><br>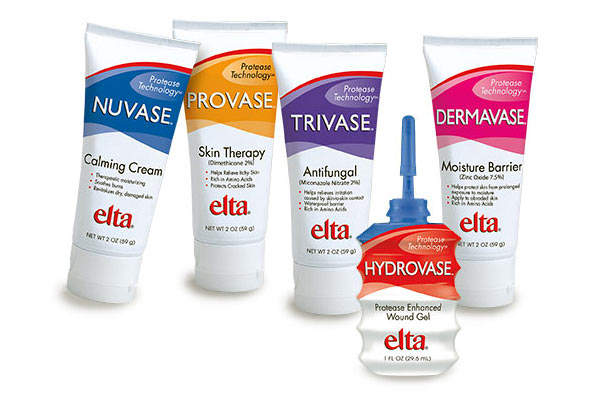 These Elta skin care products have been enhanced with enzymes that may help increase the efficiency of the healing process.<br><br><br>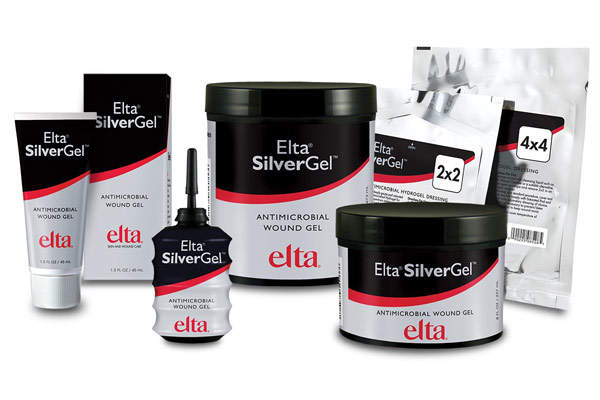 Elta SilverGel reduces bioburden, provides constant antimicrobial protection and simplifies wound monitoring.<br><br><br>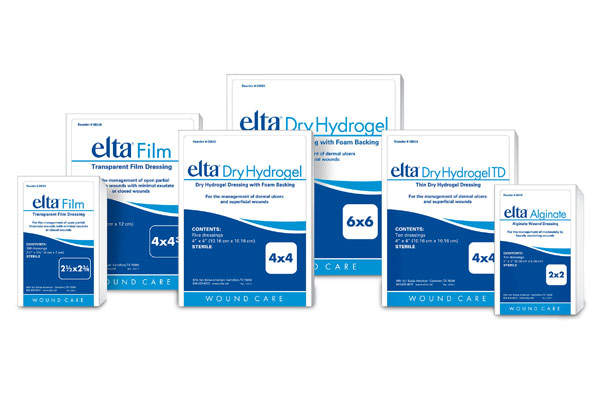 Elta offers a broad line of hydrogel and alginate wound dressings and protective films.<br><br><br>
Itch relief cream
Elta Provase with protease technology penetrates quickly for rapid relief of itching, and the unique 'dry to the touch' formula delivers special enzymes to the skin to help strengthen epidermal skin layers.
Antifungal cream
Elta Trivase Antifungal's enzyme-enhance formula helps maintain healthy skin while treating fungal infections (such as athlete's foot, ringworm and jock itch) with 2% miconazole nitrate. This antifungal cream adheres well to wet skin, eliminating the need for a separate moisture barrier.
Waterproof skin ointment for superficial wounds
Elta Dermavase moisture barrier is a skin ointment that provides a waterproof, occlusive covering for superficial wounds. It protects skin as it heals while creating a moist environment.
Skin calming cream
Elta Nuvase calming cream rehydrates, moisturizes and strengthens rough skin and works well in the treatment of dermatitis, minor burns and sunburn.
Moisture barrier cream
Elta Seal offers the benefits of three barriers (zinc oxide, dimethicone and petrolatum) for superior wetness protection. It relieves discomfort of diaper dermatitis in patients of all ages. It melts on contact, penetrating cell layers to moisturize and form a long-lasting, watertight barrier.
Wound care products
Elta wound care products include Elta SilverGel®; Hydrovase Gel; hydrogel and hydrogel-impregnated dressings; gauzes; composite island dressing and bordered hydrophilic foam dressing; dry hydrogel sterile and absorptive wound dressings; alginate wound dressings; and transparent polyurethane film dressings.
Antimicrobial skin and wound gel
Only Elta SilverGel antimicrobial skin and wound gel releases silver as demanded by the bioburden of the wound, allowing less risk of silver toxicity and staining. It kills bacteria for at least three days. Its completely clear formula enables observation of the wound bed.
Elta SilverGel antimicrobial skin and wound gel is suitable for use on minor burns, superficial cuts, lacerations, abrasions and skin irritations. Under supervision of a healthcare professional, it is ideal for pressure ulcers, venous stasis ulcers, diabetic ulcers, first and second-degree burns, skin tears, grafted wounds, donor sites and surgical wounds where infection exists or threatens.
High-viscosity hydrogel
Elta Hydrovase Gel is a clear, high-viscosity hydrogel with light enzyme action, which helps to alleviate necrotic build-up and keep the wound bed clear while creating and maintaining a moist healing environment.
Dry hydrogel wound dressings
Elta dry hydrogel wound dressings are highly conformable, sterile, multi-layered absorptive wound dressings that offer controlled absorption and superior fluid management for a longer period of time. They combine the benefits of hydrocolloids and transparent films.
Alginate wound dressings
Elta alginate wound dressings are primary wound dressings made from calcium alginate and carboxymethylcellulose. They are extremely absorbent for application on moderately to heavily exuding wounds, and partial to full thickness wounds, even when infection is present.
Transparent polyurethane film dressings
Elta transparent polyurethane film dressings are used to protect non-exuding wounds or as a secondary dressing. They are extremely thin, impermeable to liquids and bacteria, hypoallergenic, use low-tack adhesive, and offer high MVTR.