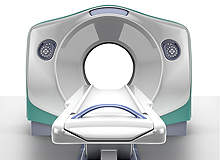 The European MRI systems market is primarily driven by constant upgrades in Tesla (T) strength and its wide variety of applications. Musculoskeletal, cardiovascular and breast MRI constitute most of the procedural volumes, but the market is witnessing growth through advancements in neurological, functional and dedicated MRI. These latter applications only constitute a small portion of the procedural volumes, but have huge growth potential.
The number of MRI applications is not only increasing from a research point of view; increasingly more are becoming commercially viable. Every new clinical application increases the usage of MRI systems and the associated hardware and software capabilities.
For most applications, a 1.5T system coupled with the use of CAD will suffice. 3T systems provide a higher resolution of images and this could prove to be important for the more sophisticated clinical applications, hence the drive in growth in that segment. MRI scanning has also been used for ophthalmic and other sensory applications, while its multi-planar capabilities and sensitivity to tissue differentiation makes it the procedure of choice for detecting abnormalities or lesions in most parts of the body.
Functional MRI
MRI is particularly useful in brain and neurological disorders because it can clearly show the different types of nerve tissue. Functional MRI is currently one of the most popular methods of brain imaging, where MRI is combined with PET; the structural image provided by MRI is combined with the functional image provided by PET for superior diagnosis.
The superiority of MRI for brain imaging in comparison to other modalities is well established. MRI provides clear pictures of the brainstem and posterior brain, which are difficult to view through CT. Most sales of MRI systems for brain imaging are to university hospitals, where they are mainly used for research purposes; researchers believe the higher the Tesla, the better the MRI is. At present, they are driving 3T MRI sales.
Spine MRI
Typical indications for MRI of the spine include back pain, numbness or tingling in extremities, history of cancer and loss of bladder or bowel control. An MRI can help to detect herniated or bulging discs, tumours and other lesions, differences between a post-operative scar or a recurrent disc, arthritic changes and structural abnormalities.
Interventional MRI
Interventional applications for MRI are on the rise. MRI for image-guided minimally invasive operations – such as biopsies – are more popular for cardiac and breast procedures. Intra-operative systems are at the extreme end of the intervention trend. MRI can distinguish tumours and other lesions from normal tissue, and this has increased the popularity of intra-operative MRI in brain and spine surgeries. The trend for MRI for intra-operative purposes is getting stronger every year.
"The use of MRI to screen women with a high risk of breast cancer was recently approved by the American Cancer Society."
Breast MRI
The use of MRI to screen women with a high risk of breast cancer was recently approved by the American Cancer Society, which said that breast MRI should be used with conventional mammography as part of an annual screening regimen in certain groups of high-risk women, including those with a family history of breast cancer.
The ability to detect small abnormal breast lesions has proven that MRI is an effective breast cancer diagnostic tool, and it is for this reason that breast MRI is becoming increasingly popular in the US. Breast MRI for screening is set to gain popularity in Europe in the short term and become one of the most popular clinical applications of MRI in the medium term.
Cardiac MRI
Rapid advances in cardiovascular MRI have been made during the past few years. Studies have shown that non-contrast MRI is about five times more sensitive and twice as accurate as immediate non-contrast CT for diagnosing ischemic stroke. MRI appears to be a more sensitive test in detecting the most common form of stroke as well as diagnosing haemorrhagic strokes.
MRI and CT are complementary and competing technologies. For example, MRI and CT are equally effective at detecting acute intracranial haemorrhage, but MRI is preferred for acute stroke and CT is preferred for coronary artery imaging.
Although a 64-slice CT produces images at a lower resolution than a 3T MRI, it is relatively inexpensive and hence more popular for coronary artery imaging. The image quality of a cardiac CT could improve with the advent of the 128-slice CT, and it remains a looming threat for cardiac MRI imaging. However, concerns over the high-radiation dose of multi-slice CT systems may increase the popularity of MRI once more.
MR angiography is also gaining popularity as a clinical application. It also proved to be the modality of choice in patients with Kawasaki disease to reduce the potential cumulative effect of radiation exposure from repeat CT angiography exams.
Dedicated MRI systems
Dedicated MRI systems are used to image the knees, shoulder and extremities in exquisite detail. Typical indications for an MRI of a joint or soft tissue include pain, swelling, weakness, palpable mass or decrease in range in motion. MRI of the joints and soft tissue can help detect torn ligaments, torn cartilage, oedema (swelling), arthritic changes, tumours, lesions, osteomyelitis, and structural changes.
Contrast-enhanced MRI
The need to more accurately detect and characterise different types of lesions is the main reason for the use of intravenous contrast agents. Some methods are available to improve the contrast of different tissues. The focus of dynamic contrast-enhanced MRI is on contrast kinetics, with demands for spatial resolution dependent on the application.
"Functional MRI in conjunction with objective perimetry is feasible for efficiently measuring a patient's visual field."
Ophthalmology
MRI has long been applied to clinical, medical and neurological cases for the structural assessment of tissues, as well as their physiological and functional processes.
New MRI methodologies, such as the use of orbital coils and Gd-DTPA image enhancement in the eye, have been researched, developed and validated, opening new possibilities for this technology to enter the market.
Functional MRI in conjunction with objective perimetry is feasible for objectively and efficiently measuring a patient's visual field. MRI also possesses a special value in the differential diagnosis of neuro-ophthalmic diseases, orbit disorders and intraocular conditions. MRI is used to spot the position and features of the lesions that may later be used for clinical analysis.
Acupuncture
Acupuncture is used to relieve pain by diminishing the amount of brain activity associated with pain impulses. The cerebral activation pattern due to acupuncture is not completely understood, but MRI could be used to view the response of the brain's pain network when acupuncture needles are inserted in the body to provide better clarity on the pain de-activation mechanism.
Pulmonary
MRI is used in diagnosis of pulmonary nodules and lung cancers. It delivers outstanding contrast resolution to assess the invasion through the lung apex, which cannot be established using CT.
"Despite advances in imaging technology, evaluating the anatomical changes in the hearing and balance organs is still a difficult procedure."
Neuro-otology
The three most common reasons for otoradiological examinations, excluding trauma, are vertigo, tinnitus and sudden loss of hearing, which are the result of pathologies arising mostly from the membranous labyrinth, nerve pathways or from anatomic structures related to them.
MRI is the most effective technique for the evaluation of these structures and their pathologies, because it can display the temporal and cisternal portions of the seventh and eight cranial nerves and their nuclei in the brain stem, the ascending, descending and connecting pathways, and primary-secondary hearing centre pathologies, as well as lesions related to these structures.
Despite the latest advances in imaging technology, evaluating the anatomical changes in the hearing and balance organs is still a difficult procedure that can be performed only by an experienced MRI specialist.
Veterinary
MRI has become established as a useful referral diagnostic method in veterinary medicine, and is widely used in small animal brain and spinal diseases, aural, nasal and orbital disorders, small animal and equine orthopaedics, and the planning of soft tissue surgery.
The use of MRI in these disciplines has grown due to its unparalleled capability to image soft tissue structures. This has been exploited in human cardiology where, despite the inherent difficulties in imaging a moving, contractile structure, cardiac MRI has become the optimal technique for the morphological assessment and quantification of ventricular function.