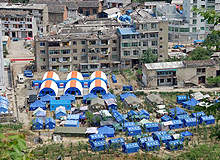 Each year millions of people suffer from the damage brought by natural disasters and other humanitarian crises. In recent years, Sri Lanka, Haiti, Chile, Pakistan and Japan have witnessed devastating earthquakes and tsunamis, while parts of the US are haunted by hurricanes and tornados every year.
Meanwhile, east Africa is afflicted by the worst drought and food shortage the continent has seen in 60 years, affecting more than 12 million people living in Kenya, Ethiopia and Somalia.
Among the victims of such crises are often the poorest of the poorest, left behind with no home, food or access to proper healthcare.
When disasters strike, vital infrastructure necessary to respond to the disaster is often damaged or destroyed, including hospitals and healthcare centres. Then the deployment of field and mobile hospitals becomes number one priority of the immediate disaster response.
For the victims the hospitals are a sign of hope where they find vital first aid, preventative and psychological care. For the industry, pop-up hospitals are an exciting way to develop and test new materials, technologies and ever smaller medical equipment, while withstanding the world's most harsh and volatile environments.
Modern field hospitals
"Today's field hospitals differ greatly from sick bays deployed in wars and humanitarian crises decades ago."
Ranging from single-shelter primary care clinics to fully equipped 200-bed hospitals that include all necessary disciplines, such as emergency rooms (ER) and intensive care units (ICU), today's field hospitals differ very much from the sick bays deployed in wars and humanitarian crises decades ago.
How well do you really know your competitors?
Access the most comprehensive Company Profiles on the market, powered by GlobalData. Save hours of research. Gain competitive edge.
Company Profile – free sample
Thank you!
Your download email will arrive shortly
Not ready to buy yet? Download a free sample
We are confident about the unique quality of our Company Profiles. However, we want you to make the most beneficial decision for your business, so we offer a free sample that you can download by submitting the below form
By GlobalData
Over the years, modern fabric shelters have replaced simple tents, capable of maintaining a clean medical environment in changing environmental conditions while providing the safety and comfort of a brick-and-mortar building.
"The main benefit is the ability to provide life-saving capabilities anywhere, anytime, in austere environments.
"Portable hospitals can be set up rapidly after a disaster at the site where they are needed most," says BLU-MED Response Systems president Don Diesel. As a division of Alaska Structures, the US-based company provides field hospitals to clients such as the US Air Force EMEDS and the US Army Combat Support Hospital programmes, as well as other global aid organisations.
"There are certain unique challenges associated with providing medical care in the field environment," Diesel explains. "Equipment must be lightweight and portable, yet rugged and reliable. Noise levels of generators and HVCAs operating in and around the facility is an important consideration when using a soft-walled structure. Another challenge is to provide a design that offers good patient flow in a single story mobile hospital, as opposed to multistorey building."
Modelled after the US military field hospital concept, proven by more than a decade of use in extreme environments worldwide, BLU-MED's fabric shelters must meet stringent performance standards set and proven by governments and independent laboratory testing facilities.
When delivered, the shelters can be built up and be fully operational in 12 to 72 hours, providing a safe and durable environment for a ordinary hospital routine.
Pop-up hospitals in the field
"We need three things for our hospital to function in the field: a water source, diesel supply for the vehicles and the power generator, and local volunteers and medical and non-medical staff," says Canadian Red Cross director of emergencies and recovery Hossam Elsharkawi.
"In all my experience out there in the field, it has never been a problem to secure those three things."
"It is important to understand that not all portable shelter systems provide adequate performance and may be unsafe for use as a medical facility."
Elsharkawi works with a field hospital module deployed by the International Federation of Red Cross and Red Crescent Societies (IFRC). With two units in Canada and one in Oslo, the rapid deployment emergency hospital (RDEH) is a health emergency response unit (ERU) deployed in response to disasters all over the world.
"Our field hospital is not a purely trauma-care facility dealing with disaster-effected injuries but we are a temporary substitution for the collapsed local general medical and surgical facilities," he says.
Within 48 hours after a rapid assessment by the Red Cross, the hospitals can be deployed from their location in Canada.
Even though the unit is not just a "medical kit full of pharmaceutical and medical devices with a tent", the set-up in the field is quick.
Once all the necessary equipment – including power generators, the electrical grid, the lighting, the heating or air-conditioning, water purification units and water distribution systems, vehicles and IT and telecom equipment – is on site the team can begin surgery within ten hours.
Far more important than the quick deployment and set-up is the coordination of different aid organisations on the ground. "There are different organisations for different reasons and with different agendas," Elsharkawi says. "Many groups try to set up their facilities in the capital, where it's easier and where they have media exposure. That is not necessarily a good thing as the affected population is often hundreds of miles away."
Elsharkawi believes that medical disaster response certainly needs coordination and "some sort of mechanism" to tell organisations where to deploy. Improvements have been made with the UN Cluster System and the WHO Global Health Cluster (GHC), gathering more than 30 international humanitarian health organisations that have been working together over the past four years to develop common approaches to humanitarian health actions.
"But all these cluster mechanisms are not binding," explains Elsharkawi. "Therefore we need to quickly empower the local authorities to ensure that those who are there are in fact providing high-quality, safe, medical and surgical care. Coordination is very important."
Software: the medical team
The success of a hospital emergency response however only stands and falls with a good team. The biggest challenge in designing mobile field hospitals is meeting the client's expectations when they may not have a lot of field experience, says Don Diesel. Collaboration and training, between the supplier and the medical team on the ground, is therefore key to the successful deployment of field hospitals in disaster zones.
"It is important to understand that not all portable shelter systems provide adequate performance and may be unsafe for use as a medical facility," says Diesel. "We encourage emergency response professionals to consider not only the medical aspects but also the engineering and environmental requirements before selecting their portable medical facilities. Snow, wind, and rain load capability, temperature and humidity control are extremely important considerations, and are unobtainable with most pop-up style or blow-up tents."
"Structural integrity and safety of the healthcare facility should not be sacrificed in exchange for insignificant gains in the initial setup time." Diesel and his team therefore provide training to all customers on an annual basis, and supports state and local organisations in their training events as well as during real world responses.
Hossam Elsharkawi agrees the success of operations lies with the team, or the delegates as he calls them. "We invest a lot in training and preparing people who are deployed with our units," he says. "We train them on how to function and how to work in disasters. We need these people to be absolutely flexible and problem-solving. They have to be able to deal across cultures and languages with ease, have to be good communicators and treat local professionals and others with the utmost respect."
Constant improvements
"We train our delegates on how to function and how to work in disasters."
Elsharkawi admits there is still a lot to be done as better training and better prepared personnel are needed. "One of the most frustrating things in Haiti was to see that many surgical teams came with nothing, thinking that somehow everything will be available and waiting for them. In fact, they became a burden."
Another gap is in the integration of nursing care in disasters, which is according to Elsharkawi the most difficult function in the field hospitals environment.
"I'd say that nursing in field hospitals in disasters is in fact the backbone of the hospital. It is the post-op care that saves lives, not how good the surgeon is or how many procedures they can do."
Nevertheless, there have been improvements in recent years, especially on the hardware side as technology and equipment have improved. "The equipment is getting smaller, more robust and can withstand field conditions," says Elsharkawi.
The key however lies in the constant testing of new technologies and keeping the eyes open for new equipment and devices. "With every deployment we are taking one or two things to field-test them and see if they are suitable for the future," explains Elsharkawi. "These days we are looking at better use of solar cells for power. Solar technology has improved tremendously and I think we can benefit from this a lot in field hospitals."