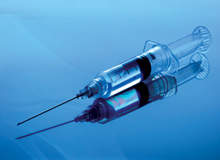 Needlestick and sharps injuries cover a wide variety of occupational hazards. And not all injuries are percutaneous: incidents can range from a needlestick injury to a human bite, a scratch or a mucocutaneous exposure to the eyes, nose and mouth from a splash or spray. However, the common factor with these injuries is their potential to spread blood-borne pathogens to healthcare workers.
So how can healthcare professionals protect themselves from needlestick injuries, and how can their working environment be made safer? Lorrie Kelly asked Jane Perry of the International Healthcare Worker Safety Center at the University of Virginia and Dr Fortune Ncube of the Health Protection Agency Centre for Infections.
In the US, regulations enforced through federal government and the Occupational Safety and Health Administration (OSHA) have had the most impact on managing needlestick injuries.
"One study showed a 93% reduction in percutaneous injuries in healthcare facilities that used safety engineered devices compared with those that did not."
"In terms of sharps injury regulation in the US, two dates are important," says Jane Perry. "OSHA issued a regulation called the Bloodborne Pathogens Standard in 1991, an important regulation for infection control and preventing occupational exposure to blood-borne pathogens."
The regulation required the implementation of safe disposal practices, puncture-resistant sharps containers at point of use, free access to hepatitis B vaccinations for healthcare workers and easy access to proper personal protective equipment.
In the regulation's infancy, some hospitals purchased safety devices while simultaneously supplying conventional devices, leaving the choice to healthcare workers. "The lesson was to take away the choice, as well as provide plenty of training and education," says Perry.
How well do you really know your competitors?
Access the most comprehensive Company Profiles on the market, powered by GlobalData. Save hours of research. Gain competitive edge.
Company Profile – free sample
Thank you!
Your download email will arrive shortly
Not ready to buy yet? Download a free sample
We are confident about the unique quality of our Company Profiles. However, we want you to make the most beneficial decision for your business, so we offer a free sample that you can download by submitting the below form
By GlobalData
"The second date was 2000," she says, "when the US passed the Needlestick Safety and Prevention Act, a major victory for US healthcare workers. Since the implementation of the act, the centre has seen a 51% decrease in injury rates.
GLOBAL PICTURE
Overall the US tends to have higher sharps injury rates than other developed nations. But according to Perry, this is due to US healthcare systems favouring shorter hospital stays and a more intensive level of care compared with most European countries. "If you compare the risk per device used," she says "the number of US injuries per device has tended to be lower since the implementation of safety devices and regulations."
But not all needlestick injuries carry the same risk. The riskiest for the transmission of viruses are injuries sustained from blood-filled needles, such as those used in phlebotomy or IV catheters. By comparison, the syringes used for injections tend to present a lower risk, due to the fact that they contain much less potentially infected patient blood.
"When you are looking at risk-reducing devices and procedures, higher-risk ones should receive the most attention," says Perry. "But in terms of the number of injuries, the device that causes the highest number of injuries typically is the syringe.
"This is especially true in developing countries, because syringes are used as all-purpose devices for both injection and blood drawing. So you'll have one category of syringe injuries that are high risk, because the syringes were used for drawing blood, and another category that is relatively low risk, where they were used for injections."
DEVICE SAFETY
The US strategy for needlestick injury prevention represents a shift from conventional thinking, which tends to focus on healthcare worker methodology. Needlestick injuries are viewed as device related, therefore equipment used by healthcare workers should be engineered to prevent injury. Ideally these safer devices would become passive components in healthcare worker routines, just as safety belts are in drivers of motor vehicles.
Independent international studies support this mindset. A Spanish study released in the December 2007 issue of the Journal of Infection Control and Hospital Epidemiology showed a 93% reduction in percutaneous injuries in healthcare facilities that used safety engineered devices compared with those that did not.
"The US is advanced in terms of safety device implementation in most device categories, and the market for safety devices has reached high levels," says Perry. "For example, phlebotomy safety needles represent 70–80% of the overall market for phlebotomy devices
"But there is one segment of the US market that has been very difficult to convert to alternative safety devices: the surgical arena – suture needles and scalpel blades," she says. "So a lot of attention and energy is being devoted to trying to work with surgical personnel, specifically surgeons, to help them focus on the issue of safety and how their use or non-use of safety devices affects the people who work around them."
Despite recommendations from both the American College of Surgeons and OSHA, which advocate the use of blunt suture needles – needles that can penetrate internal tissue but do not easily penetrate external skin – most surgeons still prefer sharp-tip suture needles. As a result, the market for blunt suture needles in the US is only around 5% of the total market for suture needles overall.
NEW PROCEDURES
However, procedural modifications have shown positive results. One successfully implemented technique used in the surgical arena has been the introduction of a "neutral zone", designed to eliminate hand-to-hand passing of sharp surgical implements.
Buying safety-engineered devices alone will not create an effective strategy for reducing needlestick injuries. "We emphasise a combination of implementing safety devices and lots of supporting education," says Perry, "because, although devices have a huge impact on incident rates, if the protective feature is not activated after use, they can still cause injuries."
"The safety device market is rapidly evolving. So we recommend keeping informed on the latest innovations, and not just in sharps. Manufacturers are thinking about preventing exposures in lots of different ways, by preventing splashes and sprays when suction cleaning out a wound, for example. And more niche markets are being explored for many different procedures."
UK STRATEGY
By contrast, the UK strategy for needlestick incident management seems to reverse the thinking in the US, by placing a greater emphasis on healthcare worker procedure. Another difference is that in the UK and most EU nations, no mandatory reporting systems are in place for needlestick injury tracking. It is for this reason, explains Dr Fortune Ncube, that monitoring needlestick injuries in the UK is not a straightforward process.
"In the UK, we collect information on needlestick injuries that are considered to be significant on a voluntary basis," says Ncube. "And by significant we mean injuries that people report because they feel the risk of acquiring blood-borne viruses is high. This would include injuries that break the skin and mucotaneous exposures. So you must appreciate that, within this system, under-reporting will be a problem. What we are looking at is only the tip of the iceberg."
The UK needlestick injury tracking database was established in 1997, and on average receives 600 reports per year from 200 centres. Currently, 40 centres report on a regular basis in England, Wales and Northern Ireland – these are called consistent reporting centres.
The submitted data is compiled, and regular reports are published every two years; the most recent edition, issued in 2006, was called "The Eye of the Needle".
"In our database we have just over 3,000 cases," says Ncube. "Although we have seen an increased number of reports coming to us each year, this may be due to increased awareness. We have been pushing our reporting system quite a lot.
"Within our system, the only way to determine if the number of injuries is increasing or decreasing is to look at the consistent reporting centres," he adds. "We examine the type of injuries happening, as well as where the injuries are occurring, to see how that is changing over time. Careful consideration is given to whether incidents are the result of procedures or healthcare worker error."
MIXED PICTURE
UK data reveals that in operating theatres, ICUs and accident and emergency departments the majority of procedures are performed under emergency conditions. Consequently, they show the greatest increase of needlestick incident rates. Since these injuries are procedure related, awareness and training alone would have little effect on reducing future incidents.
"But when you go to the wards, needlestick injuries are rarely related to procedures," says Ncube. "For example, 45% of the incidents that occur on wards happen after a procedure had been completed. So, the injury is caused by what the healthcare worker was doing before disposing of the clinical waste."
"Employees and healthcare workers need to make sure they are familiar with protocols," says Ncube. "Education is important in the safe use and disposal of sharp instruments.
"For example, needles should not be inappropriately re-sheathed," he says, "and healthcare workers need to understand why they shouldn't re-sheath. If their healthcare facility uses disposable devices, where both the needle and syringe can be disposed of straight after use, there is no need to remove the needle and dispose of it separately, something we discovered some healthcare workers were doing."
Ncube stresses the importance of assuming that every patient entering a healthcare facility is infected with a blood-borne virus. Healthcare workers are then more likely to take every possible precaution to prevent exposure to patient blood or bodily fluids.
SAFETY DEVICE EVALUATION
"Existing policies in the UK encourage the use of safer devices and protective clothing," says Ncube. "For surgeons, instead of doing operations by feel, we encourage them to use more instrument manipulation. So instead of holding the needle and inserting it with your fingers, the surgeon will use an instrument.
"If you don't have strategies that underpin needlestick injury prevention, you will be exposing your healthcare workers to difficulties."
"The UK is exploring more safety engineered devices," he continues. "In our report, "The Eye of the Needle", we examined needlestick incidents in Scotland to see if safer devices would have been effective in preventing injuries. The results showed that needlestick injuries could have been prevented if safer devices had been used, and the number of UK triages that are buying safer devices instead of the standard devices is now increasing.
"Although the availability of protective devices is improving all the time, cost is always an issue," says Ncube. "And one of the challenges we face in the UK is setting up systems to evaluate safety engineered equipment, to determine whether there have been changes in the numbers of needlestick injuries as a result of introducing safer devices. Some healthcare systems have better procedures in place for conducting these evaluations."
The UK healthcare system is a collection of regional trusts that make decisions on supply purchase and procedures based on the individual needs of their facilities. "In the past, people used to say safer devices were more expensive than traditional devices, but I think that may be changing now, as more become available," says Ncube.
"More companies are participating in the market and competition will drive cost down. But the most important factor in the management of healthcare workers needlestick injuries is the prevention of primary exposure. If you don't have strategies that underpin prevention, you will be exposing your healthcare workers to difficulties."